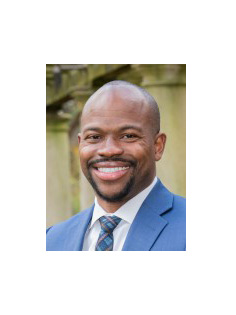 The Board of Regents of the University System of Georgia (USG) today named Dr. M. Brian Blake president of Georgia State University, effective August 9, 2021.

"Georgia State will excel under Dr. Blake's leadership," USG Chancellor Steve Wrigley. "He has outstanding experience, and understands the university's mission to provide students everything from access to a college degree to top-tier research opportunities. This will allow Georgia State to continue to innovate and succeed, and I am grateful to the Board of Regents and the search committee for their time and good work in the selection process. I congratulate Dr. Blake on his new role."
Blake has served as executive vice president for Academic Affairs and provost of George Washington University (GWU) in Washington, D.C., since 2019. "I have no doubt Dr. Blake will work nonstop on behalf of students, faculty, staff and alumni to advance Georgia State's priorities and increase its growing reputation as being among the best in the nation," Board of Regents Chairman Sachin Shailendra said. "On behalf of the Board of Regents, I look forward to working with Dr. Blake as we welcome him home to Georgia."
In his current role, Blake is the highest-ranking academic officer at GWU. He oversees 10 schools and colleges, three campuses and the academic success of 28,000 students. Blake also led GWU's university-wide, post-pandemic plan to assess new instructional innovations. "I am deeply grateful to the Board of Regents and Chancellor Wrigley for the opportunity to lead Georgia State into a very bright future," Blake said. "I know that with help from the campus community, we can further the institution's national reputation and innovative environment and create a truly unique education experience for students. The university has made tremendous strides under President Mark Becker's leadership in the classroom, the laboratory, and on the athletic field. I am eager to start building upon that strong foundation."
Parker Executive Search provided consulting services during the president search process.
About Dr. M. Brian Blake
Blake joined GWU in 2019 as executive vice president for Academic Affairs and provost. From 2015 to 2019, he served as executive vice president for academics and Nina Henderson provost at Drexel University in Philadelphia, Pa.
At Drexel, Blake led the implementation of a new, responsibility-centered budget model and the president's strategic plan. He also developed the academic vision "Creating the 21st Century Academic Experience." During his tenure, he helped Drexel recruit its most academically gifted class, achieve the highest retention rate in the university's history and increase research activity to the university's highest level. From 2012 to 2015, Blake served as vice provost for Academic Affairs and dean of the Graduate School at the University of Miami in Miami, Fla. He had oversight of 155 programs housed in 12 schools and colleges and received a resolution of tribute from the university's Board of Trustees for elevating the visibility of graduate education and significantly enhancing the environment for faculty success. Blake was associate dean of engineering, research and graduate studies and professor of computer science and engineering at the University of Notre Dame from 2009 to 2012. He oversaw the doubling of research awards and expenditures in the College of Engineering and grew the graduate program by more than 30 percent.
He spent the first 10 years of his career at Georgetown University, beginning in 1999. While there, Blake was promoted from adjunct professor to assistant professor and then to associate professor with tenure. He was selected to serve as chair of the Department of Computer Science and the inaugural director of graduate studies in computer science.
Overall, Blake has been advisor or co-advisor to 15 postdoctoral fellows and graduate students and more than 30 undergraduate researchers. He has authored or coauthored more than 200 journal articles, books or book chapters and refereed conference or workshop papers. He is best known for his contributions to adaptive, inter-organizational workflow for web-based services and systems. Blake served on five National Academies' studies or committees and on the National Science Foundation's Advisory Committee for the Computer and Information Science and Engineering Directorate. His research has earned more than $12 million in sponsored funding from various governmental and commercial organizations Prior to entering higher education, Blake worked as a software architect, technical lead and expert developer with General Electric, Lockheed Martin, General Dynamics and the MITRE Corporation.
Blake earned his Ph.D. in information and software engineering from George Mason University in Fairfax, Va., a master's degree in electrical engineering from Mercer University in Atlanta and a bachelor's degree in electrical engineering from Georgia Tech. Born and raised in Savannah, Blake and his wife, Bridget, who holds a bachelor's degree in mechanical engineering from Georgia Tech in addition to an MBA from Johns Hopkins University and an executive doctorate in business administration from Drexel, have two sons, Brendan and Bryce.
---
USG