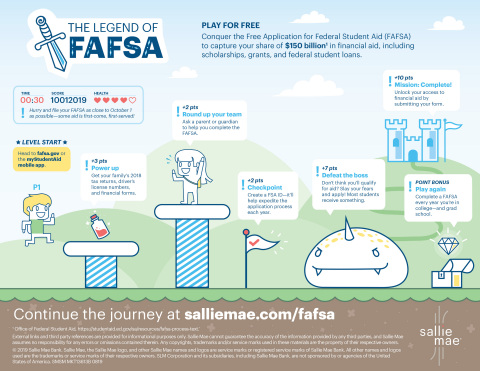 Oct. 1 marks an important date for college-bound students, returning college students, and grad students as the Free Application for Federal Student Aid (FAFSA) for the 2020-21 academic year becomes available. Filling out the FAFSA is a critical step to qualifying for $150 billion in federal aid, including grants, college scholarships, federal student loans, and work-study.
Completing the FAFSA on or soon after Oct. 1 is particularly important because some aid is awarded first-come, first-served. In addition, schools use it to put together financial aid packages, states use it to determine eligibility for state aid, and it is required for many scholarship applications.
According to "How America Pays for College 2019," the national study from Sallie Mae® and Ipsos, 77% of families reported completing the FAFSA; however, most waited until after October to complete it, potentially missing out on grant aid and scholarship dollars. For those who didn't complete the FAFSA at all, 40% assumed they wouldn't qualify for any financial aid; 29% said they didn't know about it; and 27% said were missing information, didn't have time, or felt the process was too complicated.
To help students and families get prepared to complete the FAFSA with confidence, Sallie Mae offers the following tips:
– Gather information — Both students and parents should create a username and password — a Federal Student Aid ID — and gather Social Security numbers, driver's license numbers, bank statements, 2018 tax returns, and W-2 forms. Having this information ready before Oct. 1 can help expedite the process.
– File in October (or soon after) – Again, some financial aid is awarded on a first-come, first-served basis, or from programs with limited funds. The earlier families complete the FAFSA, the better the chance to be in line for that aid. Additionally, those who complete and submit the FAFSA on or soon after Oct. 1 will receive their Student Aid Report sooner and may receive financial aid offers from schools earlier.
– Get connected – Students and families can now complete the FAFSA using the myStudentAid app on any Android or Apple device. According to the Department of Education, more than 375,000 FAFSAs were completed using the app last year. Regardless of how families file, remember, the FAFSA is free, so watch out for sites that charge fees or make promises that sound too good to be true. Students can reduce the risk of identity theft by keeping their Federal Student Aid ID confidential, and any suspected fraudulent account activity should be reported immediately.
– Avoid common errors — Mistakes on the FAFSA could delay an application, meaning students and families could possibly lose out on some financial aid. Leaving blanks fields, incorrect social security or driver's license numbers, and forgetting to sign and date the application are some of the most common errors.
– Sync up – Using the IRS Data Retrieval Tool can expedite the process by automatically syncing and populating tax return information into the FAFSA.
– File every fall – Complete the FAFSA as a high school senior, every year in college, and even in graduate school. Filing a new FAFSA each year is the only way to remain eligible for federal student aid, and the amount of aid can vary year-over-year.
"The FAFSA really is a gateway to virtually all federal, state, and institutional financial aid," said Martha Holler, senior vice president, Sallie Mae. "It almost feels counterintuitive to start planning for the next school year in October, but because families can use their 2018 taxes to complete the FAFSA, there's really no reason to wait. Yes, it may take some time, and a little bit of homework, but filing earlier could mean thousands of dollars of aid you can put towards paying for college."
Information from Sallie Mae.