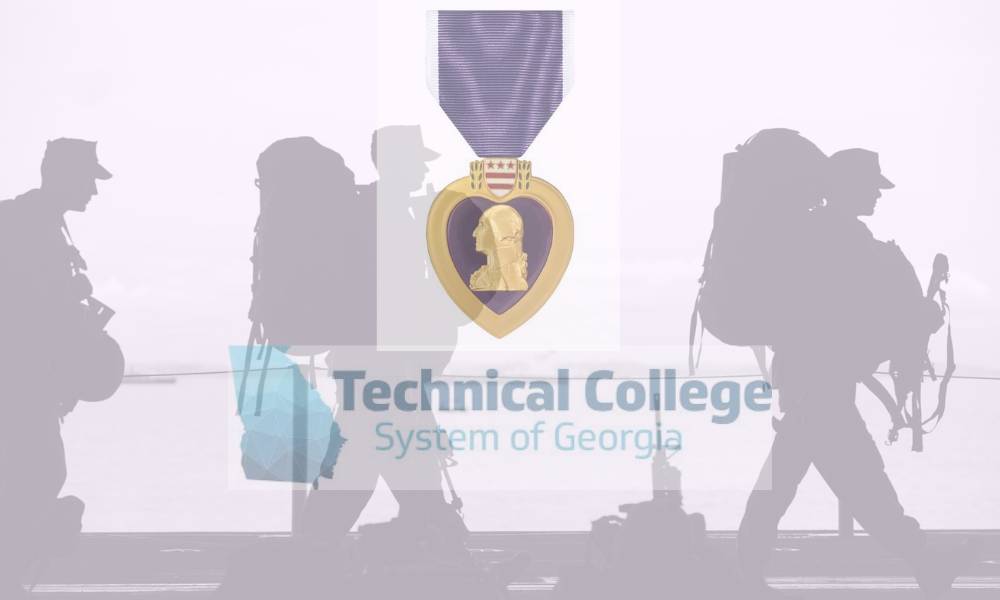 All 22 colleges of The Technical College System of Georgia (TCSG) were recently recognized as Purple Heart Technical Colleges by The Department of Georgia, Military Order of the Purple Heart (GAMOPH) making TCSG the only technical college system in the nation recognized as a Purple Heart System. TCSG earned this distinction by GAMOPH because of the emphasis and support that each technical college in the system provides their military-affiliated students.

"The 22 colleges of TCSG have a long-standing history of supporting Georgia's active military, veterans, and their families through technical education and training," said TCSG Commissioner, Greg Dozier. "Being named the only Purple Heart Technical College System in the nation is a tremendous honor and reflects our unwavering commitment to our military men and women who put their life on the line every day to defend our freedom."
TCSG colleges encompass full-time veteran assistance programs, veteran coordinators, and student veteran organizations that help military personnel and their families make the smooth transition from military service to civilian employment. In addition, TCSG works closely with the Georgia Veterans Education Career Transition Resource Center (VECTR) in Warner Robins, which provides unique, accelerated programs in high-demand and strategic industries tailored to abbreviate the process of receiving postsecondary certificates and degrees by recognizing the extensive training veterans receive during their military service.
"TCSG is proud to play an important part of our military and veterans' lives," said TCSG Executive Director of Georgia Virtual Technical College (GVTC) & Military Affairs, Robert Keown. "We are dedicated to providing the best learning environment for every student as they pursue education and skills training in direct support of the greatest workforce in the nation."
A Resolution recognizing all 22 colleges as Purple Heart Technical Colleges was ratified and recently presented to the GAMOPH Executive Committee.