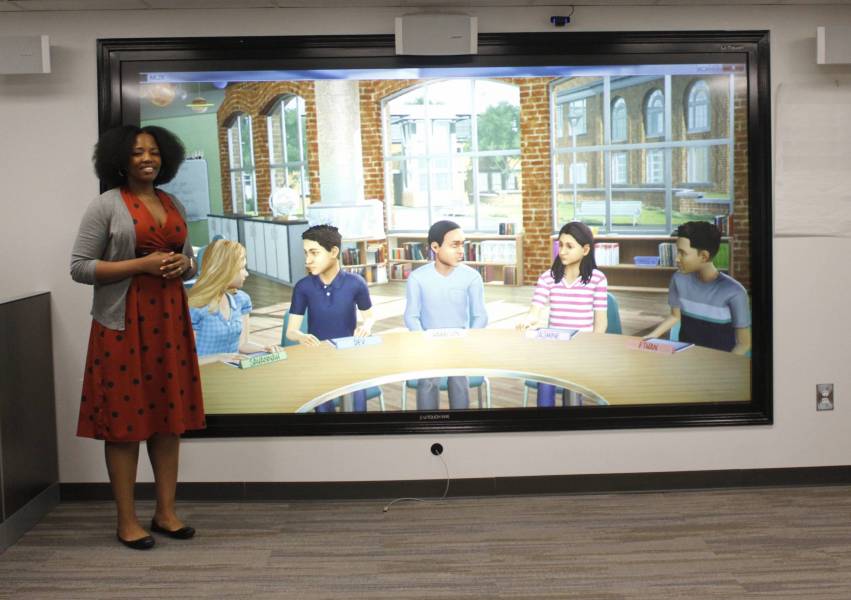 By Julie Lineback

---
The University of West Georgia College of Education (COE)'s Dr. Olivia Uwamahoro Williams played a critical role in a grant totaling more than $2.2 million from the U.S. Rehabilitation Services Administration.
The grant – in partnership with Dr. Margaret Glenn, principal investigator, and Dr. Elizabeth Simpson, co-principal investigator, of West Virginia University (WVU) – will be used to establish new training opportunities for knowledge and skills enrichment for vocational rehabilitation counselors who work with youth with disabilities.
Vocational rehabilitation plays a critical role in helping people with disabilities find and keep jobs and provides such services as job coaching, search assistance, and training. According to a 2019 report from the U.S. Bureau of Labor Statistics, only 19.3 percent of people with a disability were employed.
Williams, an assistant professor of counselor education and college student affairs in COE's  Department of Communication Sciences and Professional Counseling, was approached by her WVU colleagues who were interested in collaborating on new teaching techniques for future counselors.
"My primary research interest is using virtual simulation to train and educate future counselors," Williams explained, adding that her WVU partners discovered her work through an interview she conducted with "Counseling Today," a publication of the American Counseling Association. "We didn't have previous connections with each other. They read the article and felt it aligned with an idea they had to find an innovative way to train vocational rehab counselors, specifically to work with adolescents."
Williams' research is exactly why she is at UWG. Hired in 2015 as a virtual reality expert, she works closely with students in the COE's UWGLive Simulation Lab. UWGLive uses state-of-the-art technology to create immersive mixed-reality environments for participants to practice and master certain skills. UWGLive is an innovative way of assisting educators, school leaders and counselors in challenges they may face in their professions.
"What I've been able to do at West Georgia is create a safe space for students to go in and practice skills without having to worry about the intimidation of being in front of a live client or role-playing with a peer," Williams explained. "They come to the program to learn how to be counselors, not actors and actresses. In the lab, the focus is the skills."
COE  is one of only two independent authorized simulation service providers in Georgia and one of 16 in the country.
Williams explained that, in the lab, administrators are able to control the avatars' intensity, engagement and diversity, including race, ethnicity and disability status.
"My WVU colleagues recognized that in pre-employment transition services (PETS), many vocational rehabilitation counselors were not getting the training to work with adolescents," she continued. "There's a push to start counseling earlier and not waiting until the person is 18 years old, but the curriculum hasn't caught up to this idea yet."
Williams explained that many students on the vocational rehabilitation track don't have access to courses dealing with adolescents because they have other more specific requirements by law that are prioritized. This causes a gap between what they learn in school and what they actually do in the community,
"Because there continues to be this gap, vocational rehab counselors might not feel confident with their ability to work with youth," she said.
With young avatars ranging in grade levels from elementary to high school, UWGLive also helps eliminate the red tape that budding counselors may encounter when trying to work with minors.
"When you think about it, you don't want students practicing on a vulnerable population," Williams observed. "The lab provides a sweet spot where we can create authentic scenarios with a population we couldn't easily have access to before."
Another gap is advocating in the community for their clients, especially to employers. This is something virtual simulation can assist with as well by incorporating multiple avatars.
"We can create an environment in which there are two or three avatars present, representing a client, a parent and an employer," Williams described. "The counselor can learn how to navigate those conversations. A lot of times they might have the skills, they just haven't been exposed to some of these complex scenarios they might encounter with their clients."
Williams said she is humbled to have been approached to work on the grant and to have achieved so much success in a burgeoning field as well as help educate future innovators.
"It feels good to know the work I'm doing is relevant and has the far-reaching impact I have been pursuing from day one," she concluded. "It also feels good as a researcher to know that other people are starting to recognize the value of your life's passion."