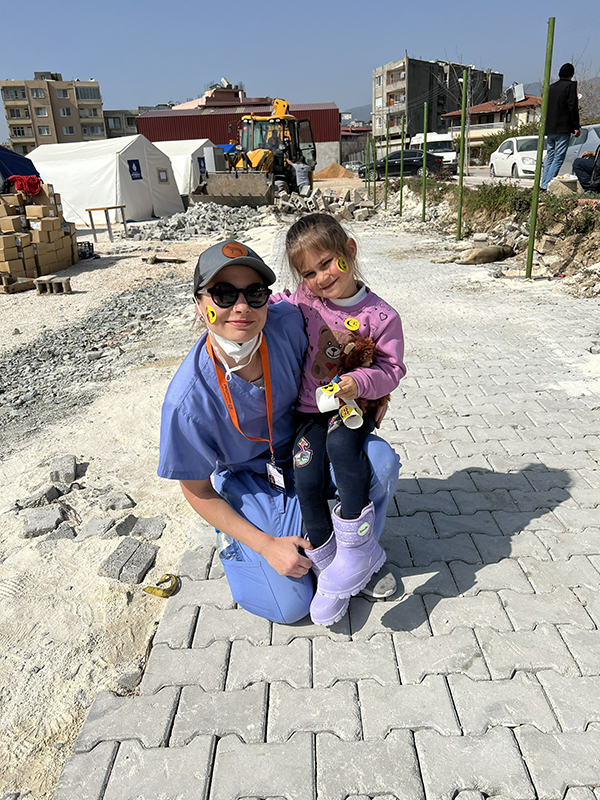 Inara Patton (DO '26), who emigrated from Russia to America in 2011, is a registered cardiovascular invasive specialist and a registered cardiac electrophysiology specialist. With a BS degree in electrical engineering, she is currently a first year medical student at PCOM Georgia.
This is her story about her trip to Turkey in February less than three weeks after the country's devastating earthquake.
By Inara Patton
Imagine large cities such as Niagara Falls or Sarasota, Florida, being destroyed within 96 seconds. All that is left are ruins–and bodies. That is what happened in Turkey on February 6, 2023.
I researched volunteer opportunities as soon as I heard what happened. On February 24 after final exams, I was in the Atlanta airport on my way to Istanbul. Our team met in Turkey to catch a van to Hatay Province, ground zero. There were six of us – two nurses, two paramedics, a middle school teacher, and a cardiac catheterization lab technologist/medical student.
Pictures cannot reflect the devastation of the city. Interviews cannot depict the grief of these people. Nothing can explain the feeling of overwhelming tragedy. Still, these people smiled. They were thankful to see us.
Two doctors were already on site caring for patients. Turkish translators explained medical terminology and comforted the people. They had the tough job of filtering and interpreting pain and grief. Our team worked approximately 12 hours each day caring for about 225 people.
We saw a lot of kids and adults with respiratory diseases, many patients with urinary tract infections, scabies, burns, muscular injuries, broken bones, allergies…and mental trauma. I don't think I will ever forget an elderly lady who cried and wouldn't let go of me because I reminded her of her 25-year-old granddaughter who died during the earthquake. I asked one man if anyone else in his tent had similar symptoms, and he said, "No, all my family is dead. I'm alone". I'll never forget that moment. Read more here.
---
Established in 2005, PCOM Georgia is a private, not-for-profit, accredited institute of higher education dedicated to the healthcare professions. The campus offers doctoral degrees in osteopathic medicine, pharmacy, and physical therapy and graduate degrees in biomedical sciences, medical laboratory science, and physician assistant studies. Emphasizing "a whole person approach to care," PCOM Georgia focuses on educational excellence, interprofessional education and service to the wider community.
---
SOURCE Philadelphia College of Osteopathic Medicine