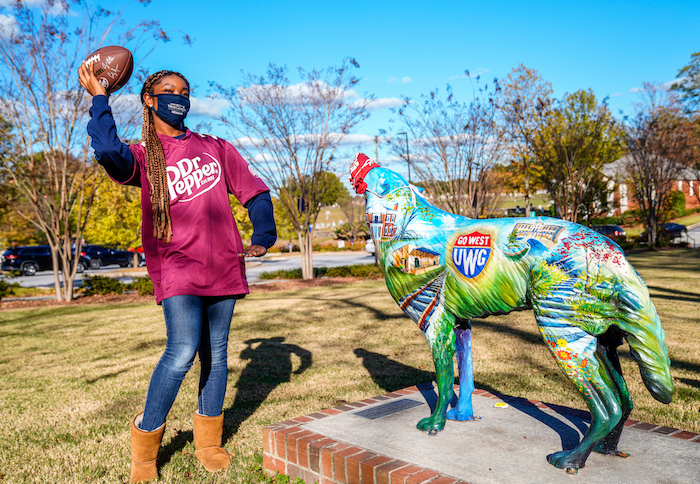 By Colton Campbell

With the help of Dr Pepper – and, interestingly enough, a University of West Georgia staff member named Pepper – UWG nursing student Chemari Reeves has been awarded $75,000 in scholarship money to finish her degree debt-free.
The Palmetto, Georgia, resident – a junior who takes nursing courses at UWG Newnan – was the runner-up in the soft drink's annual Tuition Giveaway in the Southeastern Conference (SEC) division.
"This has all been so surreal," said Reeves, a mother and full-time student who also works at UWG Newnan in the student services department. "When I first submitted my application, I saw how many other students applied, and I put it out of my mind. Then, I got the call that said I was a finalist, and I couldn't believe it. It has truly felt like a dream."
Reeves, along with five other contestants, competed for the chance to win $125,000 in free tuition to put toward their education, with runners-up receiving $75,000. The contestants had to throw the greatest number of footballs into the iconic oversized Dr Pepper can in 30 seconds.
The competition aired Dec. 19 during halftime of the SEC Championship game but was recorded at the Dude Perfect headquarters in Frisco, Texas, following all appropriate health and safety guidelines. It was Reeves' first time visiting Texas and her first time on a plane since she was 8 years old.
Prior to this experience, Reeves said she rarely – if ever – picked up a football. That changed in recent months, as she spent the days leading up to the recording honing her throwing skills with a handmade replica of the Dr Pepper can built out of plywood by staff members at UWG Newnan.
Jay Luzardo/Times-Georgian Chemari Reeves, a nursing student at the University of West Georgia, showcases her skills on Friday before competing for the Dr Pepper Tuition Scholarship contest.
Chemari Reeves, third from left, and Tate Lewis, second from right, pose with the members of Dude Perfect after competing in the 2020 Dr Pepper Tuition Giveaway football throw competition on Monday, Nov. 16, 2020 in Frisco, Texas. (Brandon Wade/AP Images for Keurig Dr Pepper)
Another member of the UWG Newnan team – Pepper Copenhaver, who serves as a support specialist for Information Technology Services – assisted Reeves in filming her application video. And the footballs she threw in her practice rounds? They were supplied by UWG Athletics.
"I am so appreciative of the close-knit family I've found at UWG Newnan," Reeves said. "The classes I take are challenging, but I am able to have a personal connection with my professors and the staff. I know I'll always find someone who knows me and who will tell me all about what resources are available to me."
In her application video, Reeves described her aspirations to become a neonatal nurse practitioner – with plans to earn a master's degree from UWG, as well. While attending UWG, she's conducted research on better pain management techniques in the neonatal intensive care unit (NICU).
"Shortly after my son's birth, [he] and I experienced serious complications," she said in her application video. "We were eternally grateful for the support and gracious attitude shown to us in our time of need. I want to be that beacon of hope in life for someone else. I plan to give the future generation the chance to thrive and be the healthiest and happiest versions of themselves."
The video was impactful enough for Reeves, whose son Ryland is now 3 years old, to be selected as a finalist out of more than 111,000 other students who applied.
"This entire experience has made me appreciate the things I have taken for granted before this year," Reeves said. "If there's one thing 2020 has shown me, it's how resilient I can be. In our nursing classes, we're taught that even through the chaos, our future patients are going to need us to be strong so we can help them heal. I've learned this year that I am strong and I can persevere."