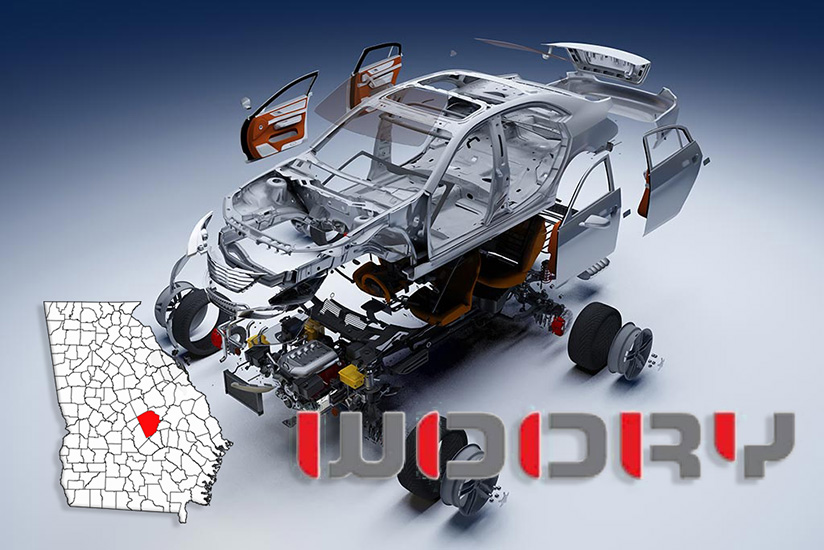 Woory Industrial Co., Ltd., an automotive parts manufacturer, will establish a new manufacturing facility in Dublin, Georgia. The facility will create more than 130 new jobs and an estimated $18 million in investment in Dublin-Laurens County.

"We're proud to welcome Woory Industrial as the latest job creator to help us on the path to becoming the e-mobility capital of the nation," said Governor Brian Kemp. "This emerging industry continues to bring historic levels of new jobs and investment to communities all over the state, thanks to our highly-skilled workforce and reliable infrastructure network. With these and other assets, I'm confident Woory will have a long and beneficial partnership with Dublin-Laurens County."
Woory Industrial Company, known as Woory, was established in 1989 and specializes in heating, ventilation, and air conditioning components and systems for the global automotive industry. Today, Woory not only maintains its traditional product lines but is also concentrating on the development of new products for electric vehicles (EV) and hydrogen-fueled cars.
"Currently, we are facing a revolution in the automobile industry for the first time in 100 years. The transition to electric vehicles is the future, and the U.S. EV market is the key market among all automotive markets," said Jungwoo Kim, CEO of Woory Industrial Company. "Over the past 10 years, Woory has successfully grown into a specialized EV component company through continuous innovation. Georgia will be a good opportunity for Woory to take another step forward as part of the vanguard of EV development. We are confident that our experience and technology will contribute to the prosperity of the community, and we sincerely appreciate the partnership of the State of Georgia and the City of Dublin."
Woory's new facility, located at 404 Kellam Road in Dublin, will be the company's first U.S. manufacturing location. The facility will produce electrical heaters, control units, and actuators for EV and internal combustion carmakers in North America. Operations are expected to begin in November 2023.
Unlike internal combustion engine vehicles, electric vehicles do not have a heating source. Accordingly, heaters for electric vehicles are required for heating the cabin and to maintain the temperature of the battery. Woory's pioneering development of electric heaters over the last 10 years has led the company to become a leader in this growing market segment.
Woory will be hiring for positions in personnel from all fields necessary for an automotive parts manufacturing plant. Interested individuals can learn more about employment opportunities at www.woory.com. Future open positions will be posted under the "Recruitment" link.
"Fostering quality and sustainable growth is a goal of the City of Dublin," said Dublin Mayor Joshua Kight. "Woory's commitment to place an existing manufacturing building back into service helps to promote more infill development while creating new career paths for our community. We are pleased to welcome Woory to the Dublin community!"
"We are excited to welcome Woory to the Dublin-Laurens County community," said Dr. Fred Williams, Chair of the Board of Directors of the Dublin-Laurens County Development Authority. "Dublin and Laurens County has a rapidly growing automotive sector, thanks to our geographic location on Interstate 16 and access to a skilled and trained workforce. Their partnership with our area education systems and training providers will ensure that we have the training programs in place to help fill Woory's talent pipeline for years to come."
Project Manager Jacob Lee represented the Georgia Department of Economic Development's (GDEcD) Global Commerce team on this competitive project in partnership with the Dublin-Laurens County Development Authority, Georgia Power, and Georgia Quick Start.
"Projects like Woory and its first U.S. home in Dublin, Georgia, are exactly why we've made it a priority to be on the cutting-edge of this transformational opportunity in manufacturing: they are creating jobs and opportunities in rural communities," said GDEcD Commissioner Pat Wilson. "Georgia has invested for decades to match competitive projects with communities and sites that are prepared for development, and we are thrilled to be able to congratulate Dublin-Laurens County on bringing these e-mobility jobs of the future to middle Georgia."
For over a century, Georgia has fostered healthy industry practices, encouraged partnership and innovation, and positioned the state as a leader in developing and harnessing emerging technologies for the evolving automotive and mobility industry. From July 1 through December 31, 2022, the automotive industry was the second-largest source of new jobs and investment in Georgia. As the fast-emerging EV industry continues to grow in market demand, the state has pursued job creation opportunities along the entire supply chain, resulting in over $22.7 billion in investment and the creation of more than 28,400 jobs since 2020.
---
About Woory Industrial Co., Ltd.
From its humble beginning operating a small factory producing fuel senders in Suwon, South Korea almost 35 years ago, Woory has grown into an international enterprise with production plants around the world employing over 1,300 people. Today, Woory's business is focused on the development and production of HVAC auto components for all types of vehicles, including electric and internal combustion engine vehicles, as well as eco-friendly and hydrogen-fueled cars. Woory has been nominated as a supplier for Tesla, Rivian, Lucid, and Canoo; and it is now supplying the HV heater system used to heat the cabins of EVs.