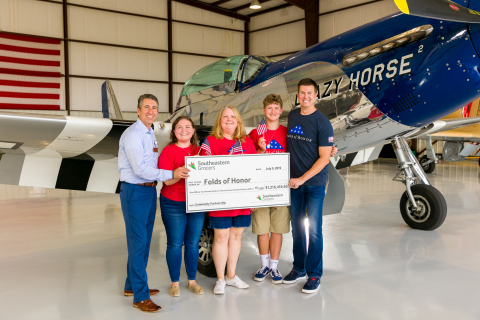 Grocer and customers exceed goal with donation of 243 scholarships to families of fallen and disabled military
Southeastern Grocers, Inc. (SEG) had great news to announce this week.
The parent company  of BI-LO, Harveys Supermarket and Winn-Dixie grocery stores announced the donation of $1,216,416.65 to Folds of Honor, which will provide at least 243 educational scholarships to the children and spouses impacted by a loved one's sacrifice for the United States military.
This donation was made as part of SEG's community-based customer donation  match campaign over the last six weeks. Customers at BI-LO, Harveys Supermarket and Winn-Dixie stores rounded up their total grocery bill to the nearest dollar at checkout from Memorial Day through the Fourth of July. SEG has long supported Folds of Honor's initiative to provide brighter futures for the legacies of fallen and disabled service members through education.
Anthony Hucker, President and CEO of Southeastern Grocers, said in a press release, "We are overwhelmed by the giving hearts of our customers and associates, and we want to thank everyone for their extraordinary efforts to exceed our goal to donate more than $1.2 million to Folds of Honor in our stores. While the sacrifices of our fallen and disabled service members can never be fully repaid, it is our privilege to continue to stand with Folds of Honor to brighten the futures of at least 243 military spouses and children of America's heroes."
Major Dan Rooney, Founder and CEO of Folds of Honor, said, "It's powerful partnerships like the one we have with Southeastern Grocers that allow us to strengthen the lives of so many of our military family members through continuing education. Each scholarship we grant is a tribute to those who served and those who continue to serve the ultimate sacrifice for this country. We're thankful to Southeastern Grocers and its customers for helping us show our gratitude to more than 243 of our service members."
For more than a decade, Folds of Honor has awarded almost 20,000 educational scholarships to spouses and children of America's fallen and disabled service members. Last year alone, Folds of Honor awarded 4,000 educational scholarships throughout the United States, including more than 1,300 scholarships within the seven states Southeastern Grocers serves.