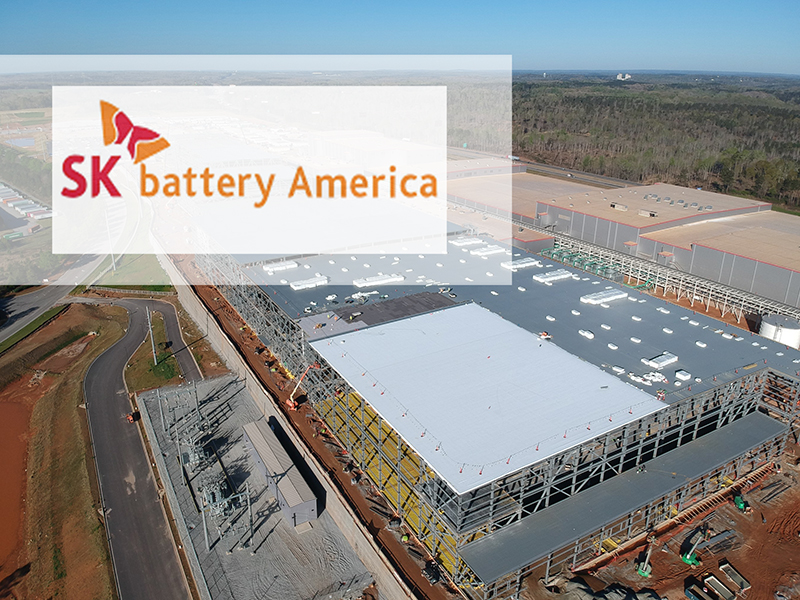 SK Battery America (SKBA) has exceeded its hiring goal of 2,600 employees two years ahead of schedule for its two lithium-ion battery manufacturing facilities in Commerce, Georgia. The company met its goal at the end of 2022 and is further expanding its workforce to approximately 3,000 over the next year to meet the growing demand for electric vehicles.

"As Georgia continues to see unprecedented growth, our hardworking citizens are reaping the benefits," said Governor Brian Kemp. "SK Battery America and the State of Georgia share a common trait: we are never content to rest on our laurels and are always working to reach the next milestone. I want to thank SKBA in going above and beyond in delivering on their commitments. As one of the first companies to put Georgia on the e-mobility map, our relationship continues to grow and bring opportunity to communities across the state."
SK Battery America announced its first project in Georgia in 2018, with an initial planned investment of $1.6 billion. Since 2019, the company has invested $2.6 billion to build two battery manufacturing facilities in Jackson County to supply electric vehicles, including the Ford F-150 Lightning and the Volkswagen ID.4. SKBA started mass production in early 2022.
"We have met our employment goal ahead of schedule thanks in large part to our partnership with the State of Georgia. The state's Quick Start program has helped us attract and train workers with a speed and scale that would be difficult for any company to do on its own," said SK Battery America CEO Timothy Jeong. "More than 300,000 new electric vehicles a year will be on American roads because of the work we're doing here, and SKBA team members take great pride of the role we have in building a new chapter in automotive history."
SKBA has worked with Georgia Quick Start, the state's top-ranked job training program through the Technical College System of Georgia, since announcing its first project in 2018. In July 2022, SKBA announced they would partner with the Georgia National Guard's Work for Warriors Georgia program to focus on hiring veterans, servicemembers, retirees, reservists, and their families in the pursuit of their career goals. The company has held numerous career fairs, visited schools, and held community events in recent months. To attract the highest-quality workforce, SKBA has consistently improved wages, benefits, and its overall work environment.
"We very much appreciate SKBA's commitment to provide high quality jobs within our county. We are also grateful for their substantial financial investment," said Tom Crow, Chairman of the Jackson County Board of Commissioners. "Jackson County looks forward to seeing the benefits that SKBA's operation will continue to bring to our community as we build a long-term relationship with them."
The company is still hiring for jobs in production, quality, utility, logistics, ERT, maintenance, and other areas. Career information can be found at www.skbatteryamerica.com.
"SK Battery America has relentlessly pursued their goals of hiring Georgians for their high-skilled, high-paying jobs and has become an incredible partner to the state as they meet their standing commitments and aggressive hiring needs," said Georgia Department of Economic Development Commissioner Pat Wilson. "I applaud SKBA for their commitment to our state, their adopted community, and to the people of Georgia. I am consistently impressed with their dedication, out-front role in the development of the electric mobility ecosystem in our state, and participation in every opportunity presented to them. Thank you, SKBA!"
---
About SK Battery America
SK On, the parent company of SK Battery America, is a global leading electric vehicle battery developer, manufacturer, and solutions provider. As SK On's U.S. production base, SK Battery America produces one of the world's safest, fastest charging and longest-lasting batteries, currently installed in the Ford F-150 Lightning and Volkswagen ID.4. We will have a combined capacity to make 22 GWh of battery cells a year – enough to power the equivalent of about 300,000 EVs annually. Since 2019, the company has invested a total of $2.6 billion to build EV battery plants in Commerce, Georgia, creating 2,600 high-skilled jobs.