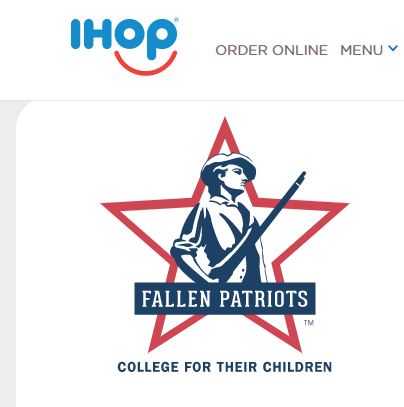 IHOP has something cooking and it isn't just pancakes.
The company announced earlier this month that it has launched a partnership with Children of Fallen Patriots Foundation (CFP) to help families in need. Specifically, the company will raise $1 million to fnd college scholarships and educational counseling for military children who have lost a parent in the line of duty.
It's all part of Military Appreciation Month, which began May 1st.
Guests can support CFP and military families in their community by visiting any IHOP restaurant May 1 through May 31, 2019 and making an on-check donation or purchasing a $5 wall sticker at participating locations, with all proceeds going directly to CFP. Guests purchasing a wall sticker to show their support will also receive a $5 off coupon good for a future purchase of $10 or more.
"Taking care of kids and families is at the heart of what we do every day at IHOP and has been a part of our brand philosophy since we first opened our doors in 1958," said Darren Rebelez, President, IHOP. "It's an honor to partner with Children of Fallen Patriots Foundation and help make a meaningful and lasting impact on communities across the U.S. Fallen Patriots' scholarship program directly addresses the gap in educational funding for military families and is a chance to honor the servicemen and women who made the ultimate sacrifice to protect our country."
Later this month, IHOP will announce additional news and events tied to its month-long National Military Appreciation campaign and $1 million fundraising goal.
According to CFP, since 1983, more than 20,000 children have been impacted by the loss of a parent killed in the line of duty, leaving the families of fallen servicemen and women with a financial strain and questions about their future. Of the military families who have lost a loved one, 60 percent report having trouble making ends meet, particularly as 63 percent of surviving spouses make less than $50,000 per year. CFP works to ensure that every Gold Star family receives all necessary college funding and educational counseling.
"IHOP and Fallen Patriots share the belief that children are our future and that together, we can set tomorrow's leaders up for success," continued Rebelez. "As a veteran myself, I'm incredibly proud of our franchisees and what we're doing as a brand to help raise $1 million on behalf of Gold Star families, many of whom are family members, friends, neighbors and guests."