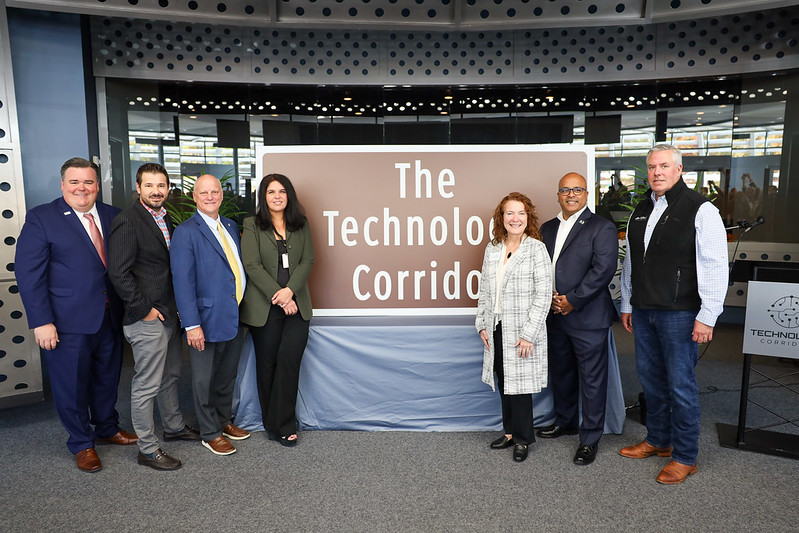 Earlier this year the state legislature officially dubbed the seven miles from Haynes Bridge Road to SR 20 of GA 400 as The Technology Corridor. The formal unveiling of this corridor, hosted by the Forsyth County Chamber of Commerce and the Greater North Fulton Chamber of Commerce, took place on Thursday, Oct. 27 at 3 PM at technology business incubator Digital Ignition, located at 190 Bluegrass Valley Parkway in Alpharetta, Georgia.
This stretch of GA 400 is the fastest-growing tech area in Georgia and boasts the highest concentration of tech talent in the state.
"The infrastructure investment in GA 400 in the late 1970s spurred the investment of world-class fiber, which has resulted in over 700 technology companies locating in the GA 400 corridor. This is a clear example of how there is a direct correlation between infrastructure investment and economic development. The GA 400 Corridor is truly the Technology Corridor of Georgia," commented Senator Brandon Beach.
"Numerous technology companies have a presence in the heart of Georgia's Technology Corridor and the development in the area has created a great environment for them and other businesses to thrive. We look forward to the future of the continued growth of these businesses as well as the partnerships," said Forsyth County Board of Commissioners Chair Alfred John.
"Visionaries many years ago saw the potential of the GA 400 corridor as a technology hub. When fiber optic cable was laid in this region in the 1980s and 1990s, the economic success for the Alpharetta region was born. The City of Alpharetta is proud to be known as the Technology City of the South. Many residents of Alpharetta and Forsyth County are employed by the vibrant technology sector. We welcome this designation by the GA General Assembly to recognize this section of GA 400 as the Georgia Technology Corridor. We are excited to watch our neighbors in Forsyth County grow their technology ecosystem," commented City of Alpharetta Mayor Jim Gilvin.
The Technology Corridor area has combined attributes that create an ideal environment for technology companies to establish and develop. The partnerships between city government, county government and the private sector cultivate exceptional locations for prosperity
---
Source: Forsyth County Chamber of Commerce