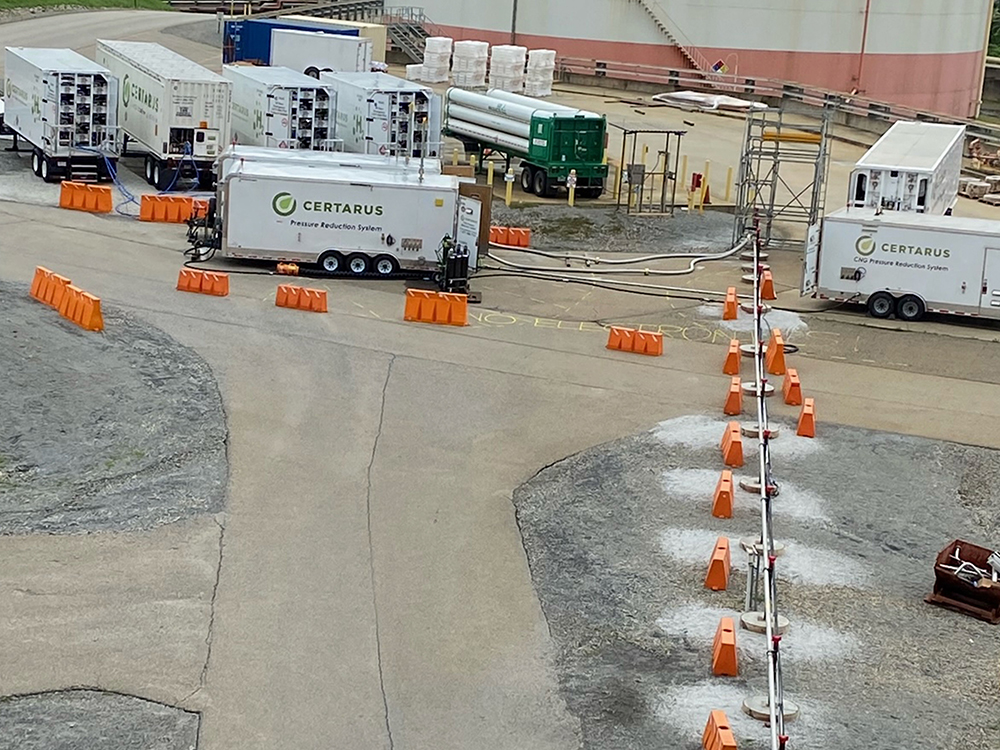 Certarus Ltd. announced today that it has safely delivered hydrogen for the world's largest hydrogen-powered generation test. Certarus was selected by Mitsubishi Power Americas, Inc. ("Mitsubishi Power") and Georgia Power to deliver and control hydrogen pressure to fuel a large-scale, advanced combined cycle gas turbine at Plant McDonough-Atkinson in Smyrna, Georgia.

The test marks the highest published hydrogen blend flow rate for a natural gas-fired advanced class gas turbine to-date and was conducted as part of Georgia Power's commitment to build the energy grid of the future and reduce carbon emissions across its power generation fleet. Certarus' mobile energy distribution platform provided over 4,000 kilograms of hydrogen for a 20% hydrogen, 80% natural gas fuel blend to support testing and monitoring for one of six gas turbines at the site over four days.
During the test, the hydrogen fuel blend successfully generated efficient power to support full turbine capacity and produced fewer carbon dioxide and carbon monoxide emissions compared to pure natural gas.
"Hydrogen has the potential to help industrial operators and utility providers improve operational efficiency, significantly reduce carbon emissions, and achieve their net-zero goals," said Richard Cheng, Certarus' Vice President, Hydrogen. "Our on-road energy distribution platform is perfectly suited to safely transport hydrogen fuel across North America to support the acceleration of hydrogen adoption across industrial sectors."
The Electric Power Research Institute (EPRI) supported the development of the project and had researchers on-site during testing to observe and collect data for a detailed report that is expected to be published this summer.
---
ABOUT CERTARUS
Certarus is the North American leader in providing on-road low carbon energy solutions through a fully integrated compressed natural gas, renewable natural gas, and hydrogen platform. Certarus safely delivers clean burning fuels to energy, utility, agricultural and industrial customers not connected to a pipeline. By displacing more carbon intensive fuels, Certarus is leading the energy transition and helping customers lower operating costs and improve environmental performance. With the largest fleet of mobile storage units in North America, Certarus is uniquely positioned to meet the growing demand for low and zero emission energy distribution. For more information, visit www.certarus.com and follow us on LinkedIn.
---
SOURCE Certarus Ltd.