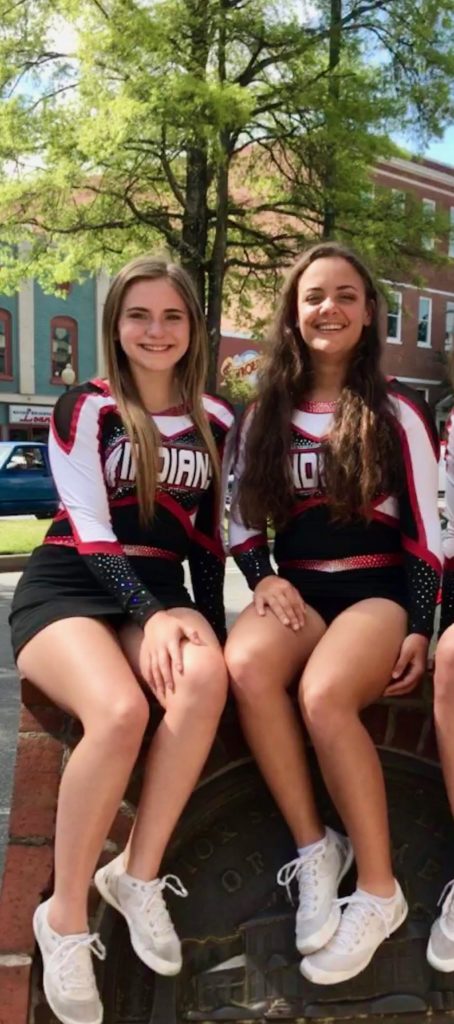 In another "First" for the Indians of Chattooga High School, two varsity cheerleaders were named to the Top 40 of Cheerleader of the Year. Indians Mia Crider and Laney Barnes will advance to the final competition at Columbus State University's Lumpkin Center on August 3, 2019
Cheerleader of the Year is a statewide scholarship program funded by the Georgia Cheerleading Coaches Association. Members coaches nominate athletes and coaches alike for honors that include; Cheerleader the Year, Team of the Year, Coach of the Year.
Coaches nominate rising senior cheerleaders who have a minimum 3.5 GPA, and those nominated then must complete an application that includes all of their honors and awards, community work, grades, classes, test scores, and other factors. There is also an essay component and several letters of recommendation from coaches and other community members are required.
Regional Representatives from a Leadership Team from across the state of Georgia, which are part of the board at the GCCA, then select the top 40 applications from hundreds of nominations. The Top 40 are then invited to Columbus, Georgia on August 3rd to perform a two minute routine which involves all skills that would be performed for a competition routine with the exception of the pyramid stunts.
"It is a huge honor overall, and to be such a small school and have two applicants make the top 40 is a huge deal," said Indians Head Coach Liza Morgan. "We are the only team from our region, and really the only team truly from the northwest Georgia area, that is represented. The closest teams I can find are Woodland and Allatoona." Morgan points out that the Chattooga pair didn't just impress the Leadership Team from the GCCA with their maturity and skills; they have a tremendous following within the faculty at Chattooga and the community. "Obviously Mia and Laney are both excellent students and cheerleaders… to be able for them to represent Chattooga High School in this capacity is just an awesome thing."
Mia Crider has a 4.0 GPA and is number one in class rank. Mia is the Junior Advisor for the Chattooga County FFA Chapter and also a part of the Student Council and Beta Club. She is a Competition Cheerleader & Spirit Cheerleader and on the Chattooga Tennis Team and Powerlifting Team, where she is a state champion and state record holder.
Allison "Laney" Barnes has a 4.0 GPA and is ranked number three in her class. Mia is a member of FCA, Beta Club, Skills USA, and FFA. She has lettered in Academics and Atheltics all three years of high school, earned the top ten science award for highest average, and Positive Athlete Georgia Nominee. She is a member of the varsity spirit and competition cheer teams and also played soccer her junior season.