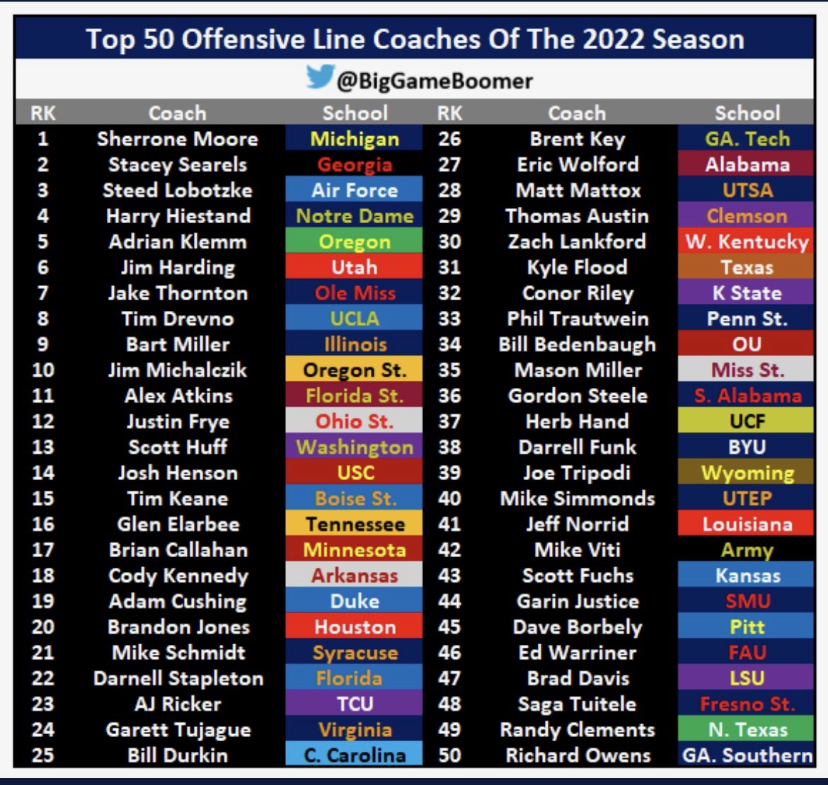 University of Georgia's Stacy Searels has been named in the top five Offensive Line Coaches. Searels was selected as the #2 Offensive Line Coach in the nation and was a finalist for the Joe Moore Award, presented to college football's Most Outstanding Offensive Line Unit.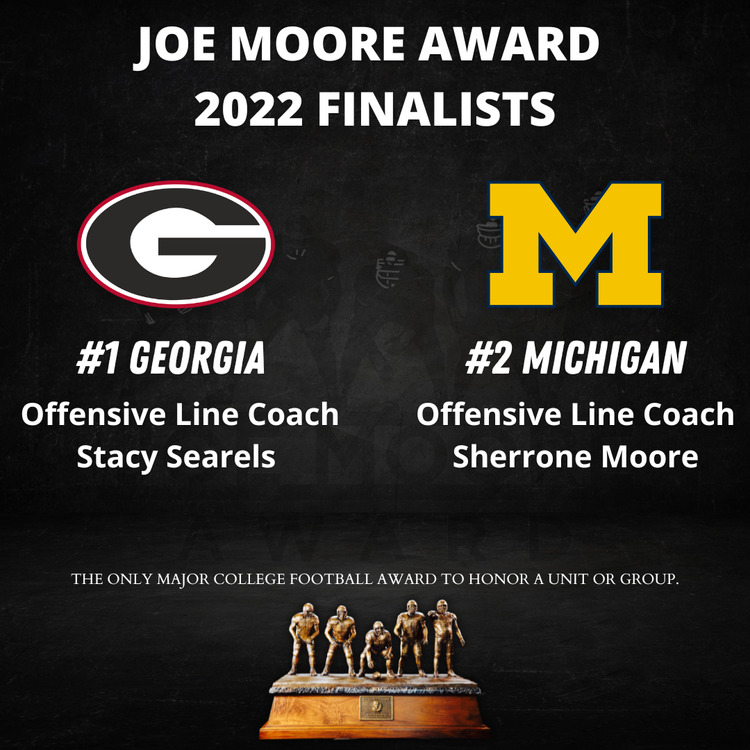 A 30-year coaching veteran, Searels has produced 25 NFL offensive linemen, including 11 NFL Draft picks.
He tutored the offensive line at Appalachian St. (1994-2000), Cincinnati (2001-02), LSU (2003-06) and Georgia (2007-10) before spending three years with Coach Mack Brown at Texas (2011-13), including one season as the Longhorns' assistant head coach.  Searels spent five seasons in the ACC before coming to Carolina, coaching the offensive line at Virginia Tech (2014-15) and Miami (2016-18).
After four seasons playing professionally, Searels started his coaching career as a graduate assistant at Auburn, his alma mater, in 1992.
A native of Trion, Ga., Searels graduated from Trion High School and from Auburn University.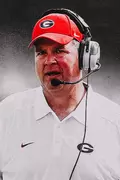 Georgia (13-0)
Georgia's O-line unit has only allowed seven sacks this year. That leads the SEC and is tied for second nationally.

Behind the protection of the O-line, the Bulldogs are averaging 39.2 points/game and 207 yards per game rushing during Georgia's 13-0 season.

Helped reigning national champions to a 13-0 (8-0 SEC) record and consensus No. 1 team ranking in the national polls.

Georgia is tied for third nationally with 37 Rushing TDs.

Bulldogs lead the country in Red Zone Offense, scoring 97.2 percent of the time and are tied for third with the nation's third most rushing TDs (30) in Red Zone.

Georgia ranks 7th nationally in Total Offense (491.9 ypg) and 11th nationally in Scoring Offense (39.2 ppg).

Georgia has been sacked just seven times in 13 games this season (tied for 2rd nationally at 0.54 sack/game).

Paved the way for 255 yards (5.8 yards per carry) and 2 touchdowns in a 50-30 win over LSU in the SEC Championship Game.