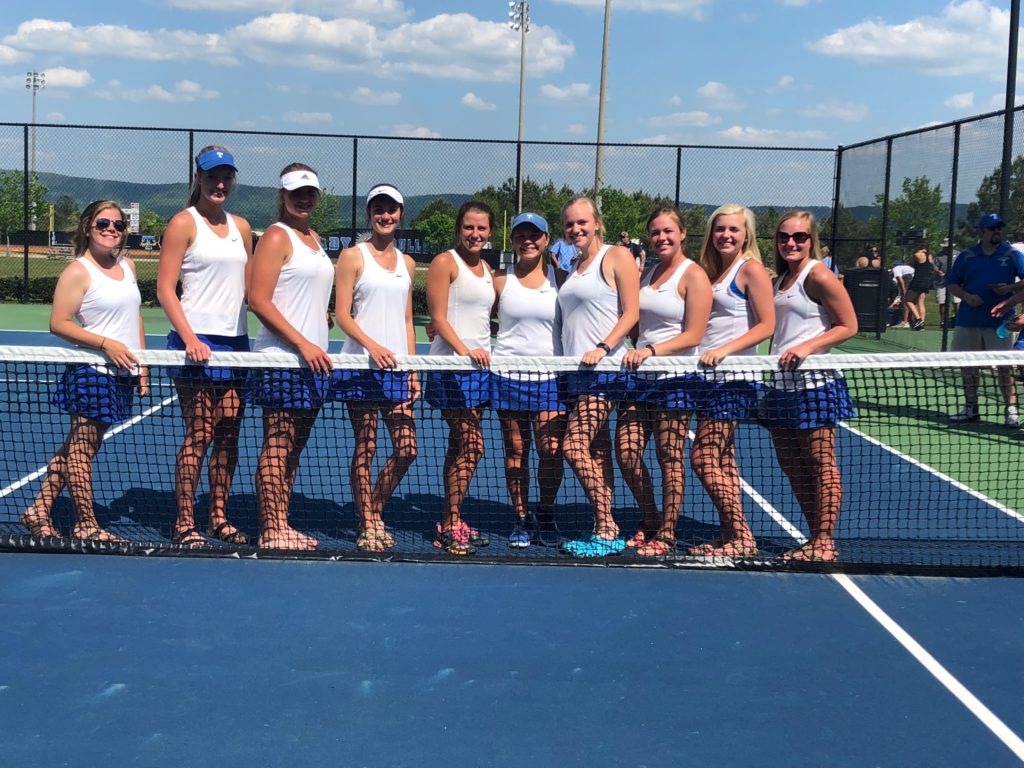 Trion Girls Tennis defeated Telfair County advancing to the Final Four.
The Bulldogs, the #1 Seed from Region 3, knocked off Telfair County to advance to the Final Four of the GHSA State Championship (Single A Public).
The Bulldogs will face off against Marion County, the #2 from Region 1, who shut out #1 Seed, Washington Wilkes, 5-0.
Trion Girls Roster:
Abigail Decker -1st singles
Chloe DeBerry- 2nd singles
Lorin Walraven- 3rd singles
Laurie Gentry -1st doubles
Shelby Carlock- 1st doubles
Haley Price- 2nd doubles
Sophie Harward- 2nd doubles
Alternates
Mallorie Johnson
Ansley Bandy
Grace Wofford
Winners today were: Lorin Walraven, Laurie Gentry and Shelby Carlock, and Haley Price and Sophie Harward. "It was a phenomenal match by the girls today. Greatness rose above all obstacles, true grit and gut were displayed by third seed Lorin Walraven in a four hour and 7 minute match. What an amazing day," Coach Howard Hughes said
Instant Classic
Lorin Walraven's match was a statement match for the Bulldogs. The epic bout lasted a staggering four hours and seven minutes as the Trion #3 Singles, Walraven, remains undefeated for the season. According to Head Coach Gentry, Walraven has been instrumental in capturing that third win for the team when the Bulldogs have faced 4A and 5A schools. "She plays a consistent game and stays in the point. She too worked this summer and fall to improve her strokes. She will be a key player as we head to deeper into the state playoff rounds," Bulldog Coach Gentry said. Walraven improves her record to 18-0.
"I knew I could pull it out because all season I have been focusing on staying in the point. As I play each point my focus is on hitting winners and staying consistent. If I can stay strong, I can usually outplay the opponent by simply making fewer mistakes. We play as a team though and win as a team," Walraven said following the 247 minute match.
In the #1 Doubles spot, Laurie Gentry has also gone undefeated this season. She and her partner, Sophomore Shelby Carlock, have locked in big wins each match, rarely allowing their opponents to even win a game in each set. Many times they have shut out their opponents completely. Laurie has now lettered four years in tennis, beginning her freshman year as third singles and, after a broken ankle, moved to doubles. Gentry and Carlock are 18-0 for the season.
Senior Laurie Gentry said, "…this is what we have been working for the last four years. Some of us have played together that long and we just hope all of our hard work and dedication pays off and we can win the State Championship and get a ring!"
#2 Doubles, Haley Price has only seen one loss this season to 5A Heritage Generals. She and her partner, Sophie Harward, have shown improvement throughout the season and have shut out several opponents as well. Haley played a singles position last season but moved to doubles this year to maximize the Bulldog lineup.
"Today was filled with long, hot, intense matches for both the boys and girls teams. Fortunately the girls had the stamina to pull out the 3-2 needed win. Hats off to Lorin Walraven who endured a grueling match to secure that third win to help advance our girls to final four. We are so proud of our girls," Coach Connie Gentry said.
According to Coach Gentry: "As far as the winners today, our number one doubles Laurie Gentry and Shelby Carlock have gone undefeated the entire season, whether we played 4A or 5A schools. They are just an amazing combination. Shelby is a beast on the net and Laurie has a phenomenal lob game and short forehand shot."
Lorin Walraven has only had one loss this season to Unity Christian School. She has been playing consistently and absolutely staying focused and not getting ahead of herself keeps her in check. She has an incredible backhand that gives her quite the advantage."
Second doubles Haley Price and Sophie Harward only gave up one match this year as well and it was to Heritage High School and they lost in a tiebreaker. It was close the entire match. Haley brings several years experience to the table as she held a singles spot last season and she play well in any court position, especially the net. Sophie is more of a baseline player but has come along quite nicely with her net skills in the last few weeks."
The Bulldogs will host Marion Co Thursday, May 3rd at 12:30 for the Final Four.