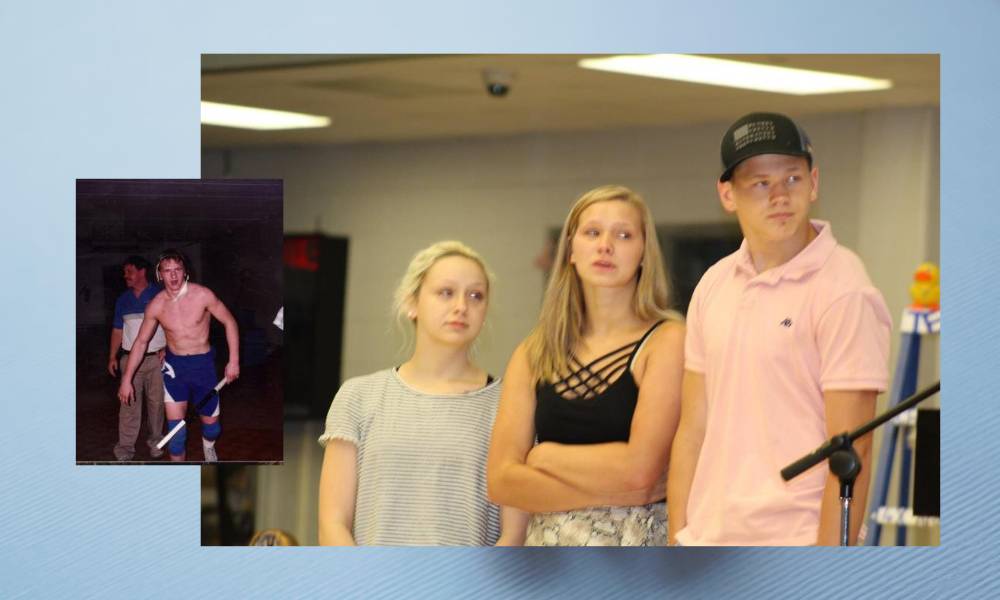 Trion High School's Wrestling team recently held its end of the season banquet which was capped off with a presentation of state championship rings. While many rings were passed out during the ceremony, there was one missing ring that had been on Coach Brock's mind all season.

Eric Brock was part of the 1994 Trion Wrestling State Championship team and is the current head coach of the Bulldogs.
The 1994 Trion High School State Championship Wrestling team has suffered significant loss over the years. Six members of the '94 team  have passed away far too soon; Danny Johnson, Cody Kirk, Shawn Harris, Bill Bare, Price Farmer and just this past week Dustin Starkey.
The Bulldogs team manager this past season was Macey Harris, daughter of the late Shawn Harris.
Harris was only 29, when he passed away from a gunshot wound to the chest. He left behind three children, ten month old Lane, three-year old Macey, and five-year old Harley.
Coach Brock said throughout the season he would tell Macey stories of her dad on bus rides to matches, "and one time I asked about his state championship ring." Macey told Coach Brock that no one knew what happened to the ring.  "That's when I started calling and getting it together to have a replica made for each of Shawn's three kids," Brock said.
"I wanted to surprise the Harris kids with an exact replica of their Dad's state championship ring at the end of the season banquet, but due to Covid the rings haven't been shipped yet, but I did recognize the kids and tell them what was going on," Brock said.
Brock called all three of the Harris kids up to the podium during the banquet, "I had no idea what he was doing," Macey told AllOnGeorgia.
He told the kids as soon as the rings are able to be shipped, the Harris children will each have an exact replica of their father's 1994 Trion State Championship ring.
Shawn Harris, earned two individual state wrestling championships in the 1990s. Piling up a staggering high school career record of 126-6. After high school, Harris went on to an undefeated career as a mixed martial arts fighter.