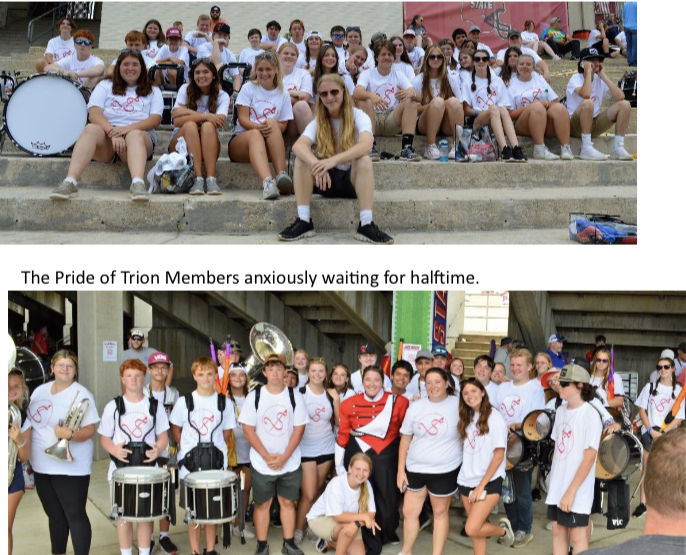 Every year, the Marching Southerners of Jacksonville State University host a band day for high school students to come and experience the friendliest campus in the south on game day. Even though the Bulldogs had a by-week, and it was Labor Day weekend, the Pride of Trion Marching Band was up bright and early on Saturday morning to make their way to Jacksonville, AL.

JSU played East Tennessee State, and they were ahead 21-3 at the half, and halftime is when the magic happens. The announcer made his iconic announcement, "And now, the moment you have all been waiting for, The Jacksonville State University, MARCHING SOUTHERNER!"
The over 500-member band took the field and performed their traditional ballerina feature, "Quilting Party." Then around 1000 excited high school kids stormed the field to join the Southerners to finish out the half time show. They performed two traditional JSU songs, 'Salvation is Created' and 'Stars Fell on Alabama'. Then they finished the halftime show with the theme from ESPN and the JSU fight song.
After the blowout 49-3 victory over ETSU, the kids were blown away by the Southerners' performance of a portion of this year's production entitled 'Reflection'. They performed Reflection from the Disney movie Mulan, selections from the Fire Bird Suite, and Malaguena.
Trion alumnus, and now Marching Southerner, Sara Thompson, said "My first Band Day as a Marching Southerner was very surreal. It has been a dream of mine to march with the Southerners as long as I can remember. I really enjoyed getting to spend the day with all my 'band babies' from home (Trion). I hope that I inspired some of them to join me at JSU in the future."