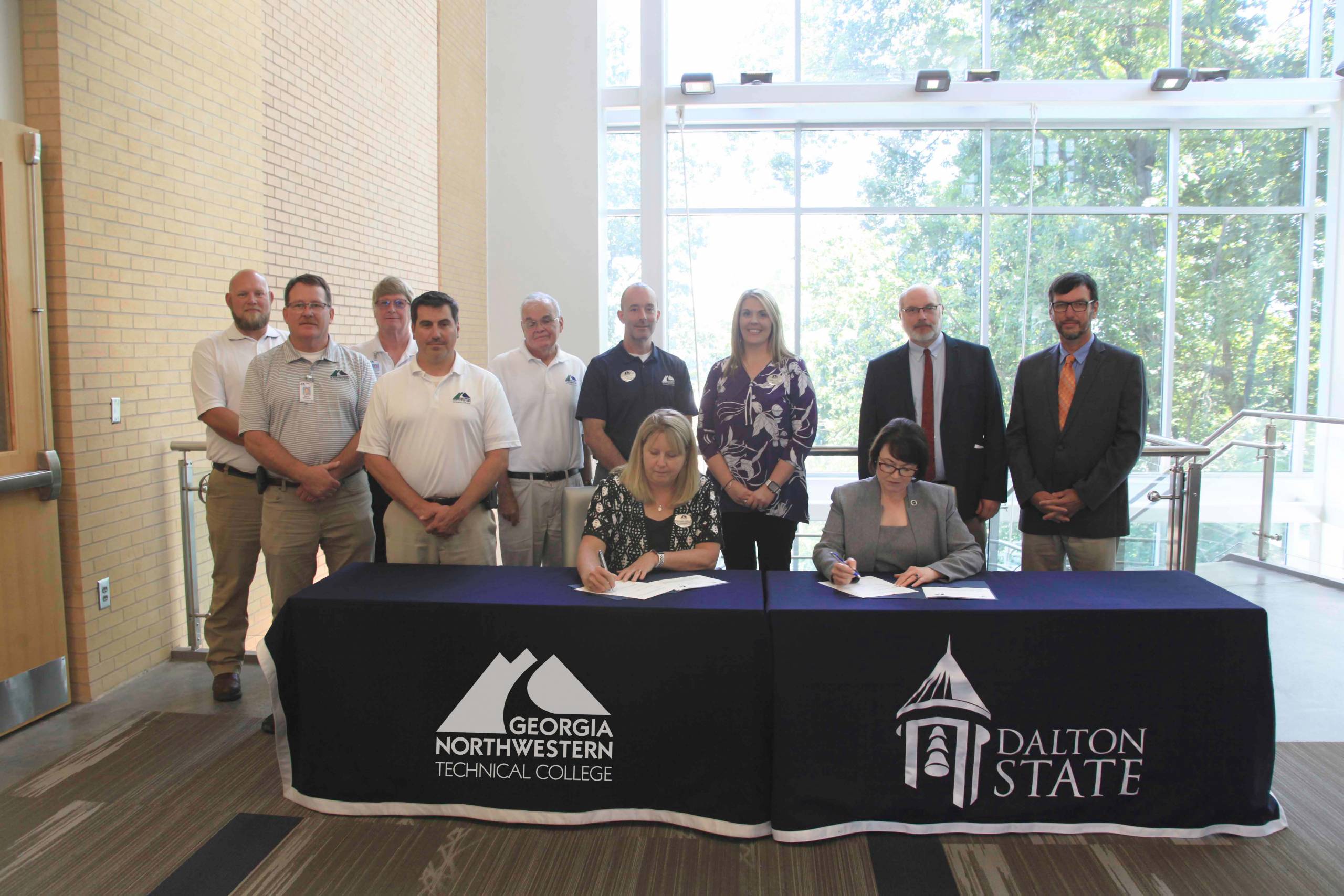 Georgia Northwestern Technical College (GNTC) and Dalton State College have established articulation agreements that allows students graduating from select GNTC programs a transition opportunity into specific Dalton State four-year degree programs.

The agreements were signed by the president of both colleges in Peeples Hall on the Dalton State College campus on Wednesday, July 28. Both articulation agreements went into effect immediately and have no end date.
The first agreement allows graduates from Georgia Northwestern's Automation Engineering Technology, Industrial Systems Technology and Instrumentation and Controls Technician associate degree programs the opportunity to continue their education in Dalton State's Engineering Technology bachelor's degree program. The second agreement allows graduates of GNTC's Networking Specialist associate degree program the opportunity to advance into Dalton State College's Information Technology bachelor's degree program. As part of these agreements, both colleges have advisors to guide students through the transfer process.
"The signing of these agreements provides additional opportunities for GNTC students and the ability for them to remain in our community to further their education," said GNTC President Dr. Heidi Popham. "This partnership represents a continued collaboration between GNTC and Dalton State that is focused on providing our citizens various educational pathways."
"Agreements between Dalton State and our technical college partner Georgia Northwestern, help us better serve the students of our region as well as our local employers," said Dr. Margaret Venable, president of Dalton State. "It is a winning strategy for us all."
Georgia Northwestern Technical College provides quality workforce education to the citizens of northwest Georgia. Students have the opportunity to earn an associate degree, diploma or a certificate in business, health, industrial or public service career paths. This past year, 11,820 people benefited from GNTC's credit and noncredit programs. GNTC has an annual credit enrollment of 8,591 students and an additional enrollment of 3,229 people through adult education, continuing education, business and industry training and Georgia Quick Start. For more information about GNTC, visit us at www.GNTC.edu. GNTC is a unit of the Technical College System of Georgia and an Equal Opportunity Institution.