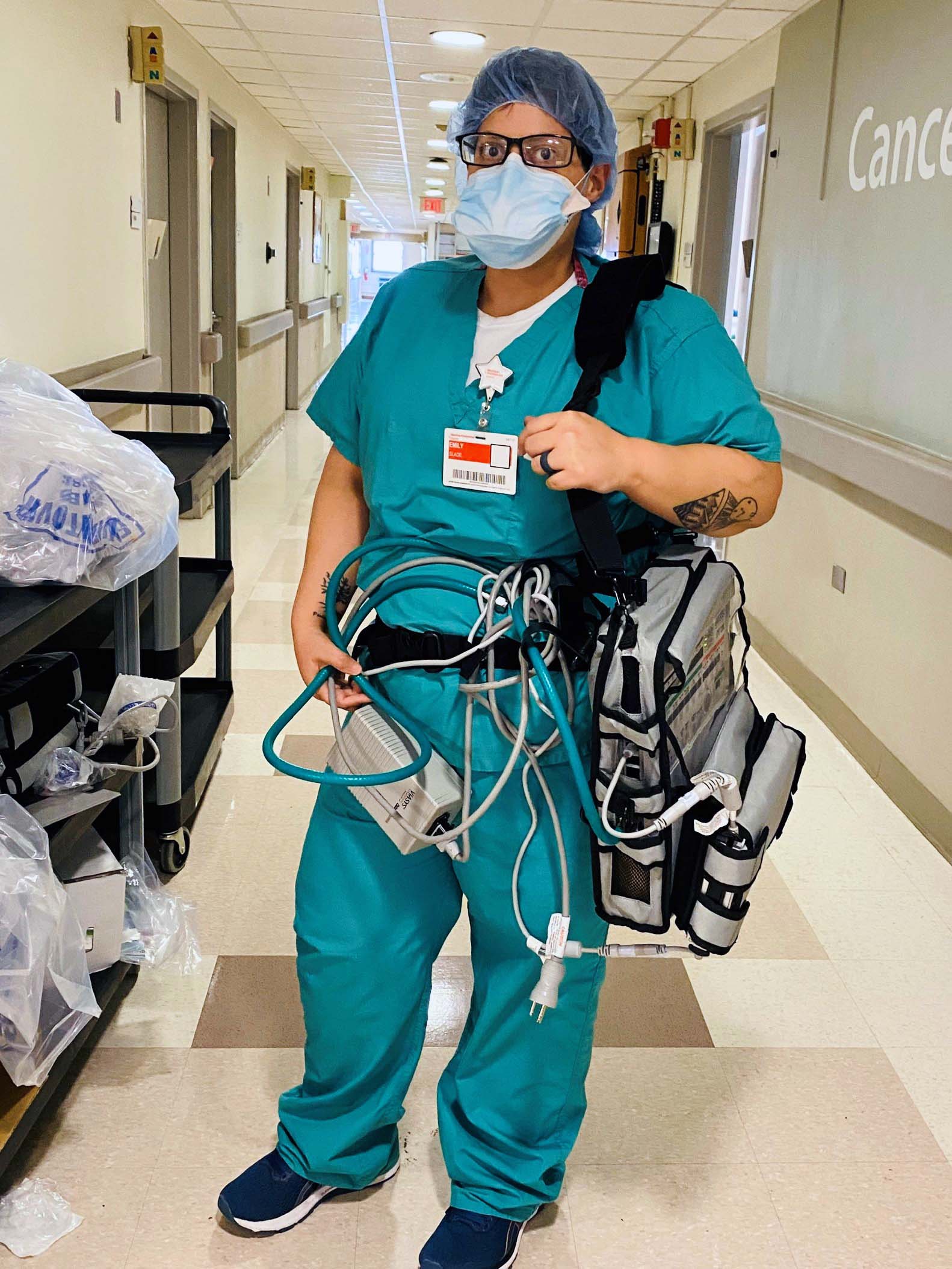 From northwest Georgia to New York City, graduates of Georgia Northwestern Technical College's (GNTC) Respiratory Care program are sharing what it's like to be on the front lines of the COVID-19 pandemic.
According to Zenia Bratton, GNTC assistant dean of Health Technologies and program director and instructor of Respiratory Care, in her 14 years at the college she has seen around 200 students graduate from the program.


"We have so many graduates working in this pandemic," she said. "It is so hard to only recognize a few."
For Abraham Tessin, a 2013 GNTC graduate, his day at Floyd Medical Center in Rome starts off with gathering reports from the previous shift. Over his 12 hour shift he might find himself working in the emergency room, intensive care unit, neonatal intensive care unit or the infectious disease unit.
"We are needed in all areas of the hospital," Tessin said. "As a respiratory therapist we manage ventilators and work hand-in-hand with doctors to help patients who can't breathe on their own."
Randal Barnett, who graduated in 2019 from GNTC, said at the end of his shift at Wellstar Kennestone Hospital in Marietta he is absolutely exhausted. The number of patients he sees on a daily basis hasn't changed, however all of the patients he does see have COVID-19. Barnett said he has to be diligent in how he removes protective gear in between patient rooms to prevent cross contamination.
"It wears on you a little more than a regular shift," he said. "Something as simple as popping in between rooms is very tedious and takes considerable mental focus."
As this pandemic runs its course, even more stringent guidelines will be in place for patient safety as well as healthcare worker safety in the field of Respiratory Care, said 2012 GNTC graduate Scarlett Simmons.
Simmons, who is a respiratory therapist at Northside Hospital Cherokee in Canton, said the healthcare community always tries to improveoutcomes and find better ways to promote patient health with the best guidelines possible which is evolving on a daily basis.
"The respiratory therapy community really is one big family," she said. "The more seasoned therapists bounce their knowledge on to some of the newer therapists when a helping hand is needed in situations where more experience or troubleshooting may be required."
Balancing family life has proven a challenge for many healthcare workers throughout the nation, but for Emily Slade, 2018 GNTC graduate, her family is not even in the same state. Slade has been in New York City for about two weeks working as a respiratory therapist for NYC Health + Hospitals in Queens. Slade is married and has a daughter, but left her wife and daughter in Georgia while she helped in one of the hardest hit cities in the United States.
Slade says there are nine therapists between the 120 ventilators at her hospital and every floor is an intensive care unit. This is her first travel assignment and the staff at NYC Health + Hospitals has been extremely grateful for her being there. According to Slade, around 35% of the staff is out sick due to the outbreak.
"One of the hardest parts is losing young patients, people who come in with a mild cough and it progresses to something more serious," Slade said. "There have been several times where we have been trying to revive a patient and can see a family member trying to call their cell phone."
All four respiratory therapists agreed that losing patients during this pandemic has been extremely tough. According to Simmons, it has been very difficult to lose patients who can't have family in the room.
Although no one was prepared for the magnitude of the Coronavirus, Slade and other GNTC graduates expressed how much experience they received during their Respiratory Care clinicals. The students who are in this program learn the variations of different hospital practices which has helped them once they enter the field of healthcare.
"The instructors prepared me for stepping into a hospital ready to work and I did not have to play catch up," Barnett said. "As a new graduate working in this outbreak I am not as overwhelmed as I thought I'd be; I'm just adjusting to additional guidelines."
Georgia Northwestern Technical College offers an associate of applied science degree in Respiratory Care.  For more information about our Respiratory Care program, visit us at gntc.edu or contact us at (866) 983-4682, Monday through Friday, 7:45 a.m.to 4:15 p.m.
Georgia Northwestern Technical College provides quality workforce education to the citizens of Northwest Georgia. Students have the opportunity to earn an associate degree, diploma, or a certificate in business, health, industrial, or public service career paths. This past year, 12,454 people benefited from GNTC's credit and noncredit programs. With an annual credit enrollment of 7,730 students, GNTC is the largest college in Northwest Georgia. GNTC has an additional enrollment of 4,724 people through adult education, continuing education, business and industry training, and Georgia Quick Start.  For more information about GNTC, visit us at www.GNTC.edu. GNTC is a unit of the Technical College System of Georgia and an Equal Opportunity Institution.