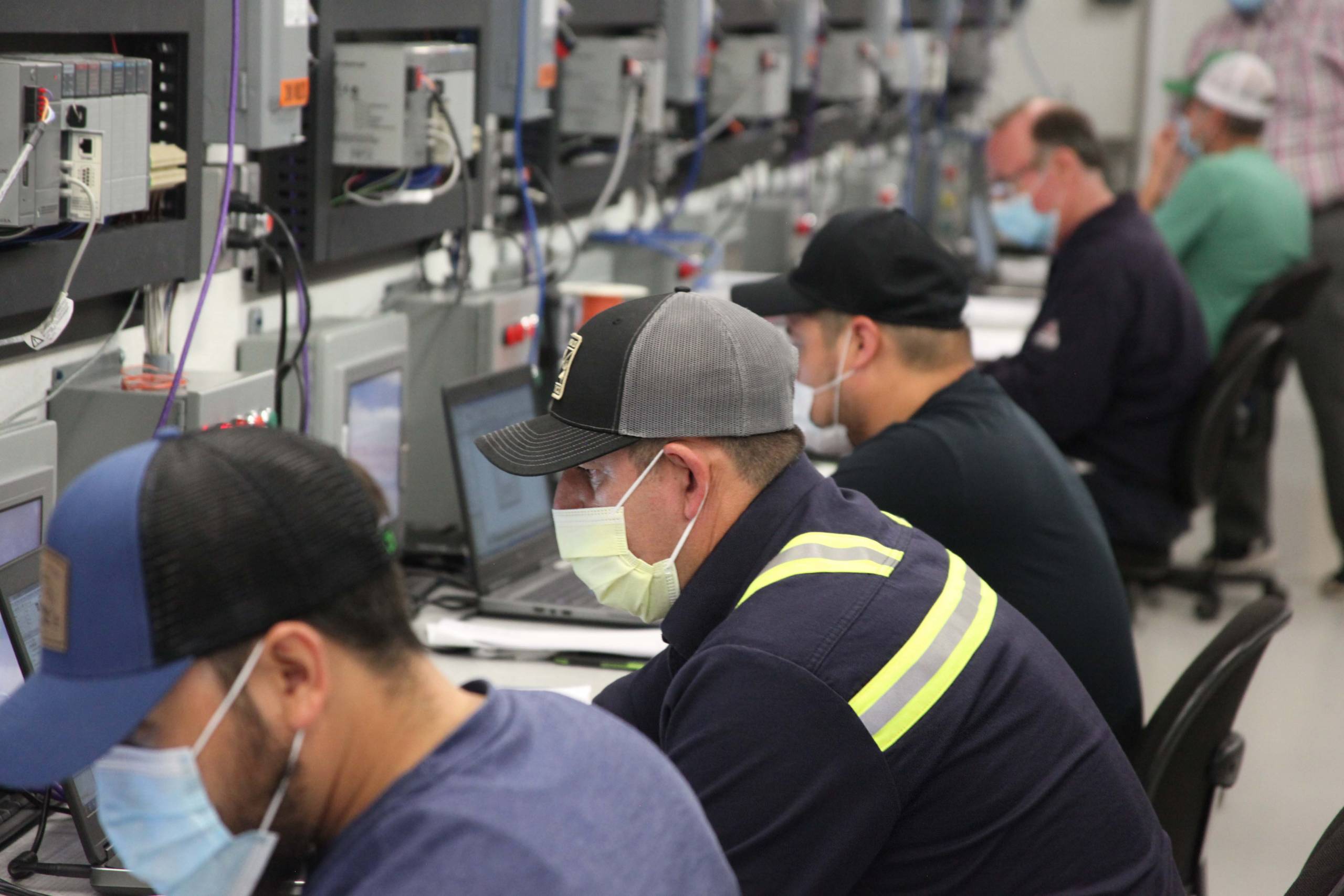 Every Tuesday and Thursday evening over the next few weeks on the Georgia Northwestern Technical College (GNTC) Catoosa County Campus, employees of four northwest Georgia industries will be training in the basics of programmable logic controllers (PLC).

According to Cody Brewer, GNTC's Instrumentation and Controls instructor and leader of the PLC training, automated processes are in every field of industry and the understanding of programmable logic controllers is the first step in understanding industrial automation.
"They will be learning how to program machines to do simple tasks," Brewer said. "This is something they will be able to put on their resume."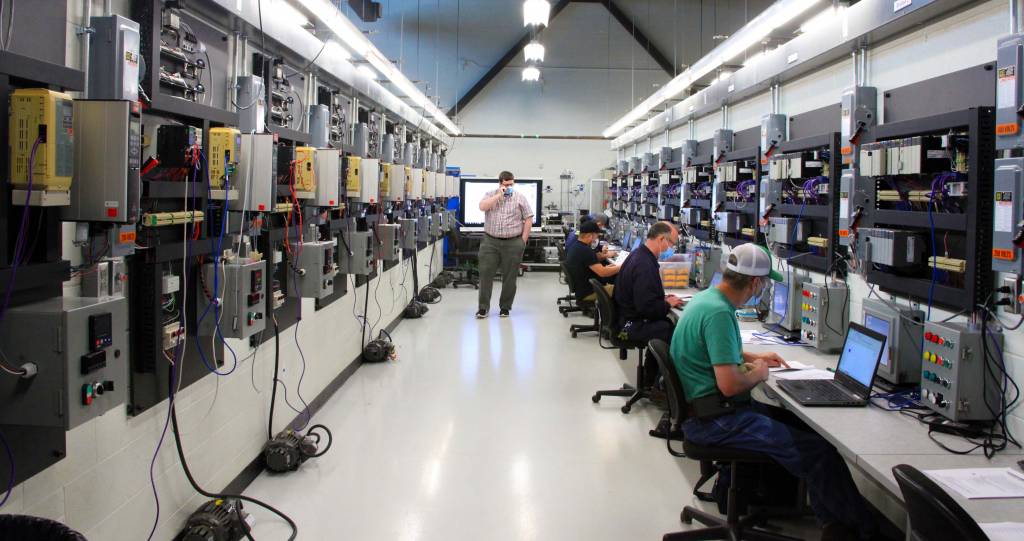 The continuing education initiative was set up through GNTC's Office of Economic Development, which frequently allows local business and industry partners the opportunity to enroll their employees in training led by a GNTC instructor. The types of training GNTC sets up with regional businesses are usually for basic skills said Stephanie Scearce, vice president of Economic Development at GNTC. Companies can also choose to create a customized training experience for their employees through a contract agreement with GNTC.
"We want to make sure we are making ourselves available to train and retrain the people in our communities," Scearce said. "We are here to serve anyone and everyone."
To make this happen, Scearce and her team meet with local businesses to assess their needs. They then put together a customized training program, whether it be detailed contracted training or basic training. The need for PLC training was one such need recognized by the Economic Development team who are working on similar continuing education programs based on local business and industry needs.
The industries participating in the current continuing education program are Ireland-based Kerry Ingredients, which has locations in Rome and Calhoun; Chicago's Lapham-Hickory Steel, which also has a Rome location; French pharmaceutical company Sanofi Chattem CHC, located in Chattanooga, Tennessee and French flooring company Tarkett, which has a location in Dalton.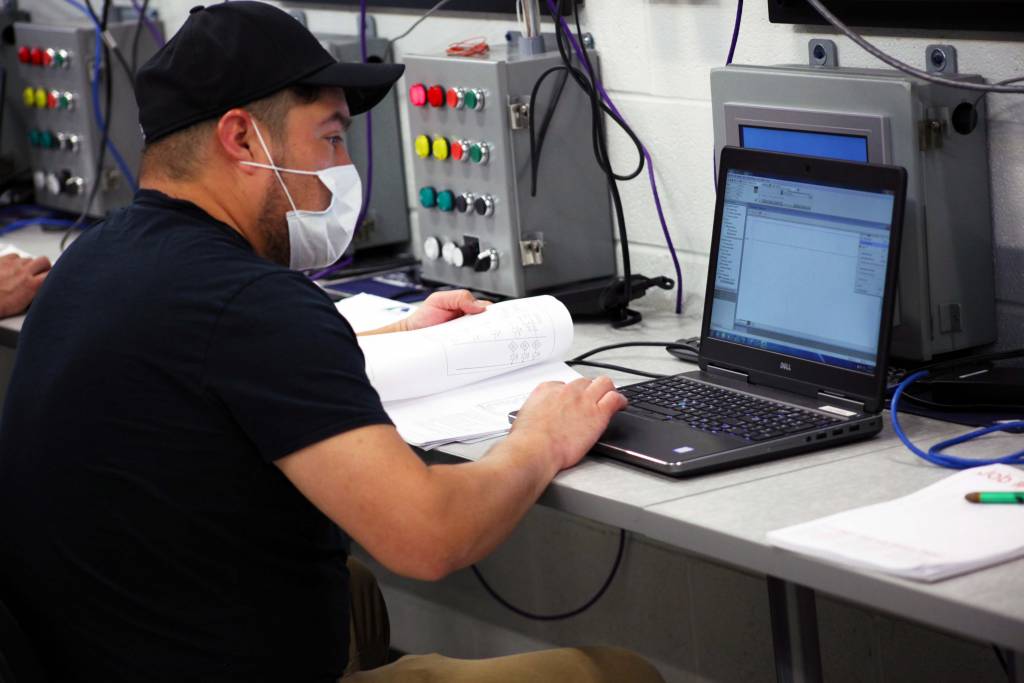 According to Scearce, GNTC also offers Drivers Education, training in Microsoft Excel, Supervisory Training and is currently working on a Certified Nursing Assistant (CNA) continuing education program. Currently, GNTC's Economic Development has collaborated with the Technical College System of Georgia and the Floyd County Prison to bring a mobile welding lab to the correctional facility to teach shielded metal arc and flux-cored metal arc welding skills. Classes began Monday, June 22, and will run until September 7.
"We are focusing on maintaining flexibility and providing resources," Scearce said. "We are listening on behalf of the college."
Another area GNTC's Office of Economic Development is keeping an eye on is the business community during the COVID-19 pandemic. Scearce said she and her team are reaching out to businesses across northwest Georgia to schedule virtual meetings to see what they can offer in the form of assistance or resources.
"This is different to past unemployment situations," said Scearce. "However, we are contacting all of our customers on an individual level to check-in and see how they're doing, and ensure they are aware of our online training resources, some of which are free."
The Office of Economic Development serves the workforce development needs of northwest Georgia by offering customized training solutions to employers, as well as professional continuing education courses to individuals throughout its service area. In addition, the office is actively involved in the recruitment of new businesses and the expansion of existing businesses in partnership with various local and state partners. For more information, visit the Office of Economic Development's  on GNTC's website, reach out by email at EconDev@gntc.edu or call 706-295-6994.
Georgia Northwestern Technical College provides quality workforce education to the citizens of Northwest Georgia. Students have the opportunity to earn an associate degree, diploma, or a certificate in business, health, industrial, or public service career paths. This past year, 12,454 people benefited from GNTC's credit and noncredit programs. With an annual credit enrollment of 7,730 students, GNTC is the largest college in Northwest Georgia. GNTC has an additional enrollment of 4,724 people through adult education, continuing education, business and industry training, and Georgia Quick Start. For more information about GNTC, visit us at www.GNTC.edu. GNTC is a unit of the Technical College System of Georgia and an Equal Opportunity Institution.