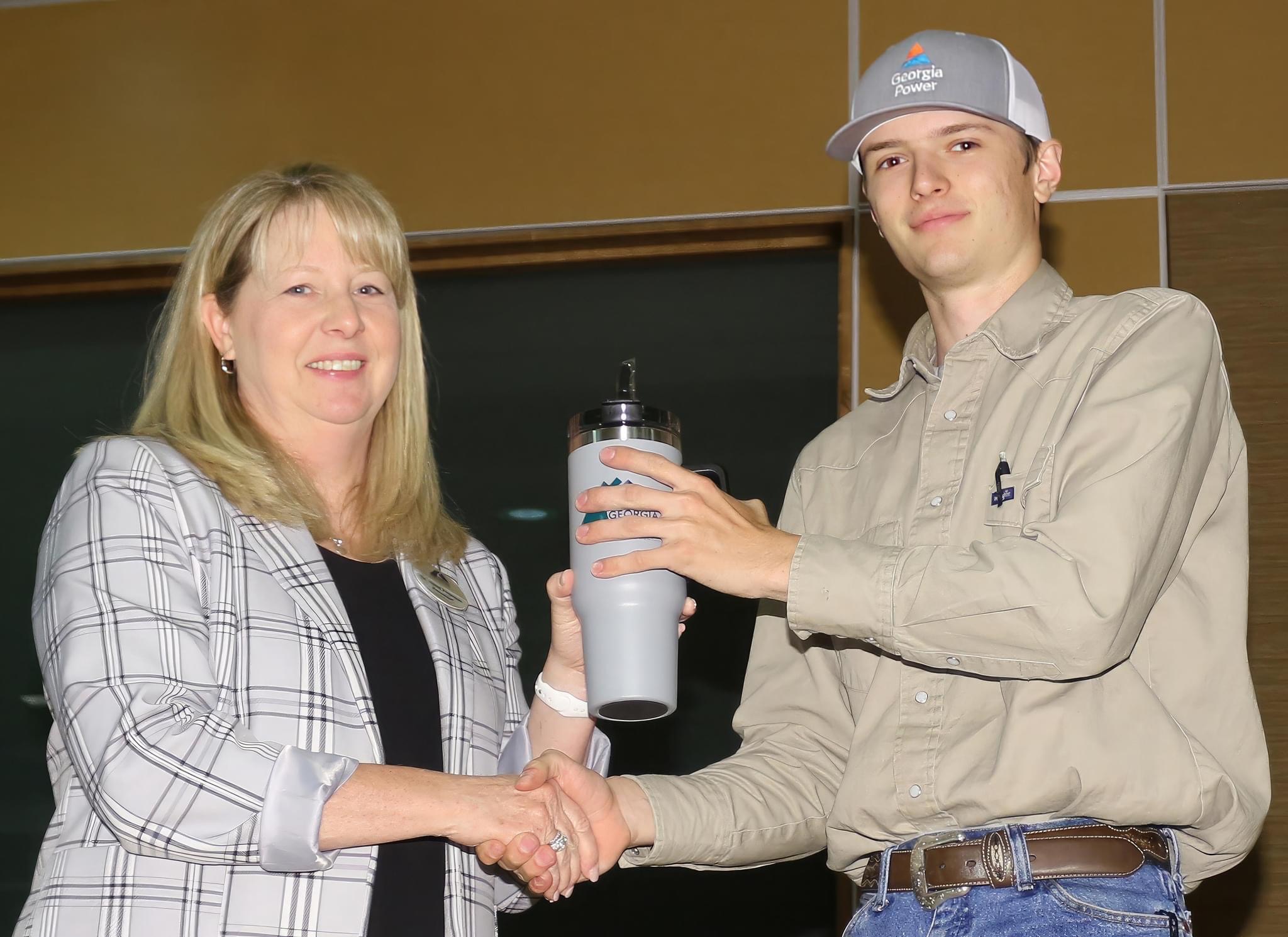 A Student Honors Reception was held on Thursday, April 13, to honor and congratulate Georgia Northwestern Technical College's 2023 GOAL and EAGLE award winners, students who were medalists at SkillsUSA and Future Business Leaders of America (FBLA) collegiate state competitions in Atlanta and students who were active in the Student Government Association (SGA).
The program, held at the Gordon County Campus in Calhoun, also recognized faculty and staff who provided support and mentorship to students.
Cayla Pemberton, GNTC's Georgia Occupational Award of Leadership (GOAL) winner for 2023, and Holly Hogan, winner of GNTC's EAGLE Award for 2023, were both recognized during the program. Pemberton is an Automotive Technology student from Walker County, and Hogan is an Accounting student from Catoosa County. The 2023 State GOAL competition will be held April 24-27 in Atlanta.
Georgia Northwestern students competed against students from other colleges in the Technical College System of Georgia at the SkillsUSA Georgia State Leadership and Skills Conference on March 9-11 in Atlanta. GNTC competed in 14 categories and took home five gold medals and one silver medal.
The competition allowed students to take the skills, knowledge and experience that they have gained in their program of study and apply it to a real-world project based on industry standards.
According to SkillsUSA, its mission is to empower members to become world-class workers, leaders and responsible American citizens. SkillsUSA utilizes personal, workplace and technical skills grounded in academics to improve the quality of the nation's future skilled workforce.
A highlight from the SkillsUSA Georgia competition was winning the gold medal in the TeamWorks team construction category for the seventh year in a row.
State gold medal winners will represent GNTC and the State of Georgia in the national competition June 19-23 in Atlanta.
Listed below are the GNTC students who competed in the SkillsUSA Georgia competition, including the student's name, competition and county of residence. Team competitions are listed with the competition name first.
Gold medalists were Jacquelyn Beck, Medical Assisting, Polk; Ashley Elliott, Computer Numerical Control (CNC) 3-Axis Milling Programmer, Walker; Johncarlos "Paul" Guerrero, Carpentry, Gordon; Caden Smith, Industrial Motor Controls, Chattooga; and TeamWorks (team competition): Alexis Bautista, Whitfield; Christopher Herrera, Whitfield; Garrett Knight, Bartow; and Kevin Mateo, Floyd. Silver medalist was Landon Stephens, Electrical Construction Wiring, Chattooga.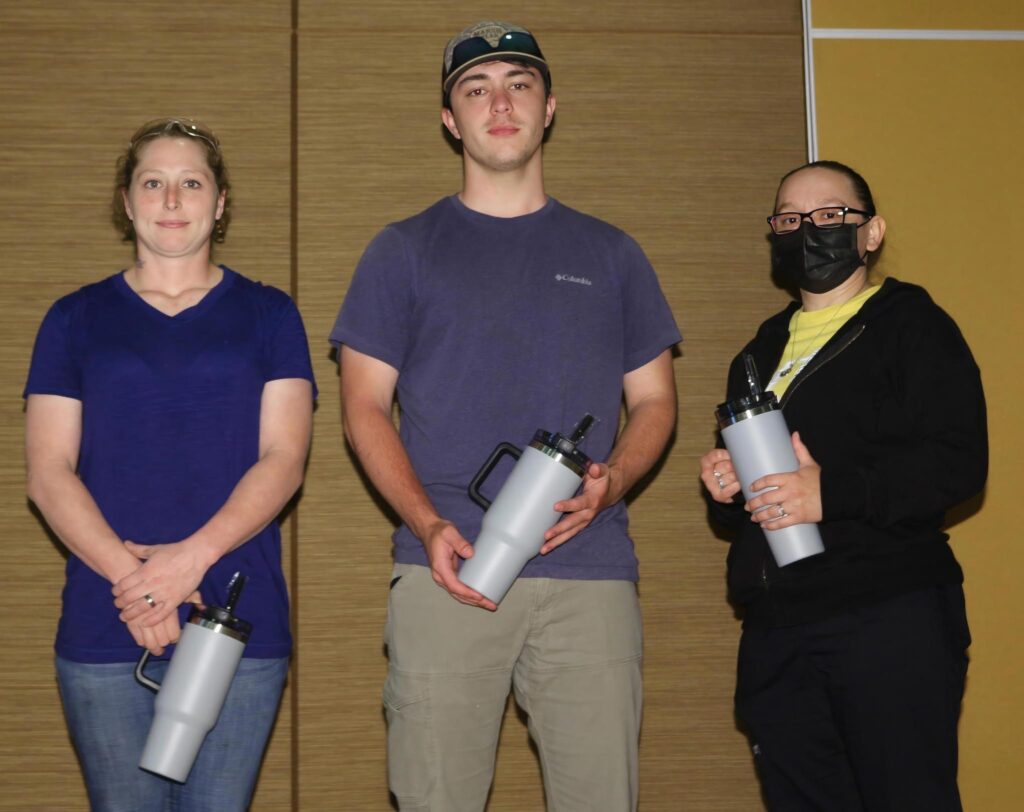 The following students who also competed at the SkillsUSA Georgia competition were recognized during the ceremony: Savannah Almond, Diesel Equipment Technology, Floyd; Kennesha Frazier, Medical Terminology, Floyd; Tennesha Frazier, Medical Terminology, Floyd; Alexis Garmon, Medical Math, Polk; Kailee Jenkins, Medical Terminology, Gordon; Edgar Mendiola, Automotive Service Technology, Whitfield; Luis Perez, Cabinetmaking, Whitfield; William Sipsy, Automotive Service Technology, Chattooga; Fleicity Thompson, Medical Assisting, Bartow; Christopher Valdez, Welding, Whitfield; Health Knowledge Bowl (team competition): Ashley Daum, Gordon; Savannah Lawson, Carroll; Katlin McCrary, Polk; and Gabriela Salam, Floyd; and Welding Fabrication (team competition): Jess Aldridge, Catoosa; Chase Campbell, Catoosa; and Colby Thompson, Walker.
GNTC was also recognized for placing third at SkillsUSA Georgia for the largest overall membership, with 160 members total, and was recognized as a Quality Chapter, Chapter of Excellence Level 1.
Two students who placed in their competitions at the Georgia Future Business Leaders of America (FBLA) Collegiate State Leadership Conference on March 31 through April 2 in Atlanta were also recognized. The competition is for students in business and business-related fields.
Both Nancy Johnson, a Tunnel Hill resident, and Brandon Wishon, a Dalton resident, placed in two competitions. Johnson placed first in Management Concepts and first in Small Business Management Plan; Wishon placed second in Organizational Behavior & Leadership and fifth in Public Speaking.
All entries at the state competition who placed first, second or third qualify for competition at FBLA's National Leadership Conference on June 22-25 in Atlanta.
GNTC's FBLA Collegiate officers were recognized. Tiffany Rose serves as president of GNTC's chapter, and Charleen Ward serves as vice president.
The following representatives of Georgia Northwestern's SGA were recognized: Claudine Iskander, president; Crystal Anderson, vice president; Tracey Hughley Profitt, member at large; and Juana Vejar, member at large.
SGA is a volunteer organization made up of volunteer representatives from all occupational programs at GNTC; SGA works on projects throughout the year to benefit the college and its students; and SGA officers participate in the student conventions held each fall and winter.
GNTC faculty who were recognized during the event for their contribution to GNTC's SkillsUSA program included Susan Bowman, Billy Brown, Scott Carter, Jeremiah Cooper, Shawn Daniel, Tayler Davidson, Donny Holmes, Tracey Mercado, Melissa Mitchell, Troy Peco and Jennifer Stephenson. Missy McLain was recognized as GNTC's advisor for SkillsUSA.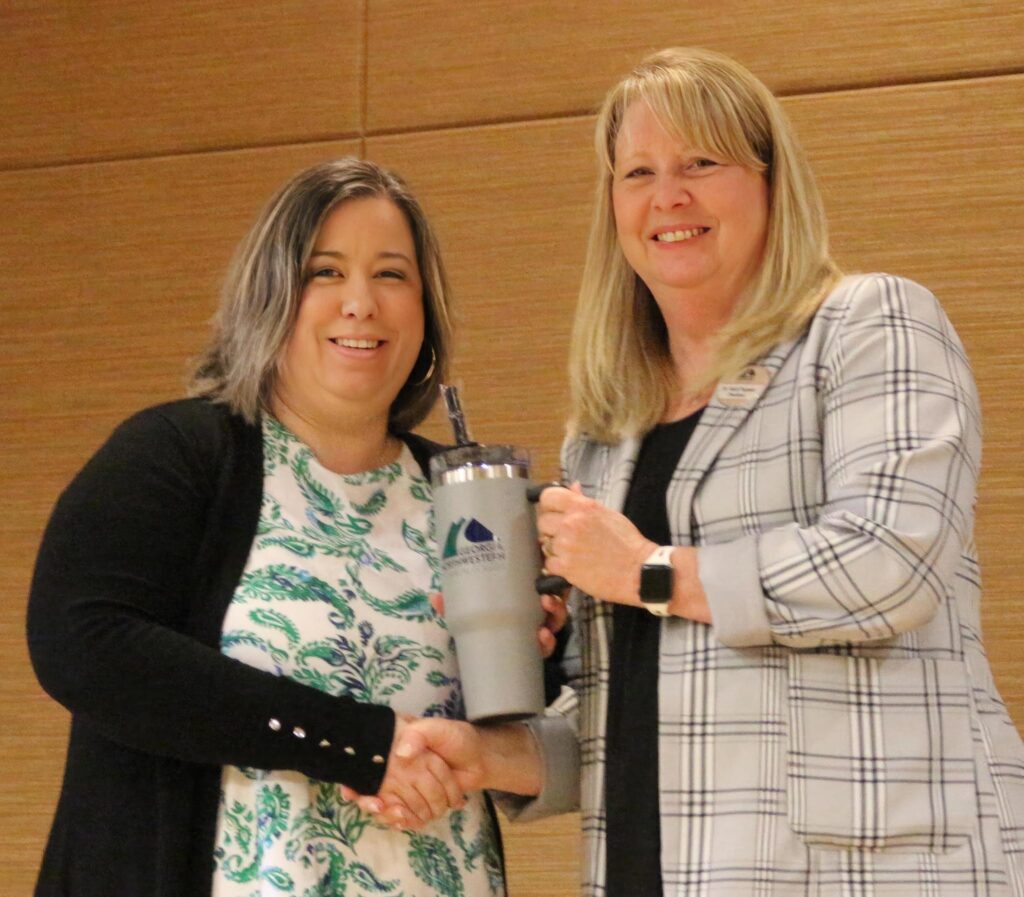 GNTC faculty and staff members Mark Upton and Larry Blanchard were recognized for their advisor roles for FBLA Collegiate and the Student Government Association, respectively; Patricia (Trish) Wiggins was recognized as GNTC's GOAL coordinator.
Wiggins recognized students Tiffany Rose and Crystal Anderson for earning prizes in GNTC's new Bobcat Bucks program. Students who check in with their student identification number at GNTC Student Life-sponsored events can earn points to redeem for prizes; online students can earn Bobcat Bucks through social media, joining a student organization and attending virtual events.