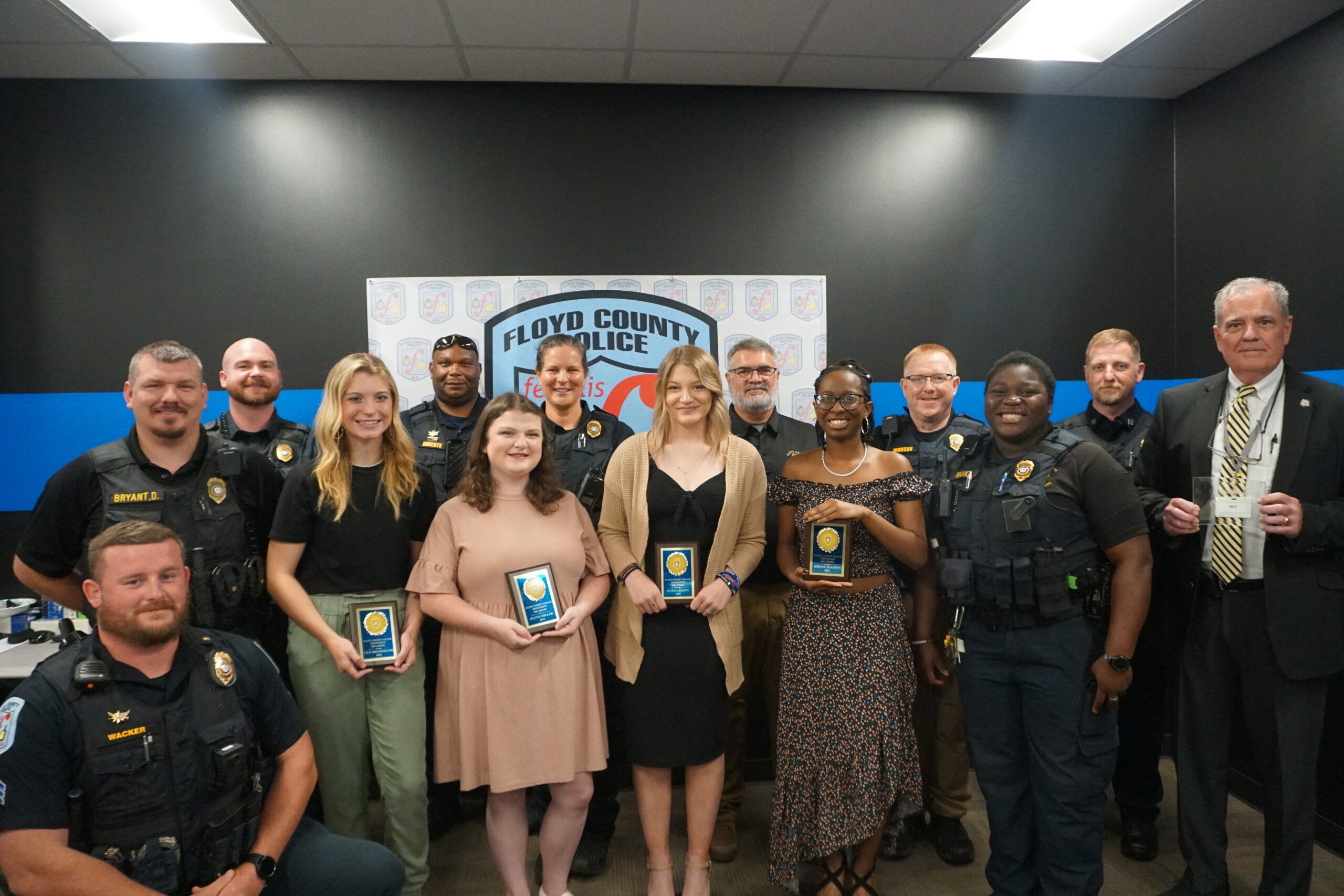 School resource officers (SRO) from the Floyd County Police Department honored four Floyd County high school seniors with awards and $1,000 scholarships due to their character and example to others. This is the second year officers have made recognition of this type, but the first time a scholarship has been awarded.
School administrators and school resource officers nominated students based on three core principles described as SRO: Selflessness, Respect, and Outstanding citizenship.
The students were honored at a catered luncheon at the police department. Families, school administrators, members of the Floyd County Board of Education, school resource officers, and police command staff were present for the ceremonious event. The invocation was provided by Floyd County Schools Chief Safety and Security Officer Rick Flanigen and Armuchee Area social worker Baleigh Morrison served as the guest speaker. Other remarks were made by Asst. Chief Tom Ewing, Capt. Ron Hunton, Sgt. Steven Wacker, and Pfc. McCormick.
Congratulations to this year's recipients:
Armuchee High School- Isabelle Espy, nominated by Pfc. Mike Bell

Coosa High School- Jerenya Pearson, nominated by Pfc. Dale Johnson

Model High School- Olivia Miller, nominated by Pfc. Ginger Shelly

Pepperell High School- Lily Brumbelow, nominated by Pfc. Jim McCormick
Another highlight of the event was the surprise recognition of Floyd County Schools Chief Safety and Security Officer Rick Flanigen as he was named an Honorary School Resource Officer by the SROs because of his work as a liaison between the school district and the police department.
"He does so much and a lot of it goes unnoticed since it's behind the scenes," said Sgt. Wacker. "He's always on top of things and always available to help the SROs. He comes to all of our events to show support and volunteers to help us with security after hours. He is a great addition to the school system."
This year, Floyd County SROs raised over $10,000 for the scholarship program through the SRO Smokehouse Fundraiser. Sgt. Wacker attributes the overwhelming support to the citizens of Floyd County and the strong community/school partnerships. He looks forward to meeting a larger goal next year and growing the fundraiser to provide support beyond the senior scholarships.