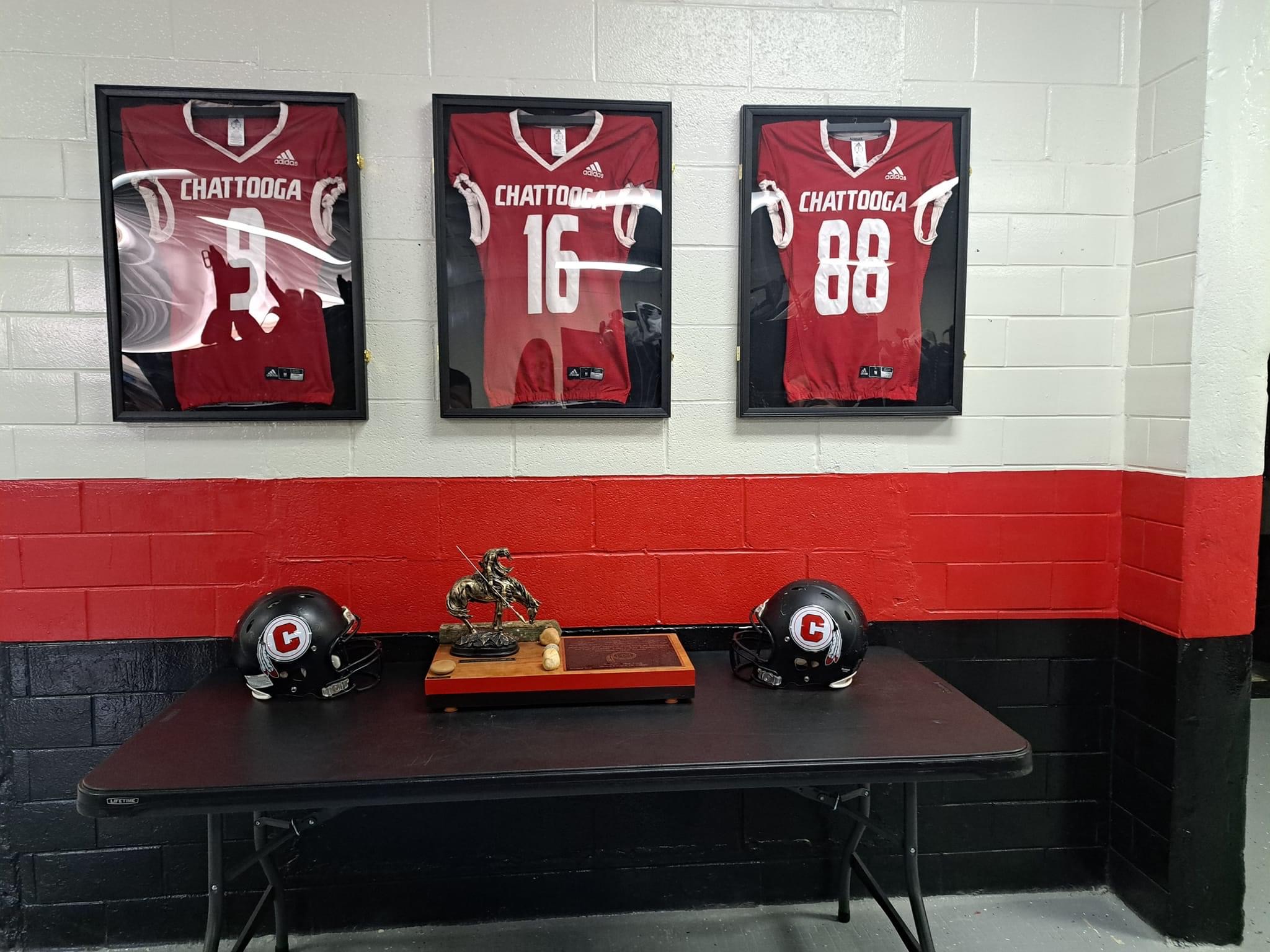 Chattooga Football starts Spring practice today, three teammates short. Xavier Gray, TyDraevius "Drae" Dozier and Zantavian "Duke" Brown were killed in a car accident Halloween weekend.
Wednesday afternoon the staff of Chattooga High School invited the families to view the memorial for the lost teammates. "I didn't want to families to hear about the tribute in the locker room second hand. So, we invited them in and also Dr. Mobbs presented them with this year's yearbooks," Indian Head Coach Roone Gable said.
The school had the jerseys of the three players framed and placed in the locker room. "We invited the families in to see it before the players and everyone else saw it," Coach Gable said.
Drae's Mom, Desirae, said the gesture meant everything to her. "To know that they will always be there with their teammates as they prepare for games, celebrate wins, and strive to be better when defeated really touches my heart. I feel like this tribute will give our Indians a push to be the best they can be, not only this season but every season."
CHS Principal, Dr. Emily Mobbs, said "It was an honor to present this year's yearbook which includes a page of tribute to the families of Zay, Drae and Duke. This tragedy really took the wind from our sails and there are still many moments of struggle, especially for those who were very close to these young men. We have most humbly been reminded of how precious and fragile life really is."
"Coach Gable, his staff and the Indian football team will start Spring training three men short and as we strive to keep moving forward we will never forget. Coach Gable and his staff, while new to CHS are very understanding of this and have created this tribute in the field house for our team. May they find peace, strength and endurance each time they pass it by, as I have no doubt that would be the will of the ones it represents," Mobbs said.
This has been a hard school year for the students and staff dealing with the tragedy. The halls of academia have been filled with tears on the birthdays of the three young men gone, on prom evenings that weren't shared, and the countless events which the three young men's absence has been profound.
Desirae said the school has went the extra mile for the families during their time of grief. "They have been there every step of the way. From donations, food for my family during our time of grief, a shoulder to cry on, a fellow Indian to talk to at night when I was at my breaking point, to the incredible tributes. I can never thank them enough. They have made sure my babies were not left out and that means so much to me. I know without one doubt if I need them, they will be there. They are my FAMILY!"