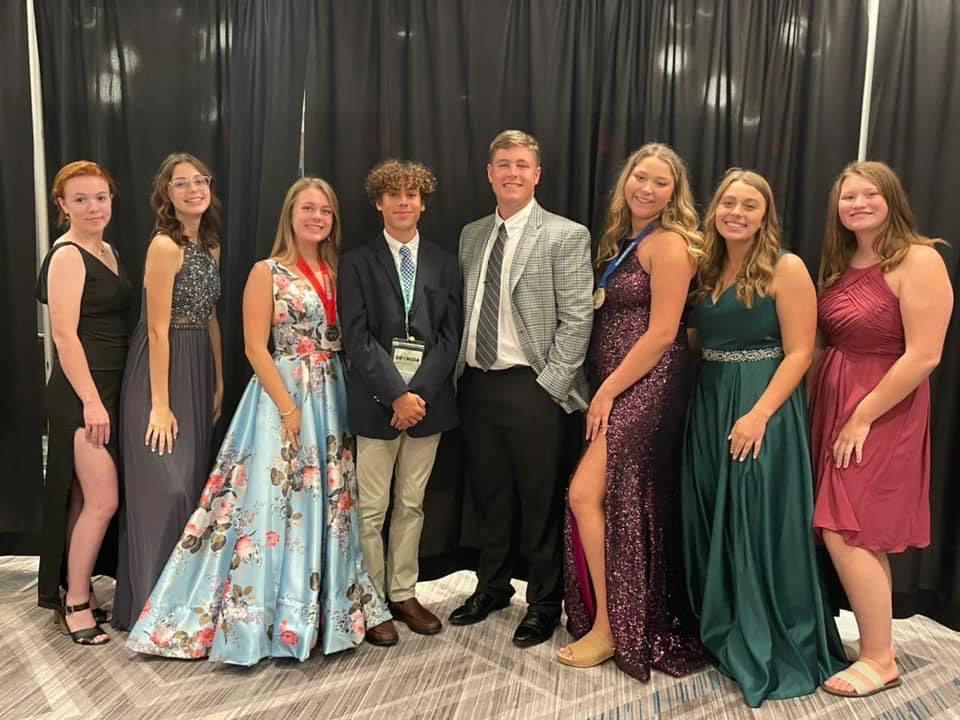 Since 1942, State Congress has been the premier competition and recognition event for high school age Georgia 4-H'ers. Held each year in Atlanta, State Congress is a four-day event that hosts various contests, recognizes 4-H scholarship recipients, and honors state 4-H winners in a variety of projects and competitions.
Throughout the week, we highlight outstanding 4-H student-led service projects, professionals, friends, private donors, and public officials for their contributions to the success of 4-H in Georgia.
The cornerstone of the week is the state level Georgia 4-H Project Achievement competition. Over 200 youth from across Georgia delivered 10 to 12-minute presentations in various project areas and met with judges to discuss their portfolio of project work, leadership, and service. Chattooga County 4-H was fortunate enough to bring 8 delegates to represent our county well in both Project Achievement and scholarship.
These 4-Hers demonstrated excellent leadership and a competitive level of knowledge in their project areas and were invited to compete at the state level for Master Status.
Listed below are each of the competitors from Chattooga County and their achievements at the 79th 4-H State Congress.
Grady Beach, Master 4-Her
Grady is a 2021 Chattooga High School graduate. Grady mastered in scholarship this year and competed at the state level in Food Labs: Festive Foods for Health, placing second in his category.
Mary Anna Bentley, Master 4-Her
Mary Anna is a 2021 Chattooga High School graduate. Mary Anna mastered in Dairy and Milk Sciences in 2019 and attended State Congress 2021 as a delegate for competition in Workforce Preparation and Career Development. Mary Anna placed second in her category.
Tori Blalock, Master 4-Her
Tori is a 2021 Chattooga High School graduate. Tori placed first, earning her master status in Food Labs: Dairy Foods with her buffalo chicken mac and cheese dish.
Brecklyn Brown, Master 4-Her
Brecklyn is a 2021 Chattooga High School graduate. Brecklyn mastered in 2020 in the Food Safety and Preservation category. This year, Brecklyn attended State Congress as a delegate after placing first in the History category at the district competition. Brecklyn brought home 4th place in her category, and also mastered for the second time in scholarship.
Lexi Lemmings
Lexi is a rising sophomore at Chattooga High School. Lexi competed in the Health category at district, placing first and earning her a place at State Congress. Lexi placed 4th with her presentation on skincare in Atlanta.
Halle Lively
Halle is a rising sophomore at Chattooga High School. Lexi competed in the Plant and Soil Sciences category, earning first place at district and third in Atlanta.
Carter Loughridge
Carter is a rising sophomore at Trion High School. Carter competed in the Fruits, Vegetables, and Nuts category this year, earning first place at district and second at state with his presentation on his family's pumpkin farm.
Lydia Pence
Lydia is a rising homeschooled senior. Lydia placed third in the Poultry category with her presentation on the Avian Influenza outbreak in the county just a few years ago.
Chattooga County Extension would like to express its greatest appreciation of these 4-Hers and their dedication to their projects and the program. We are very proud of their accomplishments and are excited to see them continue to succeed.