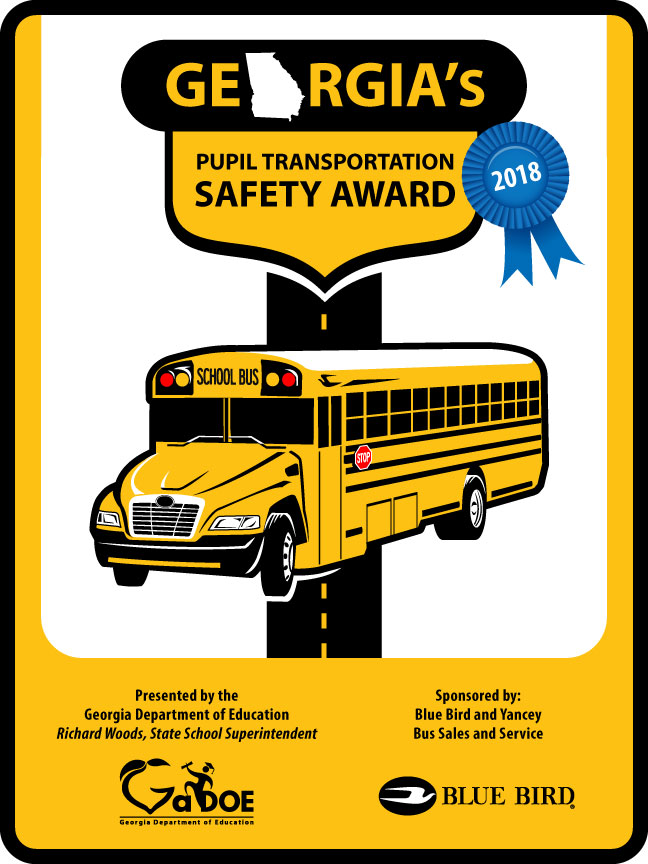 Each year, nearly one million students and their parents rely on Georgia's school buses to provide safe and dependable transportation to and from school.

To emphasize the importance of safe school buses, State School Superintendent Richard Woods recently recognized the winners of the Georgia Department of Education's first Pupil Transportation Safety Awards.
Eight county school systems – Jenkins, Jasper, Chattooga, Washington, Pickens, Jackson, Catoosa, and Fulton – were recognized for going above and beyond to ensure safe and efficient student transportation. The award is sponsored by Blue Bird, Georgia's school bus manufacturer, and Yancey Bus Sales & Service.
"Nothing is more important than the safety of our children, and making sure they can travel safely and arrive at school ready to learn," Superintendent Woods said. "Our drivers and transportation employees work harder than many ever realize, and they're an integral part of our educational system. From my experience as a high school principal who was CDL-certified to drive a school bus, to my vantage point as State School Superintendent seeing over and over the immense importance of safe student transportation, I knew I wanted to create a recognition for our districts going above and beyond to ensure their students' safety. These eight school districts are doing tough, innovative work and deserve to be commended."
Winners were selected based in eight divisions based on enrollment size. The winning districts were selected by a panel of judges, based on an application which evaluated a number of factors that impact bus safety. Those factors include but are not limited to: completing safety training, evacuation drills, and other safety initiatives with students; evaluation of accidents and internal practices to prevent accidents; and innovative initiatives used to inspire safe practices, hire and retrain drivers, and enhance student safety.
Chattooga County Schools, was the winner of Division 3 districts with a full-time student enrollment between 2,401 and 2,900. Chattooga County School Transportation was recognized for prioritizing clear communication between students and staff about evacuation procedures. The district also earned top marks for utilizing student tracking software; students scan a card as they enter and exit the bus, enabling staff to easily identify whether a student is on the bus, missed the bus, or got off at the wrong stop. System leaders make a point of discussing safety issues with drivers and maintaining morale by listening carefully to driver concerns and providing input. Mike Jarrett is the Transportation Director for Chattooga County School District.
"Winning the award was a shock to me," Jarrett said, "it's all about our students' safety and the things we are putting into place for bus safety." Jarrett has held the position for six years.  Chattooga County School System has 33 bus routes with 1,500 students riding the buses. The drivers undergo training annually and are required to pass an annual physical exam, they also submit to random drug & alcohol testing. The bus fleet log more than 400,000 miles annually.