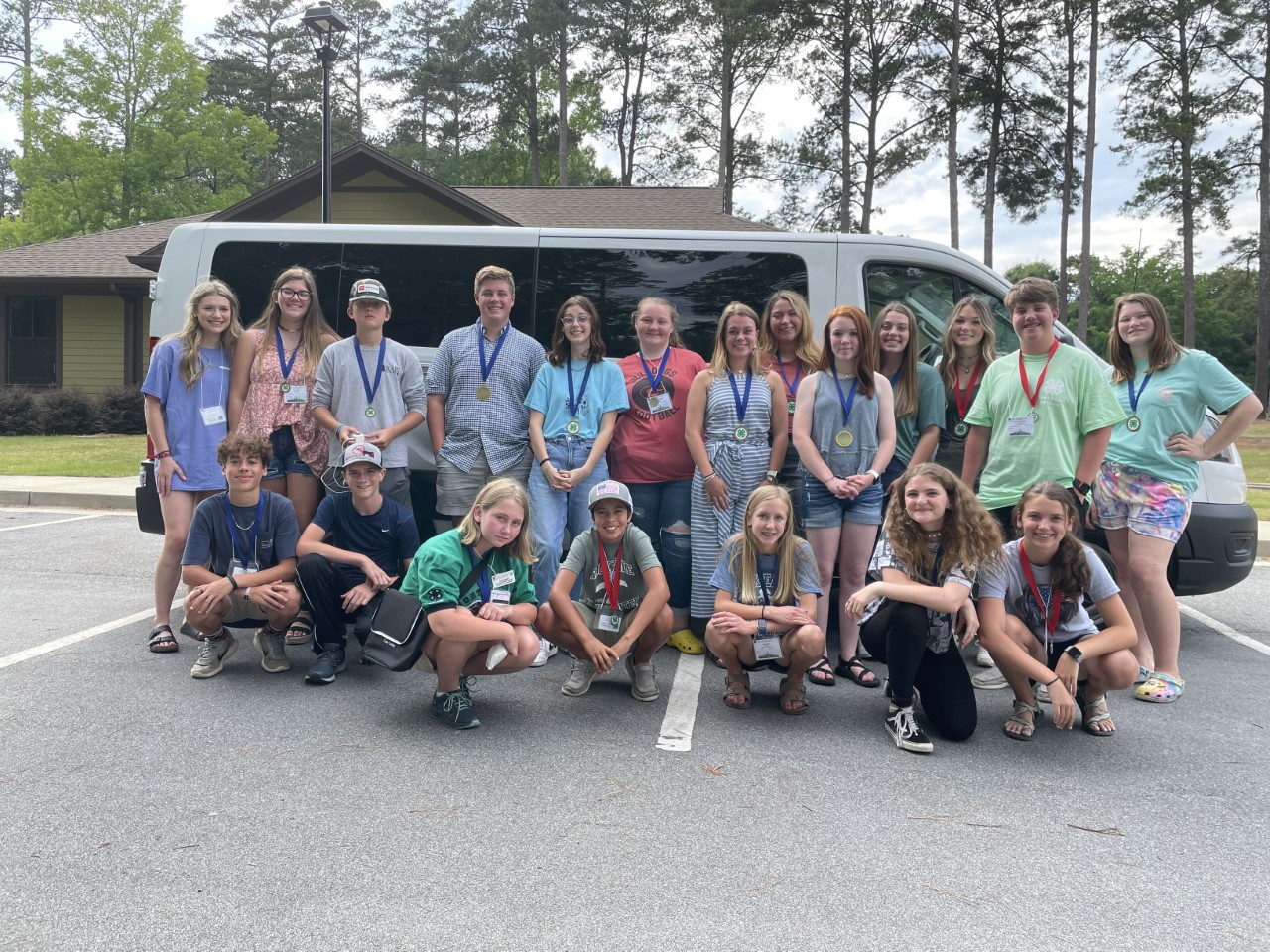 Chattooga County 4-H traveled to Rock Eagle 4-H Center in Eatonton, GA June 2-3 with 24 7th-12th graders to compete in District Project Achievement.

These members have spent the last year researching areas of interest ranging from dairy cows to Beatles conspiracy theories, created a resume-like portfolio outlining their research, then presented an original presentation on their findings.
These 4-Hers competed with youth from across 39 counties in the state, and every Chattooga County 4-Her who competed placed in the top two of their category. Below is a list of competitors, their project area, and their placement.
Juniors (7th – 8th Grade)
Baylee Blair, Dog Care & Training, First Place
Lane Bridges, Dairy, First Place
Brinlee Brown, Workforce Preparation, First Place Callie Brown, Food Safety & Preservation, First Place Cora Conley, Companion Animal Science, First Place Jonas Hardy, Wildlife, First Place
Gabi Helwig, Better Breakfast, First Place
Isaac Helwig, General Recreation, Second Place Ruby Kilgore, Beef, First Place
Emma Martz, Sports- Individual, First Place
Nick Mitchell, Environmental Science, First Place Maleah Pickard, Flowers, Shrubs & Lawns, First Place Abbigale Stephens, Health, First Place
Brylea Kate Whitaker, Horse, First Place
Seniors (9th – 12th Grade)
Gray Beach, Food Labs- Festive Foods for Health, First Place Mary Anna Bentley, Workforce Preparation, First Place
Tori Blalock, Food Labs- Dairy, First Place
Lexi Lemmings, Health, First Place
Halle Lively, Plant & Soil Sciences, First Place
Carter Loughridge, Fruits, Vegetables & Nuts, First Place Lydia Pence, Poultry, First Place
Bailey Thomas, Environmental Science, Second Place
Emma Rae Ward, Beef, Second Place
All senior 4-Hers who placed first in their category will be traveling to Atlanta, GA in late July to compete at the state level, as well as for Master Status in their project area.
Join Chattooga County 4-H and Farm Bureau for a mobile Ag Experience at the Ag Center! Youth and adults alike will have the opportunity to experience the agriculture industry in Georgia in a fun and interactive environment. Interactive activities will include information about Georgia's top agricultural commodities such as poultry, horticulture, and dairy. This event is free and open to the public. The event will be held on Monday, June 21 , 10 AM – 7 PM at the Chattooga County Agricultural Center.