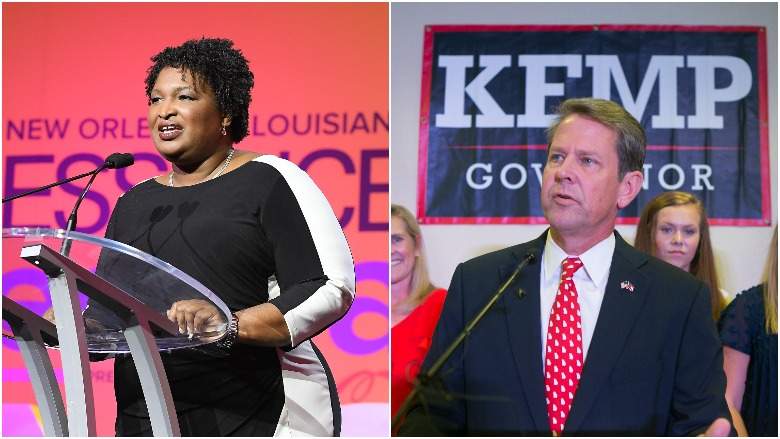 102 sheriffs from across the state released the following joint statement condemning Stacey Abrams' role in advancing the Defund the Police movement and support of soft-on-crime policies that put Georgia families at risk.

"Over the last four years, Governor Kemp and his family stood shoulder to shoulder with the men and women serving in Georgia's law enforcement community. Working alongside our departments, Governor Kemp has championed legislation to recruit and retain more officers into the profession, strengthen penalties for criminals and help keep Georgia's streets safe, and prevent rogue local governments from stripping critical funding and resources from police.
"In stark contrast, Stacey Abrams has repeatedly shown complete disdain for law enforcement and the risk we take every day putting our lives on the line to serve our communities. Ms. Abrams actively serves on the governing board of – and has profited from – an anti-police organization which openly advocates for abolishing prisons and stripping local police departments of their funding.
"Stacey Abrams also supports proposals that put criminals back on our streets and clears their criminal record, and she opposed legislation to crack down on human trafficking when she served in the state legislature.
"These policies and Ms. Abrams' role in advocating for them put Georgia's law enforcement officers and the communities we serve at risk.
"In these uncertain times, it is critical to our profession that Georgia's leaders stand firmly behind the men and women in law enforcement who keep Georgia families safe. We are grateful to have the support of Governor Kemp and his administration, and we call on Stacey Abrams to disavow the dangerous policies she supports."
Sheriff Dane Kirby – Fannin County
Sheriff Stephen Tinsley – Clinch County
Sheriff Jud Smith – Barrow County
Sheriff Noel Brown – Bulloch County
Sheriff Dan Kilgore – Upson County
Sheriff Clay Whittle – Columbia County
Sheriff Rick Kelley – White County
Sheriff Randy Shirley – Stephens County
Sheriff Stacy Jarrard – Lumpkin County
Sheriff Joe Chapman – Walton County
Sheriff Mac Edwards – Evans County
Sheriff Howard R. Sills – Putnam County
Sheriff Janis Mangum – Jackson County
Sheriff John Wilcher – Chatham County
Sheriff Craig Nobles – Long County
Sheriff Billy Hancock – Crisp County
Sheriff Paul Reviere – Lincoln County
Sheriff James Woodruff – Troup County
Sheriff Gene Scarbrough – Tift County
Sheriff John Miles Jr. – Candler County
Sheriff Johnny Moats – Polk County
Sheriff Jim Proctor – Camden County
Sheriff Clark Millsap – Bartow County
Sheriff Terry Langley – Carroll County
Sheriff Leonard Wood – Coweta County
Sheriff Mark Crowe – Bryan County
Sheriff Wiley Griffin – Decatur County
Sheriff Gary Sisk – Catoosa County
Sheriff Ray Cross – Dade County
Sheriff Stacy Nicholson – Gilmer County
Sheriff Mitch Ralston – Gordon County
Sheriff Donnie Harrison – Greene County
Sheriff Joey Terrell – Habersham County
Sheriff Cullen Talton – Houston County
Sheriff Cody Youghn – Irwin County
Sheriff Randy Courson – Echols County
Sheriff Andy Hester – Turner County
Sheriff Butch Reece – Jones County
Sheriff Nick Norton – Lanier County
Sheriff Larry Dean – Laurens County
Sheriff Ashley Paulk – Lowndes County
Sheriff Stephen Jessup – McIntosh County
Sheriff Chuck Smith – Meriwether County
Sheriff Ross Henry – Heard County
Sheriff David Moore – Atkinson County
Sheriff Mike Cleveland – Hart County
Sheriff Carlton Speed – Banks County
Sheriff Jeff Watson – Taylor County
Sheriff Alvie Knight Jr. – Toombs County
Sheriff Locke Shivers – Clay County
Sheriff Jeff Johnson – Dawson County
Sheriff Shane Tondee – Schley County
Sheriff Mack Mason – Union County
Sheriff Mike Jolley – Harris County
Sheriff Jeffrey Brewer – Emanuel County
Sheriff Heath Elliott – Seminole County
Sheriff Frank Reynolds – Cherokee County
Sheriff Robert Oglesby – Jenkins County
Sheriff Randy Dely – Webster County
Sheriff Andy Batten – Bacon County
Sheriff Jimmy Thomas – Pike County
Sheriff Robert "Chuck" Moseley – Wayne County
Sheriff Steve Wilson – Walker County
Sheriff Ron Freeman – Forsyth County
Sheriff Jimmy McDuffie – Effingham County
Sheriff Gary Gulledge – Paulding County
Sheriff Barry Babb – Fayette County
Sheriff Mark Melton – Appling County
Sheriff Ray Paulk – Berrien County
Sheriff Len Davis – Brantley County
Sheriff Robert Phillips – Charlton County
Sheriff Mark Schrader – Chattooga County
Sheriff Rod Howell – Colquitt County
Sheriff Brian Robinson – Dodge County
Sheriff Craig Peavy – Dooly County
Sheriff Steve Thomas – Franklin County
Sheriff Neal Jump – Glynn County
Sheriff Gerald Couch – Hall County
Sheriff Stacy Williams – Haralson County
Sheriff Donnie Pope – Jasper County
Sheriff Greg Rowland – Johnson County
Sheriff Brad White – Lamar County
Sheriff W.B. "Brad" Freeman III – Monroe County
Sheriff Doug Maybin – Montgomery County
Sheriff Robert Markley – Morgan County
Sheriff James Hale Jr. – Oconee County
Sheriff David Gabriel – Oglethorpe County
Sheriff Donald Craig – Pickens County
Sheriff Ramsey Bennett – Pierce County
Sheriff Chad Nichols – Rabun County
Sheriff Darrell Dix – Spalding County
Sheriff Robert Rodgers – Wilcox County
Sheriff Donald Whitaker – Worth County
Sheriff Darren Mitchum – Twiggs County
Sheriff Michael Moore – Madison County
Sheriff Randy Rigdon – Wheeler County
Sheriff Preston Bohannon – Jeff Davis County
Sheriff Dave Roberson – Floyd County
Sheriff Gary Long – Butts County
Sheriff Kyle Sapp – Tattnall County
Sheriff Harry Young – Grady County
Sheriff Lee Cone – Ben Hill County