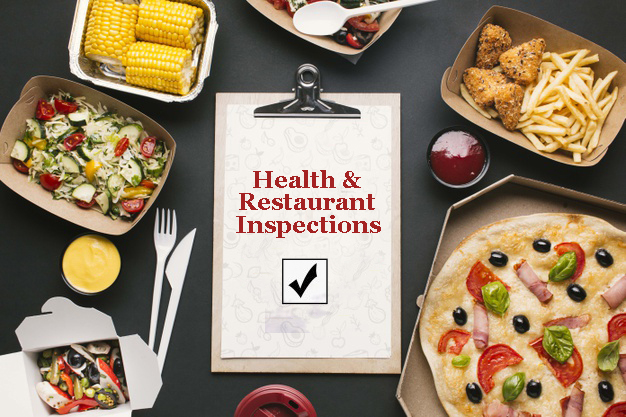 All reports are public information, published by the Georgia Department of Public Health, and posted in a conspicuous location at the establishment. Any questions about scores should be directed to the Department of Public Health.
Scores below 70 are considered failing. When a restaurant is deemed unacceptable, follow-up inspections are generally completed within 10 days of the original evaluation.
Most Current Inspections
BOOONE DOCKS BAR & GRILL

9350 HIGHWAY 100 LYERLY, GA 30730
Phone Number:
Permit Type: Food Service
Permit Number: FSP-027-000094
Last Inspection Score: 47
Last Inspection Date: 05-03-2023
For More Information Call: (706) 857-3377
Violations listed below.
TACO BELL #39938

11317 HIGHWAY 27 SUMMERVILLE, GA 30747
Phone Number: (706) 857-1966
Permit Type: Food Service
Permit Number: FSP-027-000096
Last Inspection Score: 99
Last Inspection Date: 05-02-2023
For More Information Call: (706) 857-3377
SUBWAY 33504

13427 HWY 27 SUMMERVILLE, GA 30747
Phone Number:
Permit Type: Food Service
Permit Number: 027-017
Last Inspection Score: 91
Last Inspection Date: 05-01-2023
For More Information Call: (706) 857-3377
JERRY'S DRIVE IN

676 HIGHWAY 114 SUMMERVILLE, GA 30747
Phone Number: (706) 857-5085
Permit Type: Food Service
Permit Number: 027-023
Last Inspection Score: 74
Last Inspection Date: 05-01-2023
For More Information Call: (706) 857-3377
BOOONE DOCKS BAR & GRILL

9350 HIGHWAY 100 LYERLY, GA 30730
Phone Number:
Permit Type: Food Service
Permit Number: FSP-027-000094
Last Inspection Score: 47
Last Inspection Date: 05-03-2023
Boone Docks Bar & Grill Violations
1-2A – pic present, demonstrates knowledge, performs duties

511-6-1.03(2)(a)-(l)(n)(o) – responsibility of pic (pf)

Points: 4

Corrected during inspection?: Yes

Repeat: No

Inspector Notes: Person in charge not performing duties; employees not properly trained in food safety, including food allergy awareness, as it relates to their assigned duties./Educated as much as possible on site and recommended additional training

2-1B – hands clean and properly washed

511-6-1.03(5)(c) – when to wash (p)

Points: 9

Corrected during inspection?: Yes

Repeat: No

Inspector Notes: Observed employee handling soiled equipment or utensils then engage in food preparation, handle clean equipment or utensils, or touch unwrapped single-service items, without washing hands./instructed on proper handwashing

2-1C – no bare hand contact with ready-to-eat foods or approved alternate method properly followed

511-6-1.04(4)(a)1,2,3,4(i) – preventing contamination from hands (p), (pf), (c)

Points: 9

Corrected during inspection?: Yes

Repeat: No

Inspector Notes: Employee observed touching ready to eat bread with bare hands when single-use gloves or utensils are required./bread was discarded instructed on no bare hand contat

2-2B – proper eating, tasting, drinking, or tobacco use

511-6-1.03(5)(j)1&2 – eating, drinking, or using tobacco (c)

Points: 4

Corrected during inspection?: Yes

Repeat: No

Inspector Notes: Observed an open beverage container on a food preparation table or over/next to clean equipment/utensils./drinks were discarded

2-2D – adequate handwashing facilities supplied & accessible

511-6-1.07(3)(a) – handwashing cleanser, availability (pf)

Points: 4

Corrected during inspection?: Yes

Repeat: No

Inspector Notes: No supply of hand cleaning liquid, powder, or bar soap was provided at the hand sink and/or group of two adjacent handwashing sinks./ Soap was brought to hand sink

4-1A – food separated and protected

511-6-1.04(4)(c)1(i)(ii)(iii)(v)(vi)(vii)(viii) – packaged & unpackaged food separation, packaging, and segregation (p, c)

Points: 9

Corrected during inspection?: Yes

Repeat: No

Inspector Notes: Observed raw animal food stored over ready-to-eat food. Improper separation of raw food in prep top coolers Educated on seperation requirements and discarded and/or moved items

4-2B – food-contact surfaces: cleaned & sanitized

511-6-1.05(6)(o) – manual warewashing equipment, chemical sanitization using detergent sanitizers(c)

Points: 4

Corrected during inspection?: Yes

Repeat: No

Inspector Notes: Equipment food-contact surfaces and utensils not sanitized./Instructed on proper dish washing procedures and recommendations made for washing until repairs can be made

6-1A – proper cold holding temperatures

511-6-1.04(6)(f) – time/temperature control for safety; cold holding (p)

Points: 9

Corrected during inspection?: Yes

Repeat: No

Inspector Notes: Observed potentially hazardous food cold held at greater than 41 degrees Fahrenheit. Food was discarded

6-1B – proper hot holding temperatures

511-6-1.04(6)(f) – time/temperature control for safety; hot holding (p)

Points: 9

Corrected during inspection?: No

Repeat: No

Inspector Notes: Observed hot potentially hazardous food received at less than 135 degrees Fahrenheit./items in warming cabinet discarded

6-2 – proper date marking and disposition

511-6-1.04(6)(g) – ready-to-eat time/temperature control for safety food, date marking (pf)

Points: 4

Corrected during inspection?: Yes

Repeat: No

Inspector Notes: Observed opened/prepared container/package of ready-to-eat potentially hazardous food that does not bear a consume/sell by date/label. Food may not be served.

8-2B – toxic substances properly identified, stored, used

511-6-1.07(6)(c) – storage, separation (p)

Points: 4

Corrected during inspection?: Yes

Repeat: No

Inspector Notes: Observed sanitizer bucket stored on top of sugar/ bucket was relocated and discussed storage

12A – contamination prevented during food preparation, storage, display

511-6-1.04(4)(q) – food storage (c)

Points: 3

Corrected during inspection?: Yes

Repeat: No

Inspector Notes: Observed potatoes and oil stored on outside deck with no coverage.Discarded

12B – personal cleanliness

511-6-1.03(5)(i) – hair restraints (c)

Points: 3

Corrected during inspection?: No

Repeat: No

Inspector Notes: Observed employee with no hair restraint.

18 – insects, rodents, and animals not present

511-6-1.07(2)(m) – outer openings protected (c)

Points: 3

Corrected during inspection?: No

Repeat: No

Inspector Notes: Observed holes in screened area for smoker/must be repaired