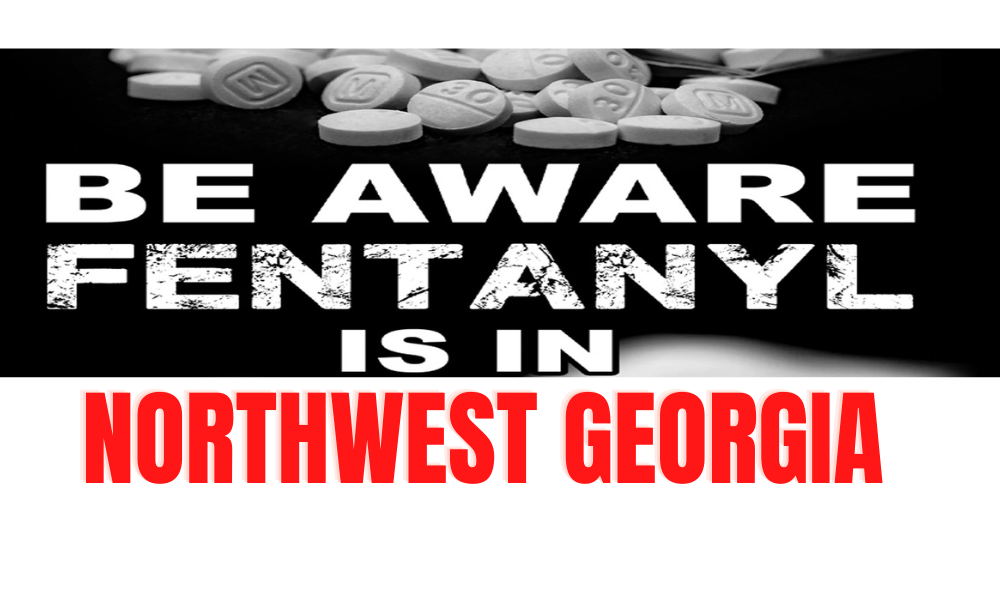 Gary Voccio, M.D., District Health Director serving Bartow, Catoosa, Chattooga. Dade, Floyd, Gordon, Haralson, Paulding, Polk, and Walker Counties has released the following information concerning the cluster of overdoses that have hit Region 1 in the last few days.
There are details on adequate PPE to protect first responders should they enter a scene or have an incident at their facility that appears to have the characteristics of an opioid overdose. Also there are warning signs to pay attention to as well of an overdose.
The Georgia Department of Public Health (DPH) is working with the Georgia Bureau of Investigation (GBl) and local coroners on a cluster of drug overdoses and possible related deaths that have occurred in Northwest Georgia since January 29, 2023. This is a cluster of concern due to deaths that occurred from suspected fentanyl or another drug item used in Georgia and is a serious public health threat.
Patients reportedly passed out and needed immediate medical attention after using the drug(s) involved. Drugs with fentanyl are extremely potent and patients have required massive doses of naloxone to counteract the effects. It is suspected that this drug is HIGHLY DANGEROUS and should not be handled. It could possibly be inhaled or absorbed through the skin and are extremely toxic in even the smallest quantities. Based on the information known at this time, the DPH is aware of at least three deaths that may be related to this drug cluster.
These numbers will change as we determine if reported cases are truly related to the cluster, and as new reports are received.
Early recognition of symptoms and the need for decisive action when you suspect an opioid overdose or enter an environment where fentanyl or other drugs may be present is critical to preventing overdose deaths and protecting first responders.
"I am sharing this same information with all community partners because of the critical need for awareness among all of us, in order to protect to save lives," Voccio said in the release.
If a potential drug related overdose is found first responders are to:
• Wear adequate PPE when handling the substance.
• Double bag the substance with a bio-hazard label on the outside and handle per agency protocol.
Whenever possible, Naloxone should be carried when working in an environment where an overdose incident may occur.
• Georgia has a standing order for prescription of Naloxone for overdose prevention, which makes Naloxone available at any pharmacy without a prescription. For details on the standing order, please see the attached document. • When administering Naloxone, please note that multiple doses may be necessary.
Signs of an overdose:
Loss of consciousness or unresponsive to outside stimulus
Awake, but unable to talk, breathing is very slow and shallow, erratic, or has stopped
For lighter skinned people, the skin tone turns bluish purple, for darker skinned people, it turns grayish or ashen. Choking sounds, or a snore-like gurgling noise (sometimes called the "death rattle")
Vomiting
Body is very limp
Face is very pale or clammy
Fingernails and lips turn blue or purplish black
Pulse (heartbeat) is slow, erratic, or not there at all
First Responders should report suspected cases or for any additional questions, please call the Georgia Poison Center at 1-800-222-1222 or 404-616- 9000. All suspect cases should be reported immediately. DPH will continue to monitor this situation and provide updates as they are warranted.
Fentanyl is a deadly substance that can be made illegally and found in all types of street drugs. It is important to know that it is possible to have an opioid overdose from a stimulant (e.g., cocaine) that is laced with fentanyl.
Drugs that contain fentanyl cannot be detected by sight or smell, and even a small amount can cause an overdose. If you have a drug that was not prescribed for you, be aware it could contain fentanyl.
Fentanyl-related overdose deaths have been increasing in Georgia. Between May 1, 2020 and April 30, 2021, fentanyl-involved overdose deaths increased 106.2% compared to the same time period the previous year.
If you suspect a drug overdose, call 911 immediately, provide the location of the overdose and stay with the individual until help arrives. Georgia has a medical amnesty law that protects individuals who may be experiencing an overdose and callers seeking medical attention for drug overdoses. Naloxone reverses the effects of an opioid overdose and can be obtained from pharmacies in Georgia without a prescription under a 
 standing order.
Drug prevention and recovery are possible with the appropriate support. For access to services and immediate crisis help, the Georgia Crisis & Access Line 1-800-715-4225 is available 24/7.