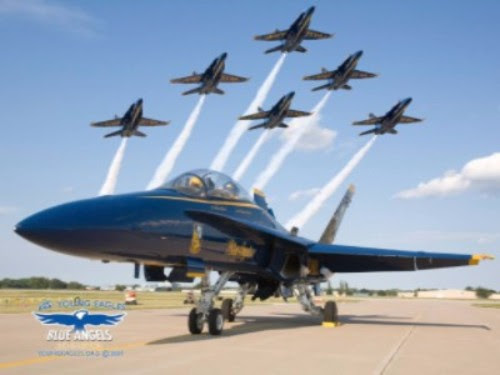 The U.S. Navy Blue Angels Jet Demonstration Team lead by Commander Brian C. Kesselring will headline Georgia's ninth annual Wings Over North Georgia Air Show on Oct 30-31 in Rome, GA. After 34 years, the Blue Angels have retired their legacy F/A-18 A/B/C/D Hornets. The team is transitioning to the F/A-18 E/F Super Hornets for the 2021 air show season. In addition to being the first year flying the Super Hornet, 2021 will also mark the 75th Anniversary of the Blue Angels.
To ensure a safe environment for our air show attendees, the 2021 event will continue with the now very popular "Drive-In Air Show" model, offering our guests and families the perfect mix of social distancing while watching the top military and civilian aviation performers do their magic in the sky.
"Many air shows were forced to cancel this year during the pandemic," said John Cowman, President of JLC AirShow Management and organizer of WONG 2021. "My team and I worked diligently in 2020 with local and regional health officials to produce the Drive-In Air Show format, fully satisfying a wide range of safety concerns allowing us to bring exciting aerial entertainment to our family-style venue for the residents of the tri-state area. With the uncertain current state of affairs and receiving very favorable 2020 drive-in air show reviews, we made the decision to continue with the drive-in air show model for 2021." 
 

Russell Regional Airport will once again be transformed to a giant drive-in style parking lot for the two-day event.  There will be a limited number of premium parking, general airfield, handicap and discounted parking zones available that can only be purchased in advance. 
Advance Parking Tickets go on sale today for our previous ticket holders with a short weekend window before the mass sales are opened to the general public next Monday.  Purchasers must use the ticket purchase code WONG2021 to access the ETIX early bird sales pages. Parking tickets will not be sold onsite during the 2021 air show days.  General airfield parking tickets will start at $99 and up per vehicle carload with a very limited number of front and second row parking tickets available starting at $300 per vehicle carload.
There will be no restrictions on the number of people admitted per vehicle as long as there are as many factory installed seat belts. Each vehicle will be parked in the order of arrival and assigned a 10' x 20' space for the vehicle with an adjacent 10' x 20' private space for tailgating. The front and second row single spaces will be 10′ x 25′ plus the equivalent tailgating area providing guest with an additional 100 sq. ft. of premium flight line viewing.
Guests are allowed to bring their own chairs, tables, non-alcoholic beverages, and food. Concessions, beverages and food vendors will be available for additional vendor sales on site. Portable restrooms and hand washing stations will be stationed throughout the venue parking lots for easy access and serviced hourly. For a full list of permitted and restricted items and rules, please visit Wings Over North Georgia FAQ's for the complete show details.
The Blue Angels Jet Team along with their new USMC C-130J model commonly known as "Fat Albert" will serve as the headliner and final performers on both Saturday and Sunday in their six new Blue & Gold F/A-18 Super Hornets. The USN Blue Angels are internationally known for their hard charging demonstration of precision formation and close proximity flying, pushing the Super Hornets to their limits.  Make plans early (makes awesome Christmas & Birthday Gifts), their precise flying routines make the Blue Angels a must-see at the 2021 Wings Over North Georgia air show.
Additional military and civilian teams and performers will be announced later following the conclusion of the December ICAS air show convention.
The Wings Over North Georgia air show is an FAA, DOD, and International Council of Air Shows (ICAS) approved event.
For information on the "Drive-In Air Show" Parking Tickets, Premium Airport Camping Reservations, event FAQs, and the growing list of World-Class Performers, follow the air show's Facebook page or visit the website at  https://www.WingsOverNorthGeorgia.com.