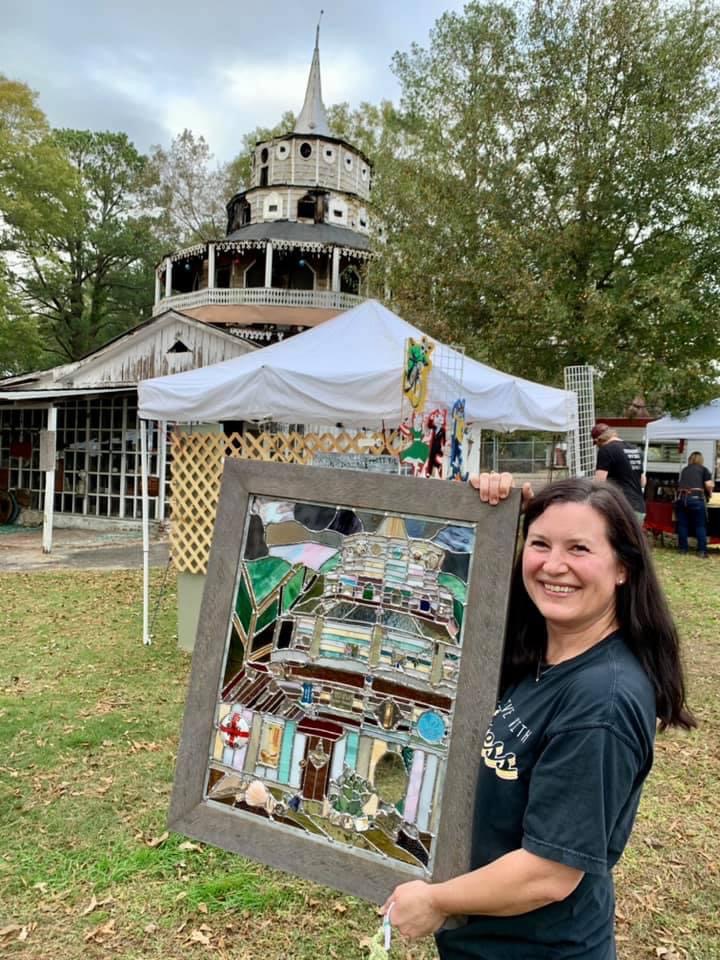 Atlanta-area stained glass artist Mandy Grant shows off one of most challenging and beautiful creations, a work honoring Howard Finster's World's Folk Art Church. Mandy will be one of more than a dozen artists who will be featured during the Paradise Pop-Up Artist Market on Saturday, May 15.

Long inspired by the Paradise Garden creator, Mandy included many found and personal objects in the window, including her grandmother's watch, so it's not for sale. But it should be on view during the Artist Market on the 15th.
Other participating Paradise Pop-Up artists will be Taylor Blake (blacksmithing). Mark Issenberg of Lookout Mountain Pottery, Kimberly Dawn Crowder (pictured, folk art paintings), Lee Laney and Leonard McEwen of Tortured Pine Pottery, Mountain Mama Farms (farm-made soaps, salves, candles and more), James Schroeder (stenciled paintings and painted wooden cutouts), Jeremy Smith (wood carvings), Kate Helton of KJH Designs (jewelry), Dale "Breezy" Ellis with Marianne Talarick of Mountain Witch Pottery, Dennis Ritter & Grace Tessein (studio pottery), Will Linn (folk art paintings), James Barron with Donnie Davis (paintings) and the Southeastern Quilt & Textile Museum gift shop.
The Garden Club of Chattooga will be selling homemade sandwiches (including their famous pimento cheese) and flowers.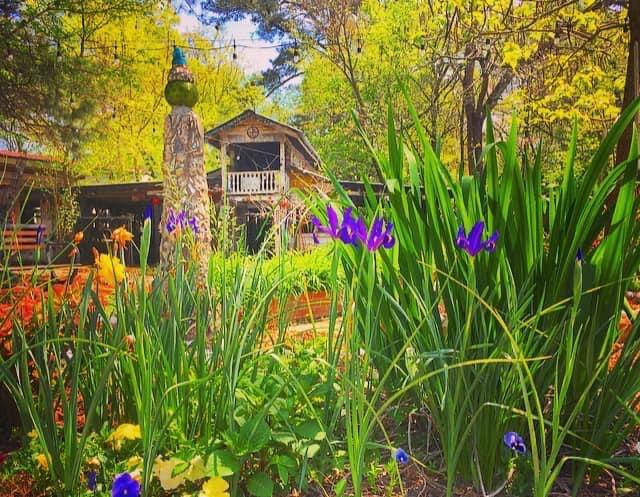 Another fun event this month is a Mother's Day Picnic featuring the Big City String Band on Mother's Day, Sunday, May 9. Pick up your Mom's favorite meal and meet her at Paradise Garden for a lovely picnic at one of the many outdoor tables, with live music featuring the Big City String Band serenading the special occasion from noon-2pm, weather permitting. Please reserve your table in advance, by calling 706-808-0800. Admission is $15, $10 seniors, $5 students, 12 and under are free, & dogs are welcome! (You may also bring a blanket and enjoy a picnic on the lawn.) (You may also come without Mom.)