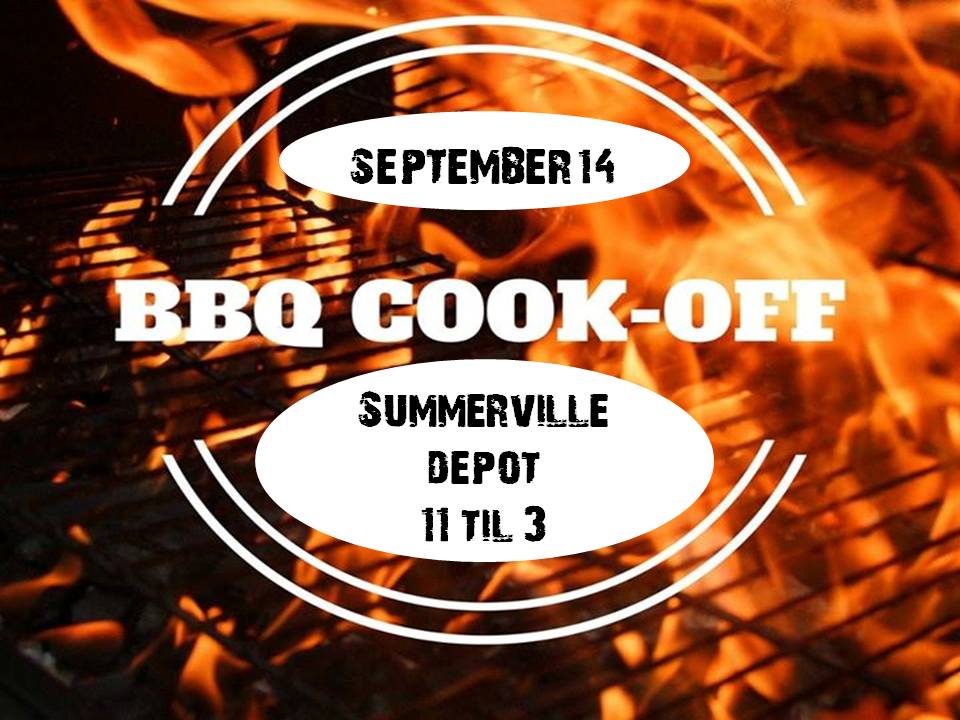 The public is invited to taste victory and some great BBQ at the Summerville Depot Backyard BBQ Cook-Off. The cook-off is scheduled for Saturday, September 14 beginning at 11:00 a.m. and will conclude at 3:00 p.m. Some of the best BBQ cooks in Northwest Georgia will be on site for a day filled with lots of friendly competition and good eats. Inside dining will be available for those wishing to eat on site inside the Summerville Depot Freight Room.
Teams will compete and be judged by a five person judging panel in the categories of chicken, pork loin, and ribs. Trophies will be awarded to first-third place winners in each of the categories, with first place winners in each category receiving $200.  The Grand Champion will be determined by the highest scores and be awarded $250 and a trophy. People's Choice competition will be in the category of Boston Butts.
Event goers may purchase a ticket to sample all Boston Butt entries and vote for People's Choice beginning at 11:00 a.m. Tickets will be sold until supplies are sold out. People's Choice winner will split "the pot" and receive a trophy.
Teams competing include Jeff Mosier's Holy Smokes BBQ, Jeff Barnes Lazy Dayz BBQ, Stan Rosser's Small Town BBQ, and Scott Waters Smoke Stack BBQ. Announcement of winners is scheduled for 2:30 p.m.
There will be a an arrival of the Tennessee Valley Railroad Passenger Train and a turning of the Summerville Turntable around 1:00 p.m. Vendors will be on site and musical entertainment by Matt Foster is scheduled for 11:30 a.m. – 2:00 p.m. Public parking will be located across from the depot and in the downtown area. This free community event is sponsored by Summerville Main Street and Henry's BBQ.
Press release from
City of Summerville
Summerville Main Street
P.O. Box 180, Summerville, Ga. 30747
Phone: (706) 859-0900 email slocklear@summervillega.org