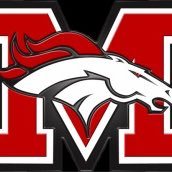 The following article is an opinion piece and reflects only the views of the author and not necessarily those of AllOnGeorgia.

---
When a sports program is struggling, its easy for the bonds of teammates and the fabric of sportsmanship to fall apart.
While Chattooga players and fans were celebrating a historic playoff series win, the Mustangs of McNair were absorbing a loss of epic proportions in the two-game sweep that included just seven total innings and ended in a lopsided point total of 49-0.
But what McNair brought to the table was humanity, humility, and a team bond that kept their heads up and their sportsmanship intact through both games, and during a display of community sportsmanship that was just as epic as their loss on the field.
Throughout the games, the Mustangs bench cheered for every player on their team. They cheered for every pitch, for every swing and every play. No matter the result.
At the conclusion of the series, their coach huddled their team in the outfield, told them how proud he was of their effort and their team pride, and then the team strolled across the parking lot, shaking off the loss with maturity and class, they even gave the coach a celebratory Gatorade bath. It was clear to see that just being in Round 1 of the playoffs was a huge achievement for the team and despite the results on the scoreboard they celebrated their success.
Before getting on their charter bus and heading home the players gathered around a youth recreation softball team and begin to cheer them on. Clapping and yelling for young girls despite the fact that they knew none of them and would likely never see them again.
Mustangs, you still have a hill to climb with gaining experience and fundamentals on the field. But the display of sportsmanship and class you brought was a tremendous reflection of your players and coaches, and the entire McNair family. You served as a reminder to everyone present that there is more to sports than just the final score.
Yesterday reminded me of something Coach Charles Hammon has told me many times, "Winning isn't winning when you win with losers and losing isn't losing when you lose with winners."
Yesterday both baseball teams walked off the diamond as winners.