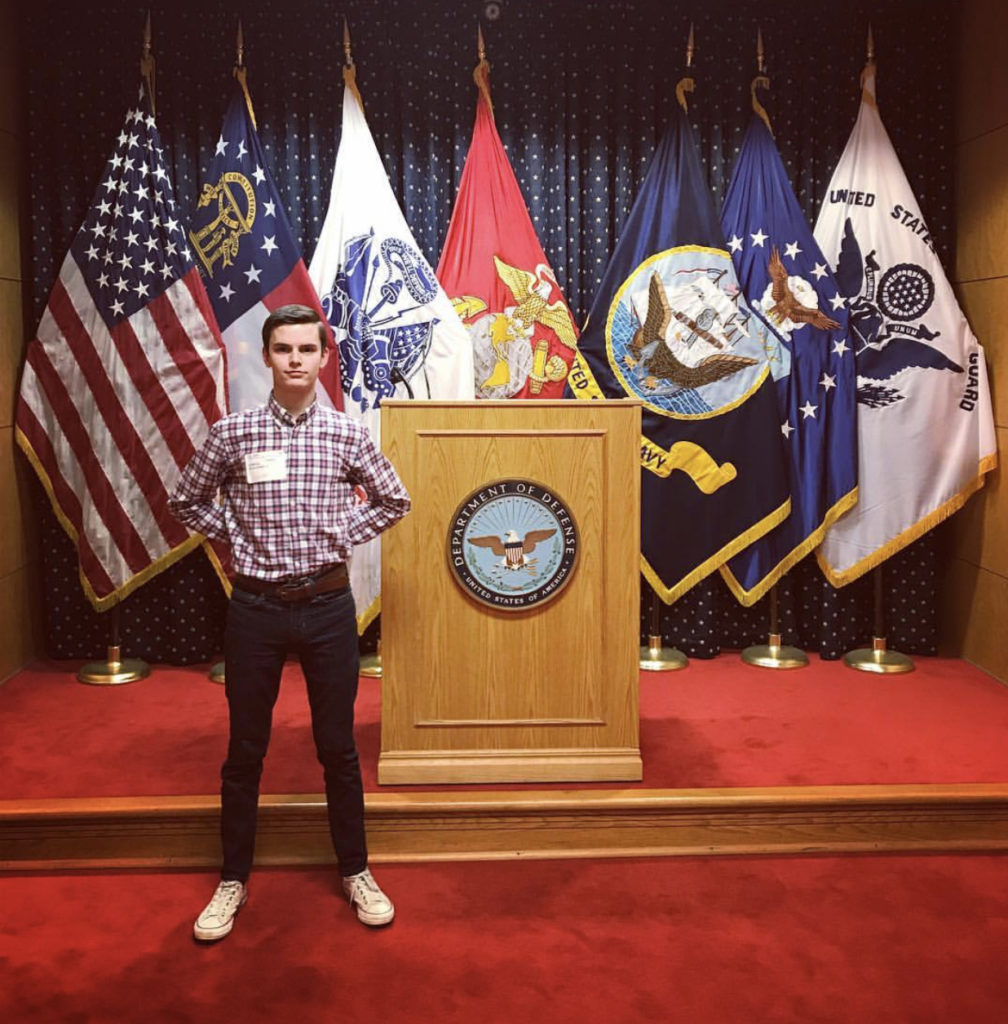 Trion High School Senior Bronson Champion has decided to continue his leadership and service by enlisting in the U.S. Army.
Champion says there were many reasons why he decided to join the Military:  "however, leadership is what truly inspired me to join the military, throughout the past eight years of my life leadership has played a major role into shaping who I am today, and I feel a good leader is someone who always has room to improve on their skills and recognizes this."
When asked why he selected the Army, he responded, "out of the five different military branches I decided to join the Army to a lot of people's surprise. However, when I was weighing my options of which branch, I felt was the best for me I did a lot of research. I chose the Army because I felt that it was the only service branch that offered a larger vocational style when it came to learning and career options. Also, the Army is the only branch of service that allows you to pick your job based on your test scores when you sign your contract."
Champion will be attending Basic Training at Fort Leonard Wood in Missouri, where he will also be attending Advanced Individual Training (AIT) for his Military Occupational Specialty (MOS) as a Chemical, Biological, Radiological, and Nuclear Specialist (74D, CBRN).
"I will leave for Basic Training and AIT on July 29th and will be gone for approximately 5 months," Champion said.
In preparation for Basic Training and AIT Champion will be attending Physical Training with his recruiters and drills with the Unit where he will be called to duty one weekend every month, and two weeks during the summer.
Upon graduating from AIT Champion plans to attend the University of North Georgia as a Cadet in the Corps of Cadets. "While attending North Georgia I plan to double-major in Biology and Psychology with a focus in Pre-Medical studies; while, also earning a minor in Military Science. After graduating from the University of North Georgia I plan to be a Second Lieutenant in the United States Army serving in the Medical Corps as a recipient of the HPSP (Health Profession Scholarship Program) while attending Medical School. Overall, my main goal is to become a Trauma Surgeon in the United States Army."
Bronson Champion will Graduate from Trion High School on May 25th as an Honor Graduate.
List of High School Achievement:
Throughout his high school career, Champion has had a very extensive background in Leadership experience and training.
4-H:
Georgia 4-H Northwest District Senior Board of Directors Vice-President 2016-2017
Chattooga County 4-H; Public Relations officer 2015-2016, Secretary 2016-2017, Vice-President 2017-2018, President 2018-2019
Georgia 4-H State Health Project 2nd place 2017&2018
Georgia 4-H State .22 rifle 2nd place team 2018
Georgia 4-H State .22 rifle Silhouette shoot 5th place individual 2019
Georgia 4-H Family and Consumer Science State Deans Award 3rd place 2017
Georgia 4-H State Excellence in Leadership Award winner 2017-2018
National 4-H Healthy Living Summit Georgia Delegate 2017
Georgia 4-H Clover and Company state wide performing arts singer 2015-2016,2017-2018
Trion High School:
Freshmen class Vice-President 2015-2016
Sophomore class Secretary 2016-2017
GHSA Cross Country 1A Public runner of the week
3x GHSA State Cross Country qualifier
Area 1A Public 4th place
Trion High School Cross Country 2x Bulldog Pack Leader Award Winner
Trion High School Cross Country 3x Inspirational Award Winner
Trion High School 3x Academic T Letter
Trion High School Cross Country Letter
Trion High School Beta Club Member
Trion High School Mu Alpha Theta Member
Trion High School Highest Average in Intro. to Engineering and Technology 2016-2017