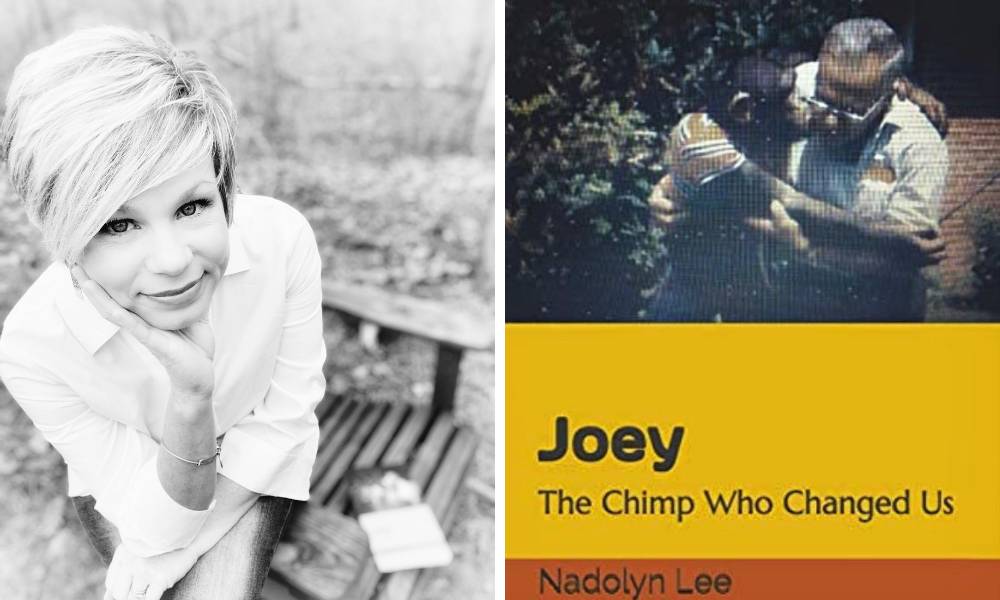 Seriously is there anything Tina Lee can't do? Nadolyn (Tina) Lee  is making her way into the world of publishing with her first published novel, Joey: The Chimp Who Changed Us.
North Georgia teacher, Nadolyn Lee can add Southern writer to her resume. Summerville, GA is home to this novelist. Nadolyn's first published work is a novel, Joey: The Chimp Who Changed Us, that she dedicated to her father Mickey. It was Mickey's stories about his pet chimpanzee (Joey) that captivated Nadolyn as a young child. You can pick up your copy today on Amazon or download to Kindle. Copies will also be available at upcoming book events. Nadolyn will give a talk along with reading and signing on February 7, 2021 from 2-5pm at Dirt Design and Décor in Summerville, GA and on March 4, 2021 at 6pm at the public library in LaFayette, GA.
Lee learned that her hometown of Arlington, GA and a childhood was anything but normal when she went off to college provided the background for her creative work. An elementary music teacher of twenty-three years, Nadolyn lives in a small, north Georgia town with her husband of eighteen years and their four children.
When she isn't writing or serving as a taxi driver for her school-aged children, Nadolyn enjoys writing music, traveling and filming weekly videos for her YouTube channel, Dirt Road Believer. This Broadway enthusiast is forever confusing costumes with uniforms and intermission with halftime in a home filled with guys who love sports. She refuses to come out of her artsy bubble except when she attends her children's sporting events.
Rachel Oesch Willeford, a Freelance Journalist wrote the following book review of "JOEY: The Chimp Who Changed Us".
"Joey: The Chimp Who Changed Us is an imaginative, heart-felt story that is interesting and easy to read. Joey is the story of a young boy whose life changes for the better after a chimpanzee joins his family. The narrator is an adult and recounts the story of his youth. The story is set in South Georgia during the 1950's. The impact the chimp has on the boy and his family is positive. This positive affect even touches the citizens of the little South Georgia town.
This is an excellent novel for a first time writer. The story is compelling and the characters are complex. We connect with the little boy in the story. We come to know and sympathize with each of the family members. You can picture the home, backyard, truck, and small town described in the book. You will feel happiness and sadness as you journey along with the little boy and his best friend, Joey. The ending will leave you reminiscing about your own childhood. This book leaves you longing for simpler times when life seemed carefree.
I really enjoyed reading this book. I am recommending this book to my local book club and to the LaFayette-Walker County Friends of the Library. This book will appeal to anyone who remembers having a pet as a best friend. This book will also appeal to anyone that finds the romance in the stories of the 1950's and of course this book will appeal to all Georgians! I encourage you to pick up a copy of this book today!"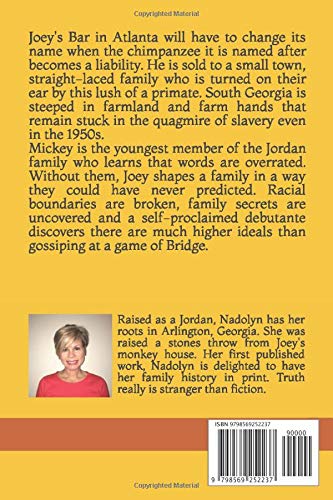 From the back cover of the book: Joey's Bar in Atlanta will have to change its name when the chimpanzee it is named after becomes a liability. He is sold to a small town, straight-laced family who is turned on their ear by this lush of a primate. South Georgia is steeped in farmland and farm hands that remain stuck in the quagmire of slavery even in the 1950s. Mickey is the youngest member of the Jordan family who learns that words are overrated. Without them, Joey shapes a family in a way they could have never predicted. Racial boundaries are broken, family secrets are uncovered and a self-proclaimed debutante discovers there are much higher ideals than gossiping at a game of Bridge.