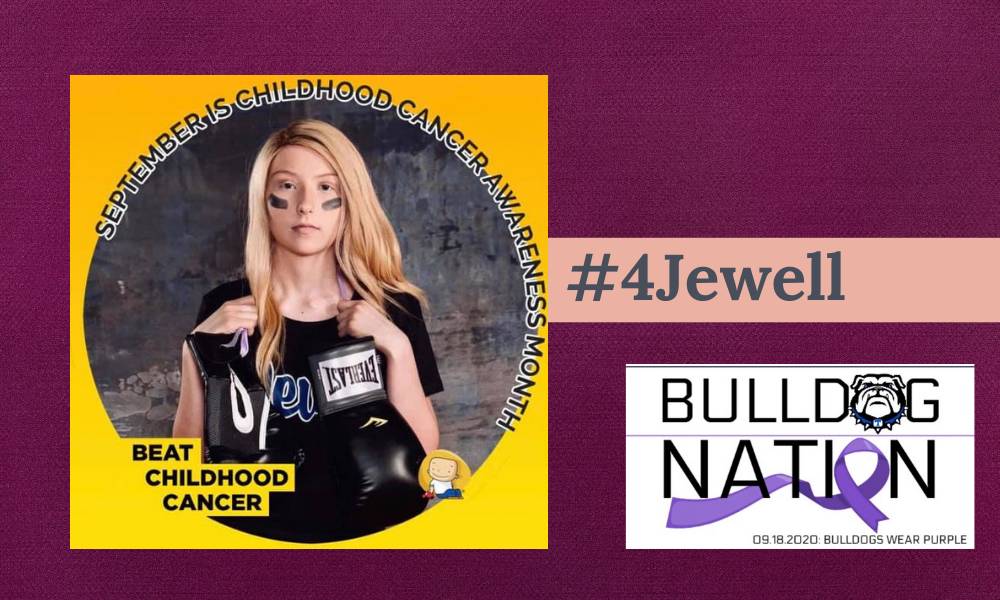 The Trion Bulldog nation (the fans) will arrive Friday night at the Woodard-Tuggle Stadium in purple in honor of Model Cheerleader, Jewell Sweat, who has been bravely battling a rare form of stomach cancer.
Jewell Sweat is a senior Model High School in Rome, Georgia, and cheers competitively at Hot Shots Cheerleading Gym. What started as sudden stomach pains for the teenager turned into something far worse.
Sweat has been diagnosed with Stage 3-4 carcinoma of the stomach. Last week she traveled to Maryland to have a major surgery to try to remove the cancer and kill any small cancer cells. Her mother, June, described the six hour surgery in the following Facebook post:  "there will be one of the most highly skilled teams in this field in the whole entire world ready to change her life for the better. Ready to get all this cancer out so she can start to move forward in healing and living the life she was meant to! This amazing team will do a total gastrectomy with HIPEC. Basically, a total stomach removal with a heated chemotherapy agent put into her abdomen at the time of removal to hopefully find every little cancer cell that might be hiding and kill it."
The surgery was not as successful as hoped. Jewell spent several days in the hospital in Maryland she is set to make the medical flight  back to Rome today.
Model High School has honored Jewell in many ways since her diagnosis and the Bulldog Nation wanted to do the same to let Jewell and the Shannon community know the Bulldogs' thoughts and prayers are with Jewell.
Friday night is Senior Night for Model, officials at Model said they don't think Jewell will feel well enough to attend the game however they plan to stream the Seniors recognition.