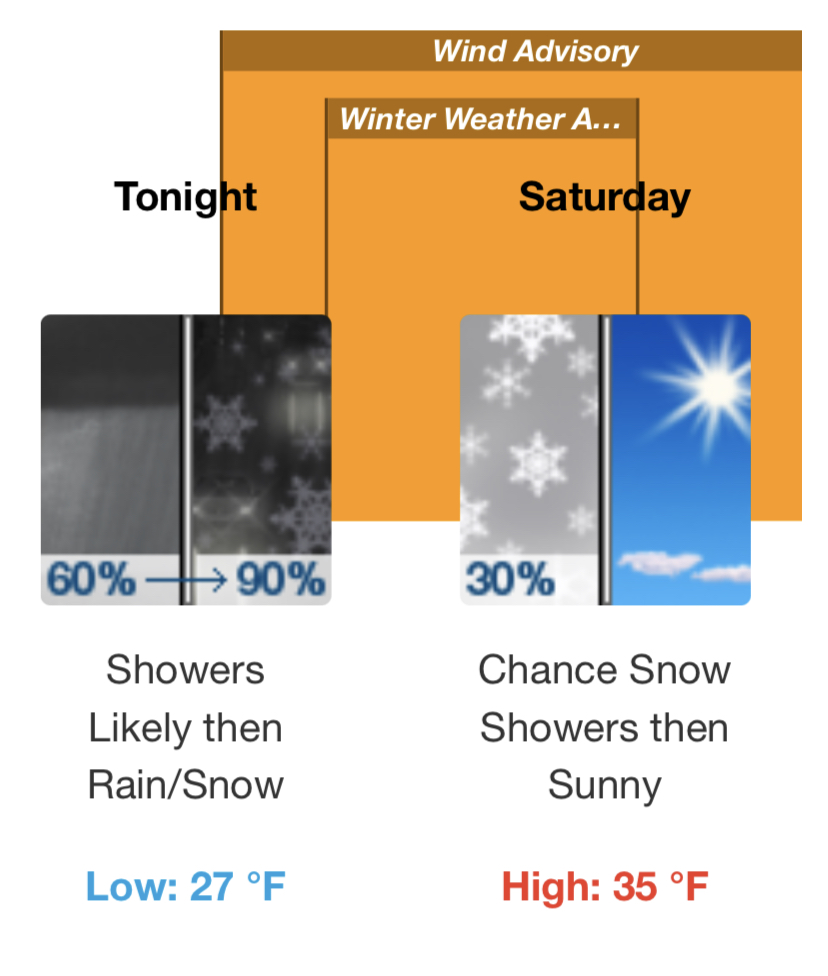 WINTER WEATHER ADVISORY IN EFFECT FROM 4 AM TO 1 PM EST SATURDAY…


WHAT…A transition from rain to snow is expected early Saturday morning. Total snow accumulations are expected to be around one- half inch Saturday morning, with higher amounts of 1 to 2 inches across portions of far north Georgia.
WHERE…Portions of north central, northeast and northwest Georgia.
Dade–Walker–Catoosa-Whitfield-Murray-Fannin-Gilmer-Union-Towns- Chattooga-Gordon-Pickens-Dawson-Lumpkin-White-Floyd-Bartow- Cherokee-Polk-Paulding-Cobb-Haralson-Carroll-Douglas- Including the cities of Calhoun, Dahlonega, Cleveland, Rome, Cartersville, Marietta, Carrollton, and Douglasville
WHEN…From 4 AM to 1 PM EST Saturday.
IMPACTS…Plan on slippery road conditions.
PRECAUTIONARY/PREPAREDNESS ACTIONS… Slow down and use caution while traveling.
Wintry precipitation is possible over portions of north Georgia Friday night through early Saturday as lingering moisture combines with cold temperatures.
There is potential for light accumulations across far north Georgia, with little to no accumulations expected farther south. Strong gusty winds winds are possible Friday night. Sustained winds from 20-25 mph gusting to 30-35 mph at times are anticipated. Winds could be higher across ridgetops in mountainous terrain.
Detailed Forecast
Today
Patchy drizzle before 11am, then a slight chance of showers after 5pm. Mostly cloudy, with a high near 66. Southeast wind around 5 mph. Chance of precipitation is 10%.
Tonight
Rain showers before 4am, then rain, possibly mixed with snow showers. Low around 27. Southeast wind 5 to 10 mph becoming north 15 to 20 mph after midnight. Winds could gust as high as 30 mph. Chance of precipitation is 90%. New snow accumulation of less than one inch possible.
Saturday
A 30 percent chance of snow showers, mainly before 8am. Mostly sunny, with a high near 35. Northwest wind around 20 mph, with gusts as high as 30 mph. New snow accumulation of less than a half inch possible.