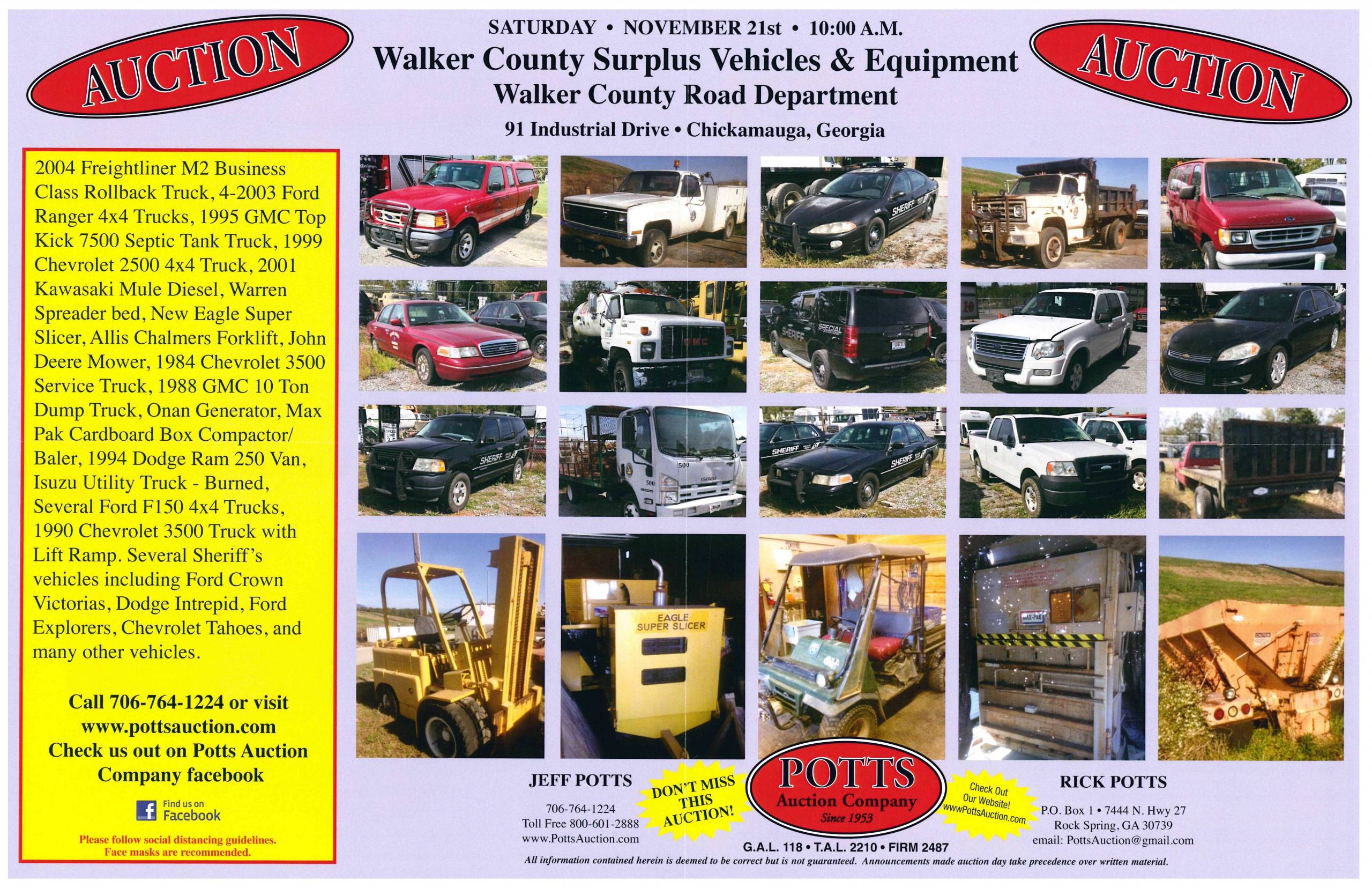 Walker County Government will offer for sale to the highest bidder over 70 items including cars and trucks, construction and landscaping equipment, and vehicle accessories this weekend.

The auction will be conducted by Potts Auction Company at the Walker County Road Department, 91 Industrial Boulevard in Chickamauga, GA at 10:00 a.m. on Saturday, November 21, 2020. Bidders may begin registering at 8:00 a.m. Due to COVID-19, face masks are recommended at this event.
All items are offered "AS IS" with no warranty or condition expressed or implied and no returns. Pictures and a list of vehicles and equipment available at this auction are available on the county's website.
Items must be paid for on the day of the sale. A 10% buyer's premium will be added to all purchases. Acceptable forms of payment include cash, approve check or letter of credit from a bank. The buyer must make all arrangements and perform all work necessary to remove their items from county property on the day of the sale.
Items that will be auctioned off include: 2004 Freightliner M2 Business Class Rollback Truck, Four 2003 ford Ranger 4×4 Trucks, 1995 GMC Topkick 7500 Septic Tank Truck, 1999 Chevrolet 2500 4×4 Truck, 2001 Kawasaki Mule Diesel, Warren Spreader Bed, New Eagle Super Slicer, Allis Chalmers Forklift, John Deere Mower, Dixie Chopper Mower, Toro Mower, 1984 Chevrolet 3500 Service Truck, 1988 GMC 10 Ton Dump Truck, 2 Massey Ferguson Cab Tractors, International Ambulance, Onan Generator, Max Pac Cardboard Box Compactor/Baler, 1994 Dodge Ram 250 Van, Isuzu Utility Truck-Burned, Several Ford F150 4×4 Trucks, 1990 Chevrolet 3500 Truck with Lift Ramp, Several Sheriff's Vehicles including 22 Ford Crown Victorias, 1 Dodge Intrepid, Several Ford Explorers, 2 Chevrolet Tahoes, and many other vehicles.
Walker County Government reserves the right to reject any and all bids and to waive formalities.