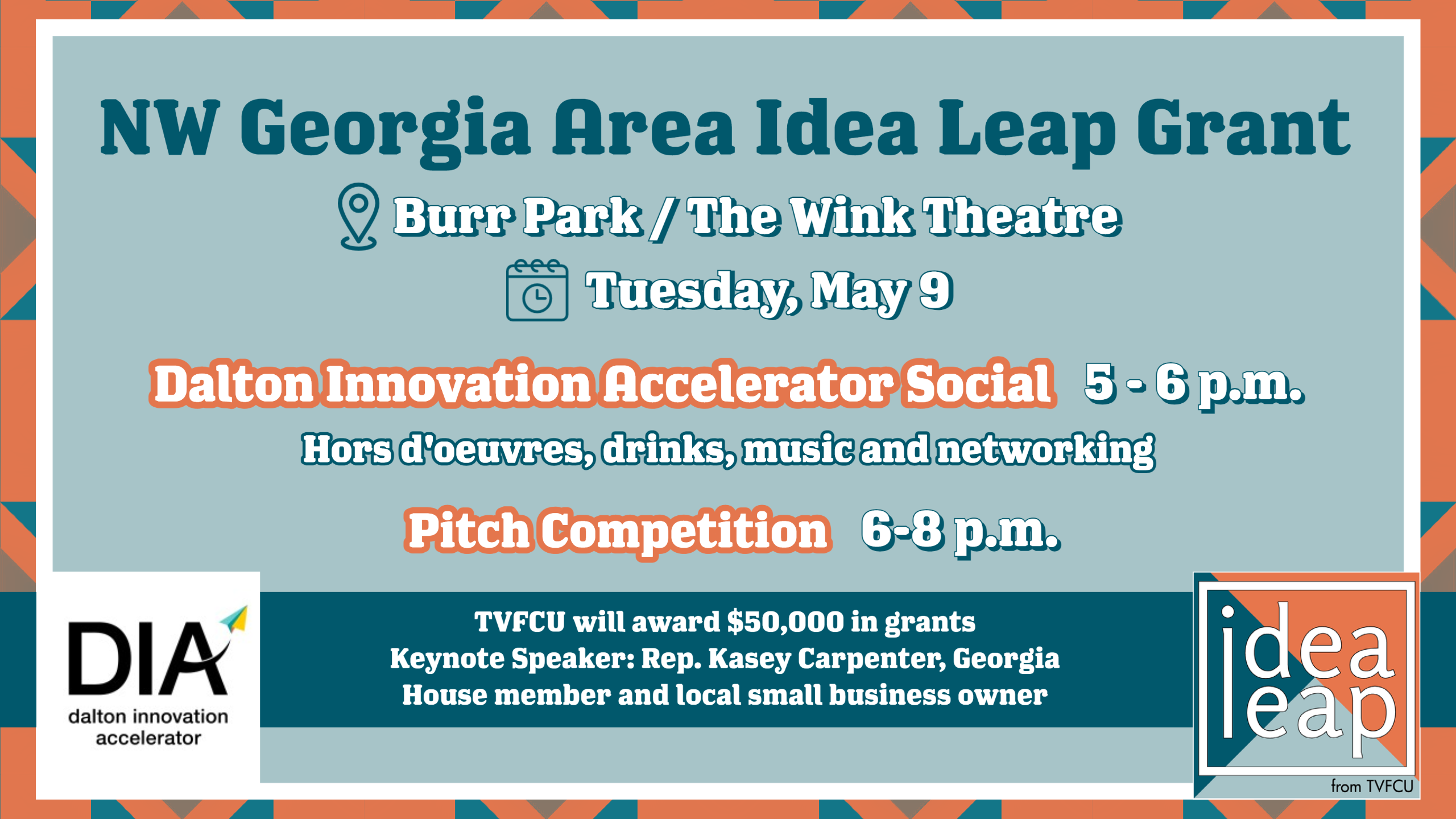 For TVFCU's 6th Annual Idea Leap Grant, the credit union is awarding a total of $175,000 in grants to local small business owners in Southeast Tennessee and Northwest Georgia. Entrepreneurs will participate in regional pitch competitions during the second week in May, each taking home a grant between $10,000 and $30,000.
"Since the inception of the Idea Leap Grant in 2018, we have awarded over $300,000 in grants and scholarships to dozens of outstanding small businesses in our area," said Tommy Nix, vice president of business and commercial services. "This year, for the first time ever, we've expanded the Idea Leap Grant into three regional competitions – in the Chattanooga, Cleveland and Northwest Georgia areas – to ensure that the program's impact is felt across TVFCU's 17-county service area."
TVFCU is hosting three pitch competitions in which small business owners will discuss their businesses and present their plans for expansion before volunteer panels of community judges. Collaborators from each community are hosting receptions before each pitch night with hors d'oeuvres, drinks, music and networking.
The credit union is also hosting an educational luncheon in Chattanooga that is geared toward seasoned business owners and aspiring entrepreneurs alike. All events are open to the public, and attendees are asked to RSVP at tvfcu.com/idealeap.
2023 Idea Leap Grant events include:
Cleveland Area:
Monday, May 8
Events are located at the PIE Innovation Center
Reception, hosted by Cleveland/Bradley Chamber of Commerce – 5-6 p.m.
Pitch Competition – 6-8 p.m.
o   Biskit NV, Direct Primary Care Associates and Rod's Rockin Rolls will compete for a total of $50,000 in grants
o   Dr. Paul Conn, who recently assumed the role of chancellor at Lee University after serving as president for 34 years, will serve as the keynote speaker
Northwest Georgia Area:
Tuesday, May 9
Reception, hosted by the Dalton Innovation Accelerator – 5-6 p.m.
o   Reception is located at Burr Park
Pitch Competition – 6-8 p.m.
o   Baxter Dean Studio, Foundation Direct Family Care and Inflated LLC will compete for a total of $50,000 in grants
o   Kasey Carpenter, state representative and small business owner, will serve as the keynote speaker
o   The pitch is located at The Wink Theatre
Chattanooga Area:
Thursday, May 11
Events are located at the Bessie Smith Cultural Center
Luncheon – 11:30 a.m. – 1 p.m.
o   Platt Boyd, founder and chief innovation architect of Branch Technology, will serve as keynote speaker
o   Boyd, Keenan Daniels, local DJ and entrepreneur known as the MillionDollaMan, and Cheryl Saucier, owner of Mountain View Low Vision Services, will serve as panelists, providing insights into their experiences as small business owners and answering questions from the audience
o   Donne Elle Harrison, director of cultural tourism & inclusive marketing at Chattanooga Tourism Co., will moderate the panel
Chambliss Startup Social – 4:30-6 p.m.
Pitch Competition – 6-8 p.m.
o   RMJ USA, Cocoa Asante, Simply Props, The Local Juicery and The Professional Cleaning Solution will compete for a total of $75,000 in grants
o   David Wade, president and CEO of EPB, will serve as keynote speaker
For more information about the Idea Leap Grant and to RSVP for the upcoming events, please visit tvfcu.com/IdeaLeap.
# # #
About Tennessee Valley Federal Credit Union
Tennessee Valley Federal Credit Union (TVFCU), a not-for-profit financial cooperative, was established in 1936 when 57 Chattanooga TVA employees pooled $500 to create the member-owned credit union. Today, TVFCU serves more than 175,000 members who live, work, worship, volunteer or attend school throughout the 17-county service community. With more than $2.4 billion in assets and 23 branches throughout the area, TVFCU is the largest credit union in Southeast Tennessee. For more information about TVFCU, please visit tvfcu.com.
About TVFCU's Idea Leap Grant
The Idea Leap Grant Initiative is an extension of TVFCU's Idea Leap Loan Initiative that was created in October 2016. The Idea Leap Loan fills a void in the community for loans up to $75,000 to emerging businesses. Through the Idea Leap Grant Initiative, TVFCU is reinvesting Idea Leap Loan proceeds back into the community.