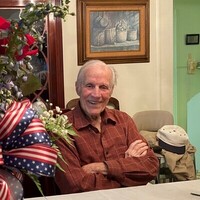 Mr. Leo Lanier, Jr.  age 98 of Summerville, Georgia, Chattooga County's last Prisoner of War, passed away Sunday, July 18, 2021 at his residence.

Mr. Lanier was born in Trion, Georgia on January 14, 1923, son of the late Leo Lanier, Sr. and Fannie Mae Lunsford Lanier.  He was a member and Deacon Emeritus of the Trion First Baptist Church. Mr. Lanier was a veteran of WWII, serving in the United States Army Air Corps.  While serving in the military, he was a Waist Gunner and Ball Turret Gunner on the B-17 Flying Fortresses.  On April 10, 1945, Mr. Lanier's plane was shot down on his 33rdmission near Brandenburg, Germany and he was taken by the German forces as a Prisoner of War.  Following his discharge from the service, Mr. Lanier returned to Chattooga County and retired after 33 years as a Rural Mail Carrier with the United States Post Office.  In addition to his parents, Mr. Lanier was preceded in death by a sister and brother-in-law, Lorene and James Stephenson; and infant brother, F.L. Lanier; a special grandmother, Belle Lunsford; great granddaughter, Ansley Grace Neal; and a nephew, Jay Gamblin.
Mr. Lanier is survived by his wife of over 75 years, Reita Lanier; daughter and son-in-law, Patti and Jim Neal; sister and brother-in-law, Marlene and Tommy Gamblin, Jr.; grandchildren;  Lanier Neal (Tiera Robinson); Brian (Brenda) Neal, Michele (Scott)Diedrich, great grandchildren, MacKenzie Robinson, Laila Robinson-Neal, Eric (Lindsey) Neal, Samantha (Chase) Helton, Logan (Ashley) Diedrich, Rachelle (Parker) Ross; great-great grandchildren, Colt Neal, Gracelynn Diedrich, Aubree Helton; nephew, Mark Gamblin; nieces, Lisa Holbrook and Marcia Mollere; and special caregiver, Annie Mae Hogue.
Funeral Services for Mr. Lanier will be held Tuesday, July 20, 2021 at 1:00 P.M. in the Petitt Chapel of the Coffman Funeral Home with Pastor Casey Bramlett, Mr. Lanier Neal, Mrs. Barbara Massey Reece and Mrs. Odell Anderson officiating.  Interment will follow in the Green Hills Memory Gardens with the Shanklin-Attaway Post 5 of the American Legion Honor Guard providing full military honors.
Pallbearers and Honorary Pallbearers will include: Nephews, Great Nephews, Barbara Massey Reece, Odell Anderson, Bobby Purcell, Jimmy Schram, Richard White, Tommy Grimes, Jeff King, Jerry Corbin, Steve Lanier, Billy Cook, Cotton Williams, and all fellow WWII veterans.
Mr. Lanier will be in state at the Coffman Funeral Home and the family will receive friends from 11:00 A.M. until the funeral hour.
Those desiring may make memorial contributions to the Trion First Baptist Church, 95 Church Street, Trion, GA  30753.
The family respectfully asks that those that have not been vaccinated against COVID-19 to please wear a face mask and for all to practice social distancing.
Coffman Funeral Home, Petitt Chapel is honored to be serving the family of Mr. Leo Lanier, Jr.  Please visit www.coffmanfh.net to sign our online guestbook and to post condolences.
To plant Memorial Trees in memory of Mr. Leo Lanier, Jr., please click here to visit our Sympathy Store.