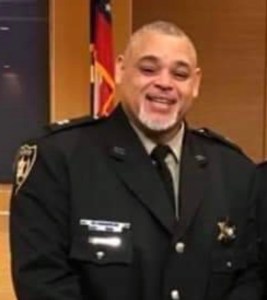 Captain Michael "Mike" Garrigan had been with the Gordon County Sheriff's Office for over 30 years. He died yesterday morning from COVID-19-related medical complications.


SHERIFF RALSTON RELEASES STATEMENT ON VETERAN CAPTAIN MIKE GARIGAN'S DEATH:
Gordon County Sheriff Mitch Ralston has released a statement on the early Sunday death of Captain Mike Garigan, a long-time staff member of the Gordon County Sheriff's Office.
"I am heartbroken today to inform the people of Calhoun and Gordon County that we have lost a great man and a wonderful public servant," said Sheriff Ralston. "Captain Michael D. (Mike) Garigan passed away this morning from COVID 19 related medical complications. Captain Garigan served in the Sheriff's Office for over three decades, as a uniformed deputy, a detective, and most recently as the Jail Division Commander. He rose steadily through the ranks, and was decorated on numerous occasions for bravery and excellent police work. For several years in the 1990s, Mike was the Sheriff's Office DARE coordinator, and is fondly remembered by the hundreds of children he met, taught and to whom he provided a positive influence. He was extraordinarily popular in the community. Mike battled tenaciously and bravely for several weeks with the the illness. He was a fighter. He was known for his love of sports, and he dedicated countless hours to coaching young people's teams. Mike loved children. He loved people. He was a dedicated peace officer, a devoted Christian, and a loving family man. My staff and I loved Mike and we will miss him very much. Our thoughts and prayers are with Mike's family at this trying time".