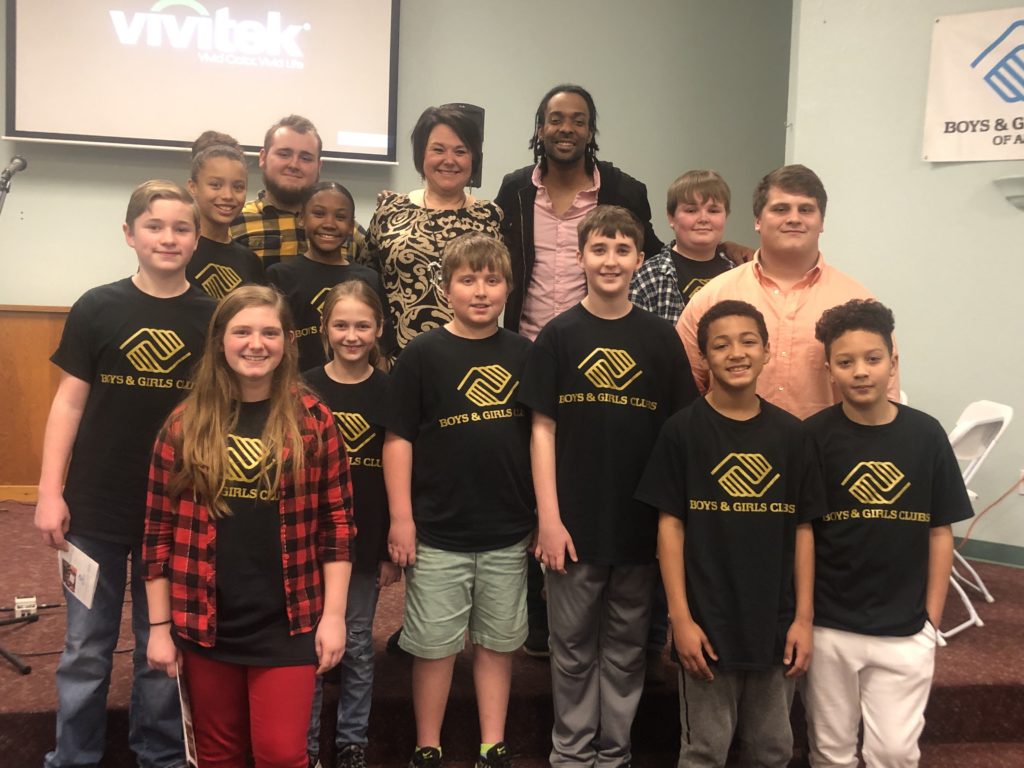 The Chattooga County Boys and Girls Club held its fifth annual Champions for Children luncheon on Thursday, February 28.

The crowd was welcomed by Board Member Sylvia Lee Keziah. Sheriff Mark Schrader was on hand to deliver the invocation.  Chattooga sophomore Gray Beach led the crowd in the Pledge of the Allegiance. Club member Pippa Key performed the National Anthem.
The 2019 Champions for Children luncheon guest speaker was Damien Horne.  Horne is an award winning, national recording artist who has shared the stage with the likes of Faith Hill and Big & Rich to Robert Randolph and John Legend.
Horne has delivered inspiring Ted Talks and landed publishing deals with Big Love and Warner Chapel. He's been featured in People and other magazines.
When Horne is not on the road as an artist, he's working alongside the Salvation Army and Boys and Girls Clubs.
He told the audience while growing up in Hickory, N.C. the Boys and Girls had been instrumental in helping him graduate high school and keeping him off the streets.
Horne shared with the crowd his story of being one of 12 children, and the first high school graduate in his family. He is the product of a troubled home, dodged gangs, prison, within the safe haven of The Boys and Girls Clubs.
"The Boys & Girls Club was more than a safe haven for me growing up….It saved my life," Horne said.
Check this out: Damien Horne performing at the Boys & Girls Club luncheon

Posted by All On Georgia – Chattooga on Thursday, February 28, 2019
His journey took him to LA/Hollywood to pursue a career in entertainment. Although his first attempt was less than successful, his next step on the journey was difficult but much more rewarding, a move to Nashville where he went from performing on street corners to a national recording contract.
Along the way, he has continued his mission to help others and support Boys and Girls Clubs.
The Chattooga County Boys & Girls Club average serving about 300 members per year. Weekly the Club averages about 70 children per day. The Club's current GPA is 3.4. Summer sign-ups will begin mid-April. "We hope it will be our best yet. We will working on reading with our K-3, soft skills with our upper elementary and middle school, and some work force development with our older members," Area Director Deb Stowe said.
Bob and Sue Burdick of Burdick Enterprises were the title sponsors for the 2019 Champions for Children luncheon.