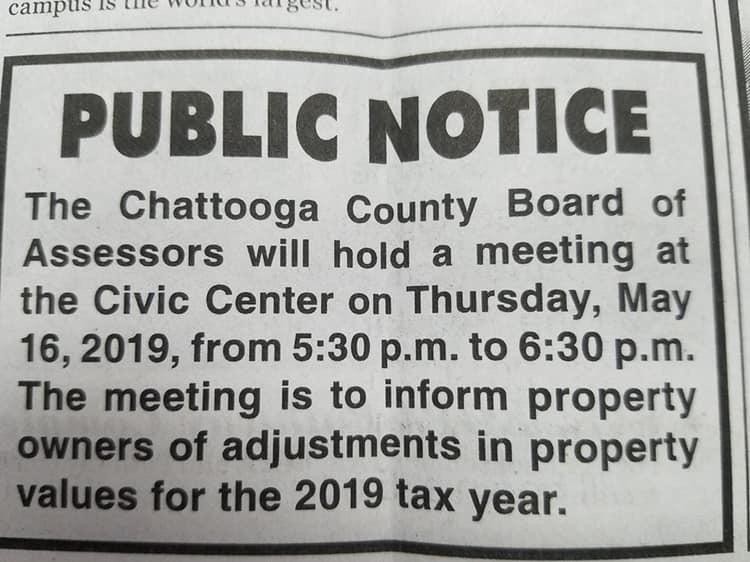 The Chattooga County Board of Assessors will hold a public meeting Thursday, May 16th to discuss "adjustments in property tax values for the 2019 tax year", according to a notice that was published in the Summerville News.

Some area residents are concerned that the purpose of the meeting will reveal that the Board of Assessors will be announcing an increase in property values, which would in turn mean higher property taxes for Chattooga County residents.
Chattooga County Tax Commissioner Joy Hampton explained to AllOnGeorgia that her office has no control over the values of property that determine taxes.  That is the job of the board of assessors, which are appointed by the county's sole commissioner, Jason Winters.
Tax Commissioner Hampton said she has been asked several questions, about the upcoming assessors' meeting, "but my office doesn't have anything to do with property values.  Property owners should defer those questions to the assessors office, which is a separate entity."
Commissioner Winters has appointed the following people to the Chattooga County Assessors Board: Betty Brady, Randy Pauley, Richard Richter and Doug Wilson.  The Chief Assessor is Nancy Edgeman. Doug Wilson is the Chairman and Richard Richter is the Vice Chairman.
Appointment date and length of appointment according to the Commissioner's office is listed below:
Betty Brady –    Feb. 7, 2018 thru March 8, 2021
Randy Pauley –    Dec. 1, 2018 thru Dec. 30, 2022
Richard Richter – Nov. 1, 2015 thry Oct. 31, 2021
Doug Wilson –    Dec. 19, 2016 thru Dec. 18, 2019
Board Members are paid $75.00 per meeting.  They usually meet each Wednesday morning.
The meeting this Thursday is scheduled to be held at the Chattooga County Civic Center on Highway 48 in Summerville from 5:30 to 6:30 PM.