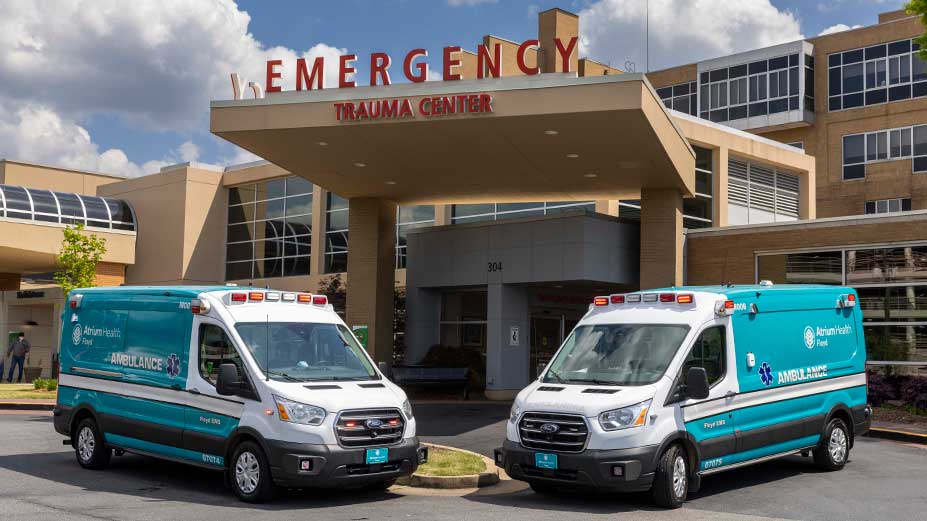 Atrium Health Floyd Emergency Medical Services was recognized Thursday night for its response to a deadly car crash in Chattooga County.
The EMS team of  Morgan Bullard, Daniel Helton, Chelsie Lee, Ken Bruce, Steven Groves, Katie Betts, Clyde Patterson, Dexter Wooten, Herbert Dodd, Greg Hawkins, John Hamilton, Tiffany Helton, Amber Eason and Jason Groves were given the Richard Gray M.D. Excellence in Trauma award during the 44th annual Region 1 EMS Awards Banquet. The event honors EMS providers in northwest Georgia. Gray was a trauma surgeon and served at Floyd Medical Center when it became the state's first designated trauma center in 1981.
The fatal car crash occurred in Chattooga County last October, killing four people, including three Chattooga County students.
Three Atrium Health Floyd ambulances were the first responders on the scene, arriving just seven minutes after 911 dispatched the call. Teammates worked to remove the injured from the wreckage and provide care as friends and relatives of the victims arrived at the scene.
Atrium Health Floyd teammates found themselves handling extraction, traffic control and crowd control in addition to emergency medical intervention and transportation to the hospital.
Atrium Health Floyd EMS Executive Director Bud Owens earned the James H. Creel Jr. M.D. EMS Pioneer of the Year award. This is given to a person who has been instrumental in the development of the region's EMS system and has served multiple roles throughout his/her career for the betterment of the profession. Creel was the first medical director of the northwest Georgia regional EMS system in 1979.
Capt. Robby Hill, assistant EMS director at Atrium Health Floyd, earned the Stanley Payne Memorial EMS Leadership Award. Payne was the longtime head of Floyd EMS. He was also among the first three employees of the Floyd Hospital Ambulance Service in 1966.
Both Owens and Hill have been with Atrium Health Floyd since 2008.
Later this year, Atrium Health Floyd will open the first Freestanding Emergency Department in Chattooga County, which will provide crucial care in a currently underserved, rural area. Atrium Health Floyd's EMS is the designated ambulance service provider for Floyd, Chattooga and Cherokee County (Ala.) residents.