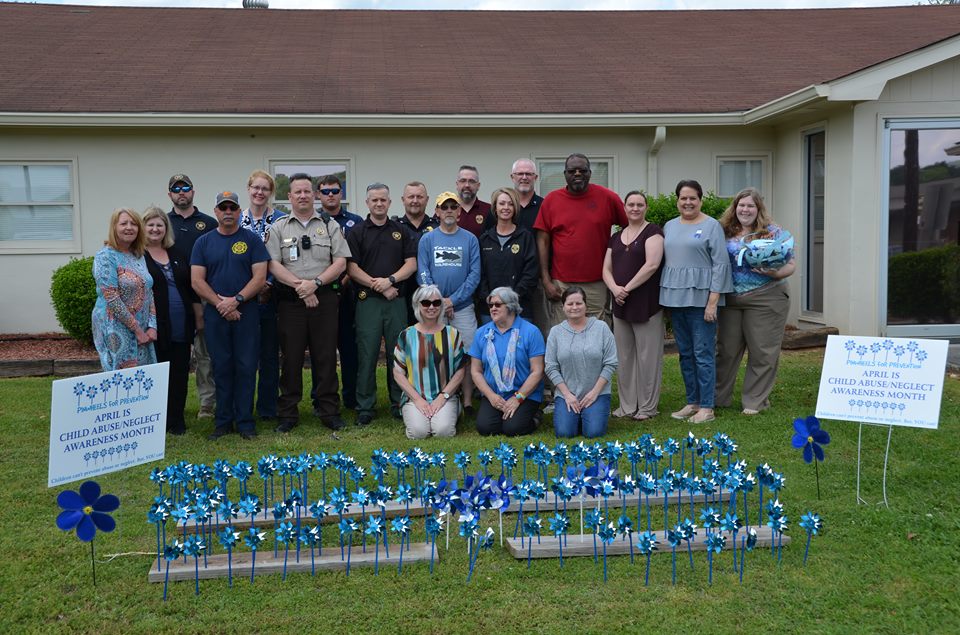 Recently Chattooga County DFCS held an event to reflect upon the children who have suffered from abuse and neglect, particularly those within Chattooga County by planting pinwheels to represent the children affected by abuse or neglect.  

Volunteer advocates for children planted pinwheels into the ground outside the Department of Family and Children Services office.
Each pinwheel represents a substantiated case of child abuse or neglect in Chattooga County last year.
In Chattooga County, during the calendar year 2018, DFCS received 402 reports of child abuse or neglect.  Some of these, approximately 200, involved situations where DFCS could offer the family services that met their needs, whether these were needs of food, housing, or counseling services.  DFCS also investigated approximately 200 incidents of maltreatment, either abuse or neglect.  There were 140 children who were substantiated victims of child abuse or neglect.  DFCS also served many families through family preservation and foster care services to strengthen and reunify families.  
A pinwheel was 'planted' to represent the children.  "But, we feel that even one incident is one too many! This problem crosses ethnic, age and gender ranges.  For example, of confirmed incidences of abuse and neglect, on average, 89% are Caucasian, 53% are age six or under, and 54% are female. Take an active role in making sure our community is a place for all children and families to thrive. We encourage everyone to wear blue for "Blue Mondays" that represents the physical bruises and emotional feelings children experience from neglect and abuse. And, if you see something you're not certain is appropriate, call the DFCS Office to report it and they have the protocol for investigative validation," Vicky Vanpelt, Family Connection Coordinator said. 
"The average citizen isn't aware of how serious the problem of child abuse and neglect is in our community.  The purpose of this event is to show the public how truly frightening the problem is, and to focus on ways to prevent these incidents from occurring.  Share the information at church, at work, with friends and family members.  Encourage stressed out parents or guardians to seek help through counseling, talking with a pastor, or calling DFCS to ask for help," Michelle Floyd, Chattooga County Schools Social Worker said. 
Sadly, Chattooga County DFCS reported on three child deaths for the past year.