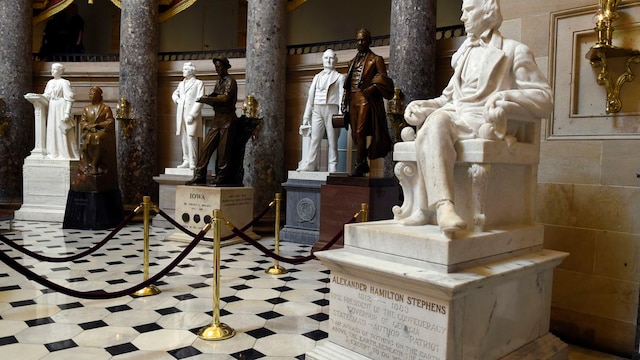 Rep. Tom Graves (R-GA-14) and Rep. Sanford Bishop (D-GA-2) penned an OpEd for the Atlanta Journal-Constitution about their bipartisan effort to honor Rep. John Lewis with a statue in the U.S. Capitol's Statuary Hall. Last week, Reps. Graves and Bishop led members of the U.S. House of Representatives' Georgia Delegation in a letter to Governor Brian Kemp (R-GA), Lieutenant Governor Geoff Duncan, and Speaker of the Georgia House David Ralston requesting they replace the state statue of Alexander Hamilton Stephens with a statue of Rep. Lewis.
You can read a portion of the OpEd below, and the full piece here.
Opinion: John Lewis should represent Ga. in D.C.'s Statuary Hall
July 31, 2020
By Rep. Sanford Bishop and Rep. Tom Graves
Each year, more than 3 million people from around the world visit the United States Capitol building in Washington, D.C. Millions of us have walked through Statuary Hall and admired the men and women whose statues line the walls. In 1864, Congress first created the tradition that every state provide two statues of citizens "illustrious for historic renown or for distinguished civic or military services" to be displayed in the Capitol. Historical figures and American patriots like Thomas Edison, Helen Keller, Dwight Eisenhower and George Washington have been chosen by their respective home states and are proudly on display.
Nearly a century ago, the state of Georgia selected its two statues, Crawford Long and Alexander Hamilton Stephens. Alexander Hamilton Stephens was the vice president of the Confederate States from 1861 to 1865 and subsequently served as the governor of Georgia between 1882 and 1883. Following the passing of our friend, civil rights champion and Georgia U.S. Representative John Robert Lewis, we knew his legacy and dedication to making this nation a better place for all Americans needed to be preserved in our nation's Capitol.
That's why this week we teamed up to ask Gov. Brian Kemp, Lt. Gov. Geoff Duncan, House Speaker David Ralston and the Georgia General Assembly to consider enacting a resolution that would replace the Stephens statue with a statue of our beloved colleague, friend, and hero John Lewis. We were joined by eight Members of the Georgia Congressional delegation, Senator David Perdue, Congressman Henry "Hank" Johnson Jr. (GA-04), Congressman Austin Scott (GA-08), Congresswoman Lucy McBath (GA-06), Congressman Rob Woodall (GA-07), Congressman David Scott (GA-13), Congressman Rick Allen (GA-12), and Congressman Drew Ferguson (GA-03).
There is no Georgian more worthy of this great honor than John Lewis, who symbolizes for us not only what Georgia once was, but what it can and should be. He inspired millions of people in Georgia, the United States, and around the world with his bravery, his commitment to nonviolent activism, his pursuit of equal justice and voting rights, and his unwavering belief in our democracy.