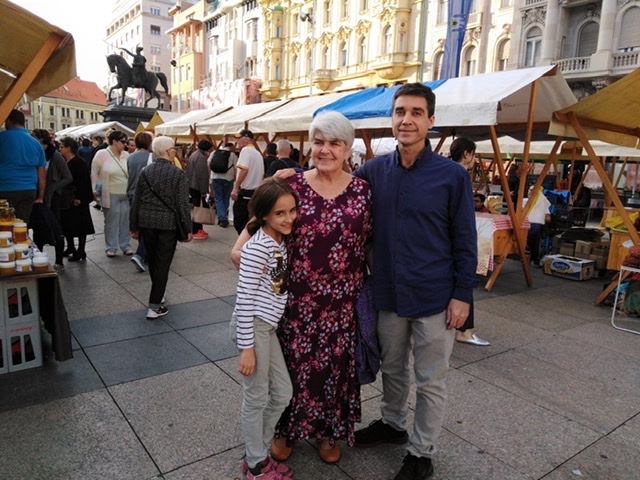 Lorraine Roberts is seeking the office of Councilman of the City of Summerville. Roberts is running for City of Summerville Council Seat Number Three.
What are some of the features/qualities that make Summerville great and led you to call the city "home"?
I lived in NW Ga (Bartow County) previously for many years. We had a working farm just off Hall Station Rd. between Kingston and Adairsville. In 1997, I moved out west for a few years. Lovely as it was, I missed the green, green hills of home, my grown children and my grandchildren.
I remembered Summerville as being a friendly little town. I was fortunate enough to find an affordable house here within my existing budget.
Summerville is off the metro-path, neatly situated between Rome, Chattanooga and only 90 minutes from Atlanta. The Valley is nested perfectly between our beloved mountains, loaded with rivers and streams and close to my favorite State Park, Sloppy Floyd, where the fishing and hiking is terrific. Most importantly, good people live here and there is a multitude of fine churches close at hand. That led me easily to a home church.
What do you believe are the biggest issues facing the City of Summerville? How do you plan to address them?
Our city has an appallingly high poverty rate. According to the 2017 Census Bureau reports,
59.6% of family homes are at or below the national poverty rate. 30% of all full and part-time workers fall below the poverty level. Over half of all of the children in our city fall below the national poverty level. This statistic is twice the average for the State of Georgia. It is an horrific situation that has to be attacked from the bottom up.
Even though our County Commissioners and State Representatives have fought for and succeeded in bringing industry and jobs to our community. We still need jobs. We need to expand our horizons and look to other avenues to help our community prosper.
We should encourage UGA to bring a satellite school to our area, preferably in Summerville proper.
Ga. Highlands is part of the UGA system and they have satellites in various parts of the state, including Cartersville. We have numerous vacant buildings that could easily accommodate a campus. Something like this would help our highschool graduates and industrial re-trainees to further their educations to meet 21st century demands.
A satellite college campus will attract other businesses because we can show we are ready to regroup and retool our workers and college grads to meet oncoming challenges that technology increasingly demands.
We need to encourage entrepreneurship downtown, filling our empty store fronts with small and interesting businesses. We have 27,000 vehicles that pass through our town daily. We want a good portion of them to stop, or at least see Summerville as more than a pass-through city. We want them to come back with their families, spend their dollars here and broaden our tax base.
We also need a small hospital here so that our citizens who need critical care immediately are not forced to travel 30 minutes or more for life saving care. Yes, our urgent care centers are top-notch, but they cannot take care of heart attack patients or complex cases of accidents that require more than x-rays and a cast.
Our water and sewer infrastructure is crumbling. This is a terrible fact we have to face and pick and choose what we can actually afford to repair on a bit by bit basis. This is not something we can buy our way out of with bond issues and minor grants. This is part and parcel of long decline in needed maintenance of those things "unseen, but not unforeseen. Small problems tend to accumulate over time, with the thought that they can be pushed back until, say, the next election, or when the tax base broadens with new neighborhoods, or new industry. This is a type of social malaise due to a cultural inclination to procrastinate and our insane ability to excuse away delays in needed repairs and replacement of old parts and pieces, a sort of cognitive dissonance. When the new neighborhoods pop up, nobody actually thinks about the cost of installing all of that new infrastructure, much less, the cost of taking care of that which already exists. We need to think better.
In order to begin the process of a do-over of what we have, we have to pick the most critical components and begin at those points, factoring in future maintenance, not just the immediate. We have reached the point where we can no longer shove the problem down the road for somebody else to fix.
Grants will accomplish some of this, though truly, grants are becoming far more competitive than they were say thirty, twenty or even ten years ago. As the Federal deficit grows, the elected officials in power are hard pressed to justify more domestic spending. Higher sewer and water tap on fees will help, but that is a band-aide. Once again, we are going to have to look at the state level to find a means to raise revenues outside the ordinary avenues of taxing homeowners to death. Homeowner money is far and away more finite. Too many of our people are living on the edge as it is. Plus, our population is aging.
There will be no simple fix.Hard decisions will have to be made, and the public needs to have input into all of them.
If elected what three steps would you take to put Summerville on a firmer financial footing?
I would be very careful of how grant money is spent, Grants always come with their own price tag. This is usually with a percentage of in-kind cash and /or labor and materials. We need to qualify grants to see if (a) we really need them for a project, (b) determine if this is something we NEED or just something we would like to have. NEED comes first. The things we would LIKE to have should be put on a hold basis until needs are met. Example: DO we need funky retro-gas light looking street lamps to make things look pretty downtown? Or do we keep our clunky  but very effective ones? DO we need downtown medians that take away existing parking spaces, but add charm or do want them instead of adequate parking for residents and visitors to do business? Could we add attractiveness to our inner city in other ways instead that don't cost a ton and use grant money more effectively to fix pot holes or crumbling bridges? In my house, NEED comes before Like To Have.
It is my understanding that Summerville carries about $10,000,000 in unspecified debt. That's roughly $2,500 per resident. Part of this heralds back to what I stated previously, the long standing issues that should have been addressed head-on rather than shoving them down the road for someone else to tackle later. Re-read what I have said before.
This is an issue wrought upon us by living in an auto-centric society that, by its existence, created modern neighborhoods that required roads, bridges, water supplies, sewerage treatment of waste-water (boy is that ever a descriptive word) , sidewalks when you can get them and so much more. Those things require constant maintenance. Taxation of homeowners just doesn't cover the costs. Add to that the increased need for more law enforcement, fire protection, and everyday garbage removal-well, the costs mount up.
We are no longer a predominantly agrarian culture. Truth be told, we are a people who rely on factory and service work. The improvements we "needed" in order to leave the farm were
"paid forward," so to speak, like a big Ponzi scheme, by people who hoped "growth" would pay for what we bought in the times to come. In Rural America , that sure hasn't happened, nor honestly has it in big cities. They have their own massive pockets of urban decay.
To solve this, we have to pay.  How we do that? How we do that is going to have to be very creative. Again, it will likely take some state legislation to allow us to figure how to come up with the fiscal resources we need. Can we add another penny to the sales tax to help pay down our debt? To rebuild our deteriorating water and sewer systems? fix crumbling sidewalks? Add new ones to make our city walkable and less car-dependent?  We have to look for fairer revenue streams beyond homeowners and small business people. We have to trap dollars that pass through our city.
I think we need to look at our gas rates to make them more competitive and bring them in line with other communities around us. We have lost a lot of gas customers due to rate hikes. I suspect we would have more customers which equals more money if we lessen those rates rather than perpetually raising them. Our gas lines and our water lines actually extend far beyond our city's limits.
If you received a million dollar grant to use for the city in any way you wanted, what would you do with it and why?
This is a loaded question, First, I would want to know what matching in-kind services and cash the city would have to put up.
Grants ARE NOT FREE MONEY.
I know what I would like to have. Harken back to the small hospital, the college satellite and some urban renewal both in town and in neighborhoods. I would love to set up a housing rehabilitation program for low and moderate income families to help them make needed repairs to their homes. The program would be set up to become self-financing.
It would help reduce decline & deterioration that causes falling property values and hence, taxable value as well. It also makes the city more attractive to businesses that aren't dollar stores, pawn shops and predatory lenders. The more of the latter you have, the less inclined businesses such as boutique shops, bakeries, better grocery stores, better restaurants, better anything are to build or inhabit readily available retail space.
Do you plan to stay involved in city activities if you lose this race?
Certainly. I have been involved since I moved here. I have always been led to serve.
Why do you think you are the best candidate for the job?
I have over forty years of experience with government. I have worked at the municipal, county, state and federal level in community and economic development and have been very effective in my fields.
Should local governments be able to exercise eminent domain powers for the purpose of projects like redevelopment?
My answer to this is that it depends on what the proposed project is and how it will impact the lives of those being potentially displaced.
What do you plan to do to make the city/ county a better place?
I plan to work as hard as I can to bring about positive change. The City has so much potential, We have a lot of wonderful things to work with, and people with good ideas that need to be listened to and heard, then acted upon. I plan to be very accessible and open.
Agree or Disagree:
I believe any notices required by state law be publicly posted and made available on the city/county websites in the most accessible way possible.
YES
Cities, counties and school boards should post their financial statements, budgets and credit card statements and check register online for public review.
I think budgets and financial statements should indeed be up for public review. I think posting checking and credit card statements might be risky due to the potential for hacking onto those accounts.
All local subdivisions calling a bond election should disclose in the proposition language on the ballot  the total cost of the bond (including principal and interest) and any impact on local taxes as a result of the bond.
A resounding YES
Local governments should not use tax dollars to pay fees or dues to third party organizations.
I disagree. Membership to certain civic organizations, and other related organizations for work/ information/ professional upgrades should be paid for by local government entities.I would draw a distinction ,however with lobbying groups. That would be a matter that would have to be reacted to on an individual basis. Sometimes it takes a lobbying group to help a local community get the attention of legislators. This is just a sad fact of life.
Biographical information:
I have been community oriented since I was a very young person. I cut my teeth in the political arena by organizing a group to save the beaches and marshes of St.Simon's Island, Ga. and the Golden Isles in 1969. And yes this means I am older. Not your ordinary grandma, to be sure.
At one time, I was the youngest Public Housing Commissioner on the Country. I served on several professional organization boards and committees.
I have worked as Director of Community and Economic Development in a small town in coastal Florida, worked for larger municipalities and had my own consulting business doing ED work
. I am an award winning writer and artist. My art work has collectors all over the south and west, and a few collectors in Europe. I worked for a news paper some years back as Advertising manager and wrote an opinion column that won several prizes from the Georgia Press Association.
I am employed as manager of The Furniture Shoppe in down town Summerville, next to the County Commissioner's office on Commerce St., though some of you ay remember me from Fred's Pharmacy and the Dollar Tree.
I have four children, five grandchildren and three great-grandchildren who own my heart.
I also have a menagerie of critters and always have.
I love to fish!!
love people and believe service to others I our highest and best calling.
I have a Face Book page: Lorraine Roberts for The City Of Summerville.
I invite you to come see me, drop a note n my FB page.
and ..Vote for me. I will work my hardest for you!