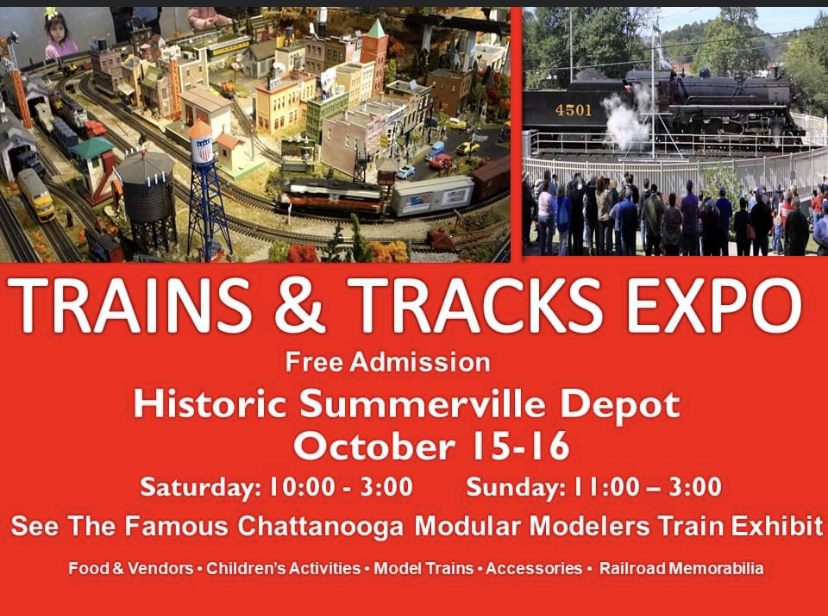 Summerville Main Street will host a Trains & Tracks Expo at the Historic Summerville Depot on Saturday and Sunday, October 15-16. Hours of operation for the event on Saturday, October 15 will be 10:00 am-3:00 pm and Sunday, October 16 from 11:00 am-3:00pm. Admission is free to the public. The expo is a great way to spend the day whether you're an avid modeler or just looking for a fun and interesting day out with the family. The Trains & Tracks Expo is designed for children of all ages; for modelers, collectors, and enthusiasts; for families in search of good old-fashioned fun; and for the simply curious.

A highlight for the event will be the Chattanooga Modular Modeler Train exhibit. The Chattanooga Modular Modelers, Inc. is a non-profit Tennessee corporation that uses the hobby of model railroading to educate the public about the role the railroads have played in our nation's history. They teach techniques for construction of portable displays. They also teach electric and electronics principles used in modern devices, and how to display artistic expression through the mastery of the many skills necessary to complete a model railroad or diorama. Their motto is "Teaching and Inspiring through the art of Model Railroading". Model train and railroad exhibitors from the North Georgia Module Rail Group, Tunnel Hill, and Cumming will also be on site with exhibits.
The Train Expo will also feature tables of trains, accessories, scale models, collectible toys, and Miniature Train Rides. There will be railroad memorabilia for sale, food and craft vendors, and special exhibits and demonstrations.
On Saturday, event attendees can take a trip to Power Town, a new electrical safety demonstration town in miniature, presented by North Georgia EMC. In many ways Power Town is like your town. Cars travel the roadways; people work in their yards; children fly kites. Everything runs smoothly. However, life can get very dangerous when the residents of Power Town are very careless around electricity. Created with safety in mind, Power Town simulates the many ways people can be injured by being careless around electricity.
Using a variety of different scenarios, the presenter teaches children about the path of electricity and how to stay out of that path. Audiences will also hear important tips on electrical safety indoors. Students and audiences hear important tips and learn about indoor and outdoor electric safety and energy conservation tips as the presenter reveals how each member of the audience can save energy and money in their own home. Power Town will be presented inside of the Summerville Depot.
Musical Entertainer Jaycee Lynne will be performing on the Depot front deck Saturday 12 noon – 2:00 p.m. and Sunday 1:00 p.m. – 3:00 p.m.  She performs a variety of music that includes contemporary, traditional country, and gospel. She has been doing great work for St. Jude's Children's Hospital and her song, "Come Home" was featured on The Christmas with the Vets website. She has shared the stage with Brothers Osborne and opened for Toby Keith, Tim McGraw and many others. Jaycee has most recently performed 4 acoustic shows at the Musician'sHall of Fame in Nashville, TN. Jaycee recently released of hersingle: Missouri Roots.
For more information on this event or upcoming events contact Summerville Main Street by email at slocklear@summervillega.org