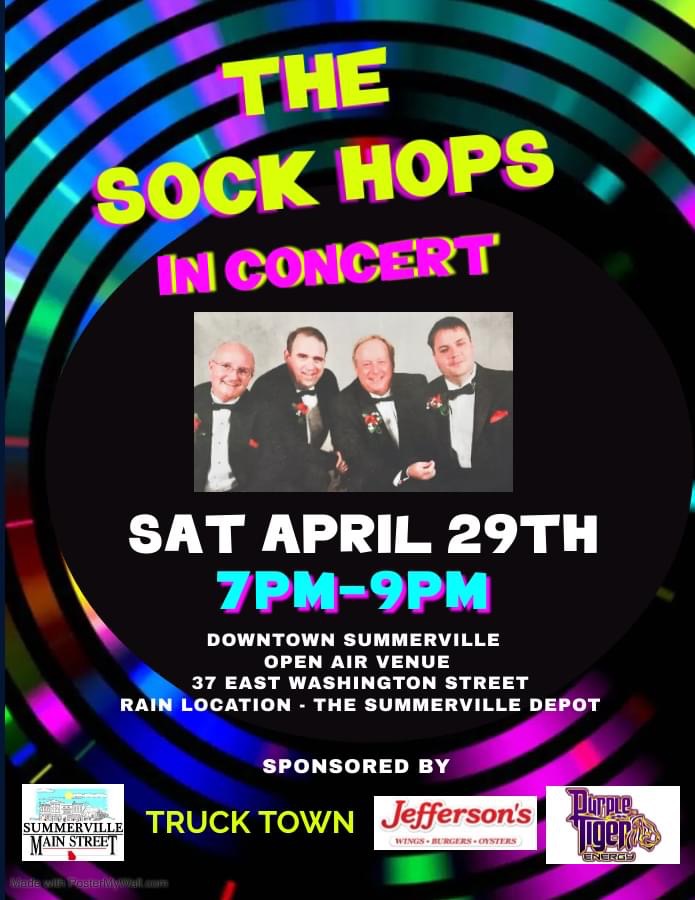 The City of Summerville will be celebrating "Georgia Cities Week" April 23-29. The theme of this year's Georgia Cities Week is "Lighting the Way."
"We're very proud of our city and the services we provide to make it attractive to residents and visitors," said Mayor Harry Harvey. "Cities provide the services and infrastructure to help businesses grow and set the stage for events where families and individuals can gather as a community."
Georgia Cities Week will be celebrated locally with music on the streets of downtown Summerville on Saturday, April 29 beginning at 12:00 noon and lasting until 3:00 p.m. The downtown "music busking on the streets" will be followed by a concert featuring a famous group known as The Sock Hops at the Open Air on East Washington Street from 7:00 – 9:00 p.m. This concert is free to the public.
The Sock Hops in Concert Saturday April 29
The Sock Hops specialize in the four-part harmony sounds of doo-wop, Motown, beach music and more. This fan favorite group hits all the popular music of the 50s, 60s and 70s in a delightful evening with a stroll down memory lane. Although this group is guaranteed to get the crowd up dancing, the public is still encouraged to bring lawn chairs to enjoy this evening of music. Public restrooms will be available inside the Summerville Depot for the nighttime concert and food vendors will be on site. In the event of rain, the concert location will be moved to The Summerville Depot. This concert is sponsored by The City of Summerville, Summerville Main Street, Truck Town, Jefferson's and The Purple Tiger.
Cities across Georgia will be celebrating Georgia Cities Week, sponsored by the Georgia Municipal Association (GMA), to showcase and celebrate cities and the many services they provide. Based in Atlanta, GMA is a voluntary, non-profit organization that provides legislative advocacy, educational, employee benefit and consulting services to its 538 member cities.