Cloudland Canyon State Park has begun offering guided tours of Sitton's Cave.

The two-and-a-half hour tours will have you crawling through mud, scrambling over rocks, encountering strange creatures and possibly wading through an underground stream.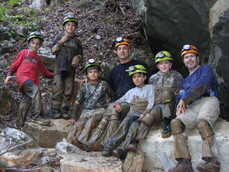 Prepare to get muddy while having fun! Participants must be at least 10 years old and comfortable crawling through spaces that are three feet high. Equipment is provided.
Tours are $45 and reservations are required.
About Cloudland Canyon State Park:
Located on the western edge of Lookout Mountain, Cloudland Canyon is one of the largest and most scenic parks in the state. Home to thousand-foot deep canyons, sandstone cliffs, wild caves, waterfalls, cascading creeks, dense woodland and abundant wildlife, the park offers ample outdoor recreation.
Hiking and mountain biking trails abound. The most popular hiking paths include the short Overlook Trail, strenuous Waterfalls Trail and moderate West Rim Loop Trail. Mountain biking is available at the newly developed Five Points Recreation Area and along the Cloudland Connector Trail. The park also offers disc golf, a fishing pond, trails for horseback riding, picnicking and overlooks. Guests seeking an overnight experience can choose from fully-equipped and comfortable cottages, quirky yurts or several different types of camping and backpacking options.
Reservations, Accommodations & Facilities
3,538 Acres
4 Pioneer Campsites (Before making reservations, call park for capacity limits.)
6 Picnic Shelters (Before making reservations, call park for capacity limits.)
1 Group Shelter (seats 175. Before making reservations, call park for capacity limits.)
1 Group Lodge (sleeps 40. Before making reservations, call park for capacity limits.)
Gift Shop/Camper Store
Playground
---
Things To Do & See
Biking — 30 miles of trails
Caving — experienced wild cavers only, caves open April, June–July & September–October, permits & reservations required
Disc Golf ($4/person/round) — annual pass available
Horseback Riding — 16 miles of trails
Picnicking
Weddings — park approval required
Bike Rentals ($35 half-day/$55 entire day)
---
Nearby Attractions
Address
122 Cloudland Canyon Park Road
Rising Fawn, GA 30738
Dade County